CLICK HERE for all of Jon's interviews, and the rest of our extensive and continuous preseason coverage
Most fans love offense but most coaches love defense.  Ahmad Thomas does a little of everything for the Bulldogs (as evident by his near-triple-double in an OT win over Gardner-Webb last New Year's Eve) but defense is where he dominates.  As a sophomore he was #14 in the nation with 69 STL, and as a junior he set a school record with 99 STL and was named Big South Defensive Player of the Year.  His most excellent effort was a sensational 10-STL performance in a win over Warren Wilson last December.  HoopsHD's Jon Teitel got to chat with Ahmad about being a great defender as well as a great scorer.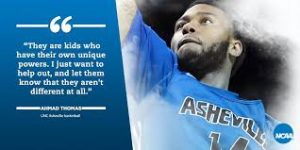 You grew up in Virginia: what made you choose UNC Asheville? I did not grow up in a big city so when I got to Asheville it felt like home. It is a perfect fit for me.
You play for coach Nick McDevitt: what makes him such a good coach, and what is the most important thing that you have learned from him? He does so many things for us both on/off the court. He was a player/assistant here and his hard work shows how awesome he is as a person/coach. He is like a big brother for us, which a lot of people at other schools do not get from their coaches.
You played in 23 games as a freshman: how were you able to come in and contribute right from the start? At first I had to separate myself from high school.  We had an up-tempo pace and pressed a lot but now I just do what I do.
Last season you set a school record with 99 STL (including 10 in a win over Warren Wilson last December) and were named conference DPOY: what is the key to being a great defender? Grit! Some people will just let you score on them but I hate for someone to score a lot of points against me and think that they will have a mismatch against me. My 7' wingspan also helps a lot.
You also scored a team-high 18 PPG and led the conference with 54.4 FG%: what is your secret for being a great scorer? My teammates/coaching staff always put me in the right spots. I learned a lot from our PG MaCio Teague and made enough open shots to build my confidence. I try to recognize mismatches and do damage from my position.
You also led the team with 6.6 RPG: how are you able to get so many REB as a 6'3" SG? As we say: "how bad do you want it?!" You just need to be a big-bodied guard: it is not a bad thing to bang around the boards. It is a big key for our team so that we can avoid giving up very many 2nd-chance points.
In the 2017 CIT you had 22 PTS/11 REB/3 STL in a loss to Tennessee-Martin: what did you learn from that game that you think will help you this year? We have to play 40 minutes of basketball.  It seemed like we only spent 20 minutes as a team so we have to understand that the margin of error is slim even against teams who you think that you should beat. UT-Martin was really good so when we came out sluggish in the 1st half we quickly found ourselves down by 20 PTS. It has to be 40 minutes of hell until the ball stops bouncing.
Your non-conference schedule includes road games against Rhode Island/Vanderbilt/Clemson/St. Mary's: which of these games do you feel will present your biggest test? They all will. Rhode Island made the Sweet 16 last year and has a great guard in EC Matthews. St. Mary's brings back 4 starters and has a 6'10" stud in Jock Landale who might be preseason conference POY. The SEC/ACC are great conferences as well so Vanderbilt/Clemson will also be fun. You have to play hard every game but if we can beat some of those teams then everyone will recognize that we have some dogs on our team even though we are a mid-major! We are growing a lot and it will take time but are just focused on our 1st game against Rhode Island.
You are 1 of 4 seniors on the roster: how important do you think all of that experience will be to your team's success this season? It will be huge but we are counting on everyone on the roster to come in and contribute. You want to go out with a great experience as a senior. Sometimes the freshmen do not understand everything so we have to lead them both on/off the court, go hard, and leave it all out there. We have to dominate, do the right things, and let them know that we need all of them to succeed: we have to rock!
What are your goals for the upcoming season, and what are your expectations for the upcoming season? The goal is always to win the regular season because hosting the conference tourney is huge.  The next jobs are to win the conference tourney, make the NCAA tourney, and then make a little noise to let people know that we worked hard. We want to win at least 25 games again and do the right thing: it will be hard but we have to click in.