CLICK HERE for all of Jon's interviews, and the rest of our extensive and continuous preseason coverage
Forget ghosts and goblins: the scariest thing I can think of this Halloween is trying to make a shot in the paint against Ben Lammers, the reigning ACC Defensive Player of the Year who was recently named to the preseason All-ACC 1st team and is on the watch list for the Kareem Abdul-Jabbar Center of the Year Award.  He already ranks 5th in school history with 176 BLK, and after getting 125 of them last season he has a good chance to reach 300 for his career before he graduates next spring.  Not only a defensive presence, he scored 14.2 PPG last year while shooting 51.6 FG%, and how many centers do you know who are majoring in mechanical engineering?!  HoopsHD's Jon Teitel got to chat with Ben about blocking shots and almost winning the NIT.  We also wish him a happy early birthday a couple of weeks in advance!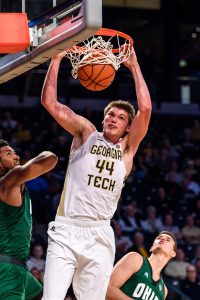 1 reason you chose Georgia Tech over schools like Miami/Stanford was its mechanical engineering program: how much importance do you place on academics? It was a key point when I was looking at schools: I did not want to go somewhere and take a business class that I would have a terrible time in. I take engineering seriously and get a lot of enjoyment out of it.
You play for Coach Josh Pastner: what makes him such a good coach, and what is the most important thing that you have learned from him? He has a very good knack for the game and knows that we will have success by playing the hand he was given. He arranges us to get the maximum out of each player.
On 11/14/16 you had 13 PTS/15 REB/9 BLK in a win over Southern: even if winning is more important than individual stats, do you think that you can get a triple-double before you graduate? I hope so! I am not good at keeping track of my own stats so I did not know how close I was until there were a few minutes left in that game.
You finished the season by being named ACC DPOY: what did it mean to you to receive such an outstanding honor? It was a great honor that recognized how hard I have worked during the past 3 years. It also shows that I helped my team a lot and is a great accomplishment.
Your 125 BLK last year were the 2nd-most in school history: what is the key to blocking shots? A lot of people ask me that but I honestly do not have a solid answer. I have a good feel for it and know when guys are ready to go up for a shot.
You had 8 PTS/7 REB in the 2017 NIT title game before losing to TCU: what did you learn from that game that will help you this year? We did quite well during the NIT so we kind of walked in there assuming we would not have to give it 100%…and they just knocked us in the teeth. We need to give 100% effort every single game.
Your non-conference schedule includes games against UCLA/Northwestern/Tennessee/Georgia: which of these games do you feel will present your biggest test? I would say UCLA because it is in China and is the 1st game of the season. Everyone will be in a different time zone so it will be our most mentally-challenging game.
You are 1 of 2 seniors on the roster: how much pressure is there on you to be a leader this season? There is a lot of pressure.  I have been in most situations before so I try to help out the young guys when they make a mistake. Everyone needs to keep their heads about themselves.
Your father Chris played football at Texas A&M and your brother Nick played soccer at Colorado College: who is the best athlete in the family? My dad would probably say him but we never had the argument because we all played different sports. My brother was a 6'8" soccer player so I will take the smart answer and say…everyone!
What are your goals for the upcoming season, and what are your expectations for the upcoming season? I expect us to build off our success last year and our main goal is to make the NCAA tourney.