CLICK HERE for all of Jon's interviews, and the rest of our extensive and continuous preseason coverage
It is hard to believe that North Dakota went 8-22 in 2015: they have been trending way up ever since then with a CIT berth in 2016 and a trip to the NCAA tourney last March.  1 of the main reasons the Fighting Hawks have turned things around is Cortez Seales.  The reigning Big Sky 6th Man of the Year is at his best when the game is on the line: he scored a career-high 23 PTS in an OT win at Northern Colorado last February and had a key last-second block to force OT in the Big Sky title game win over Weber State last March.  HoopsHD's Jon Teitel got to chat with Cortez about making the NCAA tourney and making shots from behind the arc.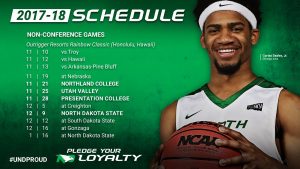 You grew up in Iowa: what made you choose the Fighting Hawks? It was mostly good recruiting: the coaching staff here stayed with me the longest.
You play for Coach Brian Jones: what makes him such a good coach, and what is the most important thing that you have learned from him? His unique way of coaching: he is not the most social coach but you can tell that he loves the game.
In the 2016 CIT you scored 16 PTS/3-3 3PM in a 3-PT OT loss to UC Irvine: where does that rank among the most devastating losses of your career? I look at every loss the same. The most hurtful loss was to Arizona in the 2017 NCAA tourney. Even though we were the underdog I think we really had a chance to pull off the upset.
Last year you were named Big Sky 6th Man of the Year: what did it mean to you to receive such an outstanding honor? Any award you win on the court is an honor but I give most of the credit to the team for putting me in positions to show my ability on the court. My teammates gave me great mentorship/encouragement whether I was struggling or playing well.
In the Big Sky tourney title game you scored 12 PTS in a 4-PT OT win over Weber State: what did it mean to you to win a title, and what was the feeling like in your locker room afterward? That was 1 of my favorite basketball experiences ever: it had never been done before so I will never forget it. It was kind of surreal so I do not think that it even hit us while we were in the locker room.
In the 2017 NCAA tourney you scored 3 PTS in a loss to Arizona: what did you learn from that game that will help you this year? What I took away from that game is that you have to play every game without thinking that you are the underdog. If you do not have the mentality that you can win then you will lose: you need a positive mentality to be successful. It was 1 of my worst games by far so I will learn from it as I grow.
You only took 24 threes last year but made 41.7% of them: what is the key to making shots from behind the arc, and do you plan on taking a few more this year? Definitely. It is not the biggest part of my game but everyone believes that I can make that shot. It is selfish of me to not take that shot if I am open because it will mess up the flow of our offense.
Your non-conference schedule includes games against Nebraska/Creighton/Gonzaga: which of these games do you feel will present your biggest test? I think that all of them will be tough. Even though it is not the postseason it will give our young guys a chance to see what top-level competition is like and learn that every play counts. All 3 of those games will help us grow.
You only have 1 senior on the roster: how much pressure is there on you to be a leader this year? I do not think there is any pressure on me because I am a natural leader.  I just need to lead by example and show them how to come to work every day and treat it like a job. Coach Jones always says, "You are a pro: act like a pro."
What are your goals for the upcoming season, and what are your expectations for the upcoming season? The main goal I have is repeating and then making it back to the NCAA tourney. We have a lot of skilled guys who can do a lot of things. It will help us in the long run and we can do something special if we buy in and play together.