For Chad Sherwood's UTR Game of the Day – CLICK HERE
What you see below is, in essence, what the perfect bracket would look like if the season ended today.  I am not trying to guess what the actual selection committee will do on Selection Sunday, nor am I trying to necessarily guess or suppose what the actual committee would do if the season ended today.  Jon Teitel does that, he's awesome at it, and if that's what you're looking for then you should definitely check out his latest bracket by CLICKING HERE.  This is simply what I think the bracket should look like if the season ended today.
Despite the fact that it is essentially perfect, some of my Hoops HD colleagues will undoubtedly want to incorrectly criticize it.  Any disagreement with this bracket is categorically wrong, but if you still want to read it anyway then their comments are below.
NOTES FROM DAVID
-Not only is Xavier on the #1 line, but I have them ahead of Purdue.  They've played a tougher schedule, have lost just one more game, and have better wins.  Xavier's loss at Villanova is basically negligible, and their other two losses at Providence (who has just one other home loss) and to Arizona State on a neutral floor strike me as less damaging than Purdue's losses to Western Kentucky and Tennessee.  Neither of those are bad, but Xavier's strike me as being less bad.  Now Xavier has had a few close calls this week, but they've managed to win.
-Duke is 4-3 in true road games, which isn't bad at all, but it's not #1 seed good when two of those losses came to teams that aren't likely to make the tournament, including the loss at Saint John's who isn't likely to even make the NIT.  Their wins are good, but as of today their only win against a likely protected seed was against Michigan State.  The other teams on the #1 line have done more.
-Cincinnati is way up in the rankings!!  Good for them!!  I don't have them as a protected seed simply because their next win against a team that is solidly in the field will be their first.  IF they can beat Wichita State (who is slumping but is still solidly a tournament team) then I'll like them a lot better, especially if they can beat them twice.
-Nevada, New Mexico State, Middle Tennessee, Loyola Chicago, and Western Kentucky are all currently inside my bubble.  They don't have an abundance of wins against tournament teams, but they have won a lot away from home, and have won games that are difficult to win even though they're not against tournament teams.  Western Kentucky really blew it this weekend against UTSA or else I would have had them higher.  They still have the win at Purdue, a neutral floor win over SMU, and what is impressive is wins at Old Dominion and at Marshall, who are a combined 19-3 at home.  Two of those three losses were to the Hilltoppers.
-Loyola Chicago also had a tough loss this week at Bradley, but Bradley is also 11-1 at home, and the Ramblers have some tough wins, including the win at Florida.  If this really is about picking the best teams, then the teams that play on the road and beat teams that are tough to beat on the road have got to be given a stronger look than someone who racks up all their quality wins at home against teams that may be in the RPI top 50, but that ultimately lose more road games than they win.
-And finally, we come to Nebraska!!  I've decided to expand my projected field to 69 teams this week to make room for Tim Miles and the Cornhuskers, who are winning at an impressive level when you consider the Dark Web Conspiracy they are having to deal with!!  With his coaching greatness, there is no way Nebraska would have lost a game this season if it weren't for this awful conspiracy!!  THE DARK WEB CONSPIRACY IS REAL!!!!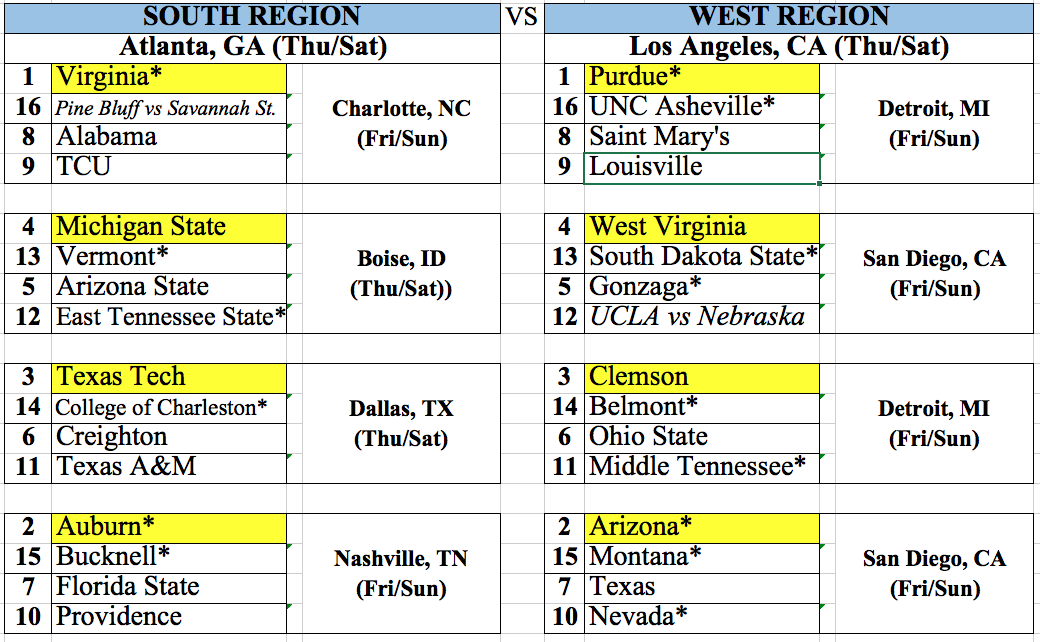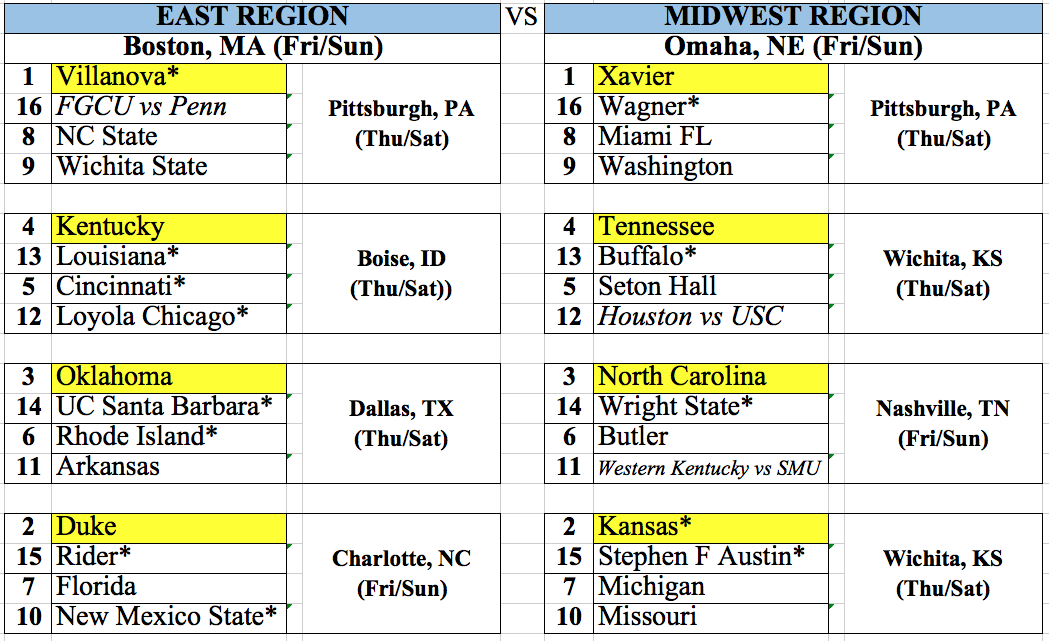 OTHERS CONSIDERED: Kansas State, Virginia Tech, Oklahoma State, Marquette, Georgia, Mississippi State, Maryland
COMMENTS FROM THE HOOPS HD STAFF
COMMENTS FROM JOHN
-The notion of Xavier as a #1 seed is an intriguing one, but it's a week too early to do so. I would venture a guess that the Muskies only have 4 wins against NCAA Tournament teams at the moment (I no longer think of Marquette as a Tournament team), and only one win against a team that is a protected seed (Cincinnati). Still, the win at Seton Hall is close. The opportunities are certainly there in the next two weeks for Xavier to move up with roadies at Butler and Creighton and home games against The Hall and Villanova.
-Oklahoma and North Carolina have gone in the wrong direction the past few weeks. The Sooners have lost 4 out of their last 5 and actually have a losing record away from home. Even North Carolina's only noteworthy win in the ACC so far is against Clemson at home. It's a good thing they scheduled up and beat teams like Ohio State, Tennessee, Arkansas and Michigan.
-Cincinnati failed their tests against Xavier and Florida, but they are dominating the American and are a very respectable 9-2 away from home. That list includes Temple, UCLA, UCF and Buffalo. I'd even argue that Rhody could also be on the 5 line after obliterating VCU on the road last Friday. The Rams' remaining tests include a pair of games against Davidson and a game at St. Bonaventure.
-Saint Mary's as an 8 seed is way too low. They had one bad weekend at Thanksgiving and have made up for that with the BYU sweep along with the win at Gonzaga. The Puppet likes teams that win away from home – the Gaels are 9-2 outside of Moraga.
-I also think the Puppet is a little too quick to keep Texas A&M as low as the 11 line. He is clearly hellbent on making sure the Border War takes place in Wichita.
-Western Kentucky – I wasn't seeing it before their loss to UTSA, and I sure as hell ain't seeing it now. They have 4 losses against teams that are way out of the field, and even a home loss to Belmont is a Quadrant III loss. Beating Purdue and SMU just isn't enough to offset that.
-It will probably pain everyone to read this, but where is Temple? It's certainly fair to say categorically that a team with a losing record in the American is dead on arrival, but wins against Auburn, Clemson, SMU and Wichita State cannot be ignored. Their overall SOS is #2 in the country; they just need a QUANTITY of wins at this point to be dancing. You MUST at least consider the Owls when you have SMU and UCLA making this field.
-Upon further review of the bracket, I'm assuming that the Puppet meant to include UNC-Asheville as an auto-bid winner and not UNC-Greensboro. He's got nobody in the Big South but 2 SoCon teams listed by mistake.
COMMENTS FROM CHAD
– Belated comments today because I was busy celebrating Temple's huge win at Tulane along with the rest of the Philadelphia fans today.  It has been mass chaos!!!
– I still would have Duke or Kansas on the 1 line despite their losses this weekend, but I do agree that Xavier is very close to a 1 seed.  What the Blue Devils and Jayhawks did this weekend did narrow the gap significantly.
– I don't get Arizona.  I would have them on the 4 line at best, they simply do not have the profile of anyone else in that range.  I know they are the best team in the Pac 12, but it is a lousy Pac 12.  They have zero wins away from home against anyone comfortably in the field and only two wins (Arizona State at home and Alabama at home) against teams that should be wearing white — and neither of those is a lock to do so.  This is not a 2 seed profile.
– Maybe one of the reasons for Arizona's seed is David's way over-ranking of Arizona State.  The Sun Devils did very nice things out of conference, but are sub-.500 in a league that will be lucky to get 4 bids.  It is almost like David awarded both Arizona schools for losing at Washington this weekend.  Or maybe he DVR'ed those games and hasn't watched them yet?
– I agree completely with John about St Mary's.  Having them 3 seed lines below the Zags is a joke.
– I do not yet agree with John about Temple.  I have the Owls moving closer to a bid, but they are not quite there yet.  The good news is that they do not need the quality wins — they just need to avoid any more bad losses.
– Finally, Stephen F Austin does not belong in this field.  The Lumberjacks continue to lose games they should win.  #GeauxColonels