With the 2018 NCAA tourney tipping off next month, we will spend this month taking a walk down memory lane with a choice collection of coaches who are celebrating an awesome anniversary this year. From an upset of the top-ranked team in the country in the 1958 tourney (60th anniversary) through a 12 vs. 5 upset in the 2013 tourney (5th anniversary), these legends have all carved out a little piece of history in past Marches. We begin our series with former Manhattan coach Ken Norton. He played for Hall of Fame coach Clair Bee at Long Island, then played professionally for the New York Jewels of the American Basketball League, and later became coach of the Jaspers for more than 2 decades where he won 300 games.  Coach Norton passed away in 1996, but HoopsHD's Jon Teitel got to chat with Norton's former player Jack Powers, former Executive Director of the NIT, about outscoring Jerry West 29-10 in Manhattan's memorable 1958 NCAA tourney upset of West Virginia.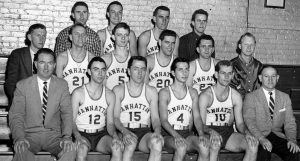 Coach Norton played basketball for Hall of Fame coach Clair Bee at Long Island University: how much of an influence was Bee on Norton's decision to become a coach? Ken always talked about Clair Bee. Ken was an outstanding pitcher on the LIU baseball team but after WWII he decided to become a basketball coach.
In 1936 the LIU team was favored to win a gold medal at the Olympics but they voted to boycott the Berlin Games due to the political situation in Germany: how difficult was it for him to come to that decision? I know it was a team decision but I did not really discuss it with him.
He became head coach at Manhattan in 1946: why did he take the job? The previous coach was future Hall of Famer John "Honey" Russell (who left Manhattan to become the 1st coach of the Boston Celtics).  Norton was at De La Salle Academy in Long Island at the time: they brought him in for an interview and ended up hiring him.
1 of his players (Junius Kellogg) helped initiate the investigation that led to the uncovering of a point-shaving scandal by reporting a bribe attempt to Norton during the 1951 season: how widespread was the scandal, and how proud was he of Kellogg's commitment to fair play? Kellogg was offered $1000 to keep a game below the point spread: he went right to Norton, who ended up going directly to the local District Attorney's office. The story blew up after that: it was the 1st big scandal to hit college basketball.  Junius later played for the Harlem Globetrotters before getting into a horrible car accident and becoming a paraplegic (Kellogg was was inducted into the National Wheelchair Basketball Association Hall of Fame in 1981).
In 1957 he was 1 of the leading spokesmen in favor of adopting the 24-second shot clock used by the NBA: why did he support it, and was he in the majority or minority? Ed Steitz was an AD who was on the rules committee and he supported the change along with Kenny.
In the 1958 NCAA tourney you had 29 PTS/15 REB in a 5-PT upset of top-ranked West Virginia: how on earth were you able to hold Jerry West to only 10 PTS? Jerry was a sophomore and the Mountaineers came into New York as the #1 team in the country. I heard that their fans actually skipped coming to the Garden in order to head to the 2nd round game in Charlotte. It was probably the worst day of Jerry's career…as I am sure that every Manhattan fan who ever sees him reminds him of that game! We all pulled together and it was a great victory for our school.
He also coached baseball/golf and served as athletic director: which sport did he enjoy the most, and how did he like being an administrator? He ran the show up there as far as the athletic department and had to hire/fire the coaches of all the other sports teams. Basketball was his favorite sport dating back to his playing days at LIU. When he was coaching he only had 1 assistant so he pretty much ran the basketball program by himself.
He remains the winningest coach in school history: what made him such a great coach, and do you think anyone will ever break his record? His tenure there was longer than most if not all of the other basketball coaches. A lot of mid-major coaches only stick around a couple of years before moving on to something else. He treated his players very fairly: he was not a screamer but made sure they got things done his way. He learned an awful lot from Clair Bee and always made sure his players got good jobs after they graduated from college.
He died in 1996: when people look back on his career, how do you think that he should be remembered? Kenny used the "clock" offense with 4 men rotating around a center: many tried to copy it but nobody else could get it right. He was an outstanding coach for his time among a bunch of other great coaches in the metropolitan New York area. He devoted his life to the school.