With the 2018 NCAA tourney tipping off next month, we will spend this month taking a walk down memory lane with a choice collection of coaches who are celebrating an awesome anniversary this year. From an upset of the top-ranked team in the country in the 1958 tourney (60th anniversary) through a 12 vs. 5 upset in the 2013 tourney (5th anniversary), these legends have all carved out a little piece of history in past Marches. We continue our series with former LSU coach Dale Brown. He became coach of the Tigers in 1972 and retired 25 years later with 238 SEC wins (which trails only Adolph Rupp) and a pair of Final 4 appearances.  HoopsHD's Jon Teitel got to chat with Coach Brown about the 25th anniversary of losing a buzzer-beater to Jason Kidd as well as being a 2-time national COY.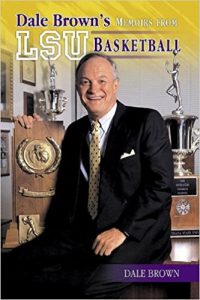 As a senior at St. Leo's High School in Minot, ND, you posted the highest scoring average in state basketball history, then became the only person to earn 12 varsity letters (in football/basketball/track) at Minot State Teacher's College: what did it mean to you to be named 1 of the top 50 North Dakota athletes of the 20th century by Sports Illustrated? It meant a lot to me.  I love North Dakota and was dear friends with a lot of great people from our humble state: Lawrence Welk, Roger Maris, Lute Olson, etc.
You were nicknamed "The Master Motivator": what was your secret for being able to motivate your players? When I was hired at Utah State to be their chief recruiter I tried to figure out the best way to recruit players. I told the parents I met that I was there to recruit their son as a student 1st and as a basketball player 2nd. When I coached I tried not to be evangelistic: I just spoke from my heart. I did not have any gimmick motivations: just true stories that I told to try to make people better. There is so much negativity in the world today so I tried each day to pass on a positive motivational message.
In February 1978 as head coach at LSU, Rudy Macklin scored 23 PTS (11-12 FG) in a 1-PT OT win over Kentucky: how on earth were you able to beat the eventual NCAA tourney champs after all 5 of your starters fouled out?! That was a turning point for LSU basketball. They say that records are made to be broken but that one will never be broken. At the postgame press conference I said that we no longer had "substitutes": we had "reinforcements"! When I look back at that game I honestly never thought that we were not going to win.
In the 1981 NCAA tourney Jeff Lamp scored 25 PTS in a 4-PT win by Virginia in the last-ever 3rd-place game, which was delayed following the assassination attempt on President Ronald Reagan: did you feel that the game should have been delayed, and what did you tell your team to try and keep them focused? I told them the truth: it was the most meaningless game I have ever coached in my life. It was typical greed by the NCAA to have a 3rd-place game that was just for money: you notice that they do not have a 3rd-place game nowadays. I did not really want to play that game.
Take me through the 1986 NCAA tourney (where you became the 1st #11-seed to make the Final 4):
You had to overcome a variety of obstacles just to get to the tourney (injuries, academics, and even the chicken pox): what made your "Freak Defense" so effective? I coached at a very small school where the biggest guy on my team was 6'2", and we got crushed by Williston High School and a huge center (and future NBA legend) they had named Phil Jackson . I read "The Art of War" by Sun Tzu and it inspired me to fool around with a bunch of different defenses: I figured our only chance of winning was via the art of deception. We would play different defenses based on where the offense would attack the basket, but it only works if you have guys with good heads on their shoulders. Someone asked Coach John Chaney about it 1 time and he said the only "freak" he ever saw was in an alley in Philly!
Each of your 5 starters scored in double-digits and played at least 44 minutes in a 7-PT 2-OT win over Purdue: how much of a home-court advantage did you have while playing in your own gym? The women still do it but I think it is absolutely ridiculous: it was a tremendous advantage. I think Purdue coach Gene Keady was the catalyst in getting tourney games changed to neutral sites.
Anthony Wilson scored 6 PTS including a bank shot at the buzzer in a 2-PT win over Memphis State: where does that rank among the most clutch shots that you have ever seen? A couple of years later Tiger Stadium hosted the famous "Earthquake Game" (LSU beat Auburn 7-6 in 1988 after QB Tommy Hodson completed an 11-yard TD pass to Eddie Fuller on 4th down in the final 2 minutes, and the resulting crowd reaction registered as an earthquake on a seismograph located in LSU's Howe-Russell Geoscience Complex). I called our Assembly Center the "Death Dome": people just roared after Anthony made his impossible shot.
Don Redden scored 15 PTS in a 2-PT win over #1-seed Kentucky: how were you able to beat the Wildcats after they had already beaten you 3 times in the previous 2 months? We used the "Freak Defense" quite often that night. Kenny Walker was really difficult to neutralize and had a great game but we just kept on believing.
In the 1987 NCAA tourney Dean Garrett had 17 PTS/15 REB in a 1-PT win by eventual-champion Indiana: did you think the refs called it fairly after Coach Bob Knight went nuts in the 1st half (the Hoosiers ended up with a 24-10 advantage at the FT line)? I was going to try to be Mr. Cool while Coach Knight was doing his thing (which was a major mistake on my part), but I really think it choked up the officials and the game was called differently from that point on.
In the 1988 NCAA tourney Charles Smith scored 10 PTS including a 30-footer off the glass at the buzzer in a 3-PT win by Georgetown: where does that rank among the most devastating losses of your career? It looked like that shot was going over the backboard but instead it hit the top of the backboard and then swished through.  It was a heartbreaker but a stimulant to never forget how far our program has come.
In January 1989 Ricky Blanton made a layup at the buzzer in a 2-PT win over 2nd-ranked Georgetown in the Superdome: what was it like to win in front of the largest crowd at the time to ever watch a regular season basketball game (54,321 people)? It was the CBS game of the week. We had 5 players who did not qualify that year due to Prop 48 so we were really shorthanded. Ricky was probably one of our biggest players on the floor as we faced a pair of 7-footers in Alonzo Mourning/Dikembe Mutombo. CBS called me about canceling the game earlier that year because we were a 12-PT underdog but I told them that I did want them to do us any favors. I knew they were going to double-team Chris Jackson and somehow Blanton put it in at the end of the game.
In December 1991 Shaquille O'Neal had 43 PTS/19 REB/8 BLK as your team scored an SEC-record 159 PTS in a win over NAU: how did you recruit Shaq to Baton Rouge, and where does he rank among the greatest players you have ever seen? I met Shaq in Germany after I was talking with some of our troops and he asked me to show him some exercises. I thought that he was in the service but he grinned and told me that he was just 13 years old! I wrote him every week and he wrote me back after getting cut from his high school team. I told him to sincerely try to do his best and that God would eventually take care of things. He got better every single year from college to the pros: there was no decline in his game until he got hurt and he was easy to coach. I think that Kareem Abdul-Jabbar and Bill Walton were 2 of the best college centers of all time.  I had both of them come to LSU and work out with Shaq for a few days.
In the 1993 NCAA tourney freshman Jason Kidd scored 16 PTS including a spinning layup with 1 second left in a 2-PT win by Cal: could you tell at the time that Kidd was going to become a superstar? I did not, although I recruited Kidd out of high school. We had the defense set up to stop him but he went right around everyone and made a magnificent play to win the game.
You were a 2-time national COY: what did it mean to you to win such outstanding honors? The 1st time they presented me the trophy on the court in Philly and I thought that if I could do it then anyone could do it.
You have been a long-time critic of the NCAA: what have they improved on in the 2 decades since you retired, and what do they need to keep working on in the future? I was a critic because I saw the monumental hypocrisy that they preached and how they legislated against human dignity. I sent in 40 or so suggested rule changes, many of which have since become part of the rule book. They investigated us for 4 years and they did not find anything we did wrong. How can you follow a 450-page rule book: it is almost as long as Obamacare! I am hoping that NCAA president Mark Emmert can be a beacon along a very dark path. Frank Deford once described the NCAA as the largest legal cartel in the world.