For our latest installment of the Championship Week Video Notebook – CLICK HERE
Links from Jon Teitel as it relates to Championship Week:
CLICK HERE for Part 2 of All-Conference Awards
CLICK HERE for Part 2 of Conference Tournament Previews
CLICK HERE for his interview with Selection Committee member Tom Burnett (Southland Conference Commissioner)
-Today, it falls upon staff member John Stalica to put together the weekly NCAA Tournament bracket. This is not a projection of what the NCAA Selection Committee will do; that is Jon Teitel's area of expertise among our group. This is merely a checkpoint of what Stalica feels the field will look like after games played through Sunday.
-Without further ado, here is the bracket for this week: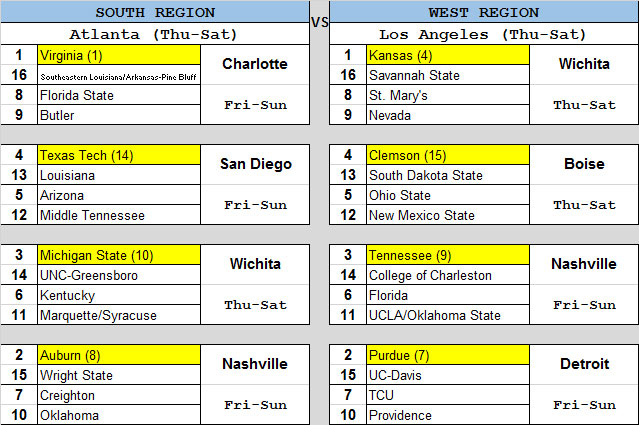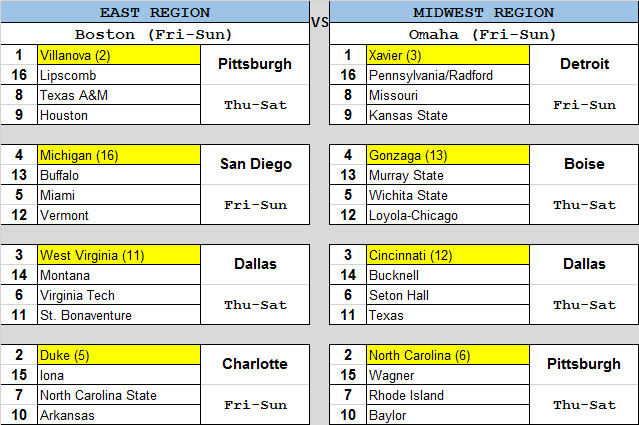 First Four Out: Alabama, USC, Arizona State, Utah
Next Four Out: Louisville, Penn State, Nebraska, Oregon
COMMENTS FROM JOHN
-Right now, I would say that there are 8 teams that could realistically win a #1 seed – Virginia, Villanova, Xavier, Kansas, Duke, North Carolina and either Auburn or Tennessee depending on which one of them wins the SEC Tournament. The latter two are more of a longshot, but not completely impossible if they end up beating a gauntlet of teams in the SEC Tournament.
-Last week, I briefly pulled Cincinnati out of the Top 4 lines after their 2-game slide. That changed in a hurry with their win at Wichita State that also cemented the overall American regular season championship. Likewise, I also have Michigan as a protected seed after earning wins against Nebraska, Michigan State and Purdue in the Big 10 Tournament this weekend.
-It has been a rough week for teams like Rhode Island and Nevada with their recent losses. I still think they're safe as far as making the field, but their seeds are starting to decline.
-I finally gave in to the Puppet and gave him the Border War rivalry that he's been seeking all these years. It's up to Missouri and Kansas Sta, oh, never mind.
-The elephant in the room this week is the absence of teams like Arizona State and Alabama. In the case of the Sun Devils, they have done very little of note since the calendar turned to 2018. They were looking like a protected seed after wins away from home against Kansas State, Xavier and Kansas. I still think they can get into the field this year, but they have to beat Colorado in the first round of the Pac-12 Tournament and then have to beat Arizona in the quarters to really feel safe as far as inclusion.
-For Alabama, they've lost 5 straight games and are now 17-14 overall. While they do have wins against Auburn, Tennessee and Rhode Island in their back pocket, they also have a high quantity of losses that include 6 losses to teams that won't make the NCAA Tournament field. They have the fifth overall strength of schedule in the country, but they are going to need to win their opener against Texas A&M and their quarterfinal against Auburn to really have a shot at making this field.
-And how about the Big 12? Right NOW, I have them getting 9 bids. That's not to say that's where they ultimately end up – a team like Oklahoma State is racking up quality wins that now includes a season sweep of Kansas. They still have a lot of work to do to make up for what are overall bad computer metrics – they must beat Oklahoma in their opener and could really use a 3rd win against Kansas in the Big 12 quarters.
COMMENTS FROM THE HOOPS HD STAFF
THE PUPPET'S COMMENTS:
-John is gone!!  He has lost his mind!!!  For starters, WHERE IS NEBRASKA!!!??  Their win against Michigan earlier this year is a spectacular win!  They need to be included!!  To say otherwise is to align with the Dark Web!!  #DarkWebConspiracy
-I've been railing against Cincinnati as a protected seed all year, but after their win at Wichita State and an outright first place finish in a conference that, quite frankly, ain't that bad, I can see giving it to them, especially when you look at what all the teams in that area have done (or not done).
-I'm just not on board with Saint Bonaventure.  They beat Rhody at home and Syracuse on the road.  I suppose I could argue for them if I really had to.  Like if it were debate class and I was assigned to do it.  But, I just can't get behind a team that ran up a bloated record against sub-NIT teams.  Everyone, including many misguided individuals here at Hoops HD, were talking about what a great win they had against Davidson.  Uhh, since when did beating fringe NIT teams at home in overtime become a great win?  It was a great GAME in the sense that it was exciting, but it was hardly a great win.
-He has Loyola Chicago, who won at Florida and also beat up on a bunch of sub-NIT teams, on the #12 line.  This is what I don't understand.  If you do like the Bonnies, then don't you kinda have to like Loyola a little bit more??