In an effort to promote the game of basketball and recognize the best players in the nation, the Basketball Hall of Fame created awards for the men's All-America Team in 2015. These awards covered 5 different positions and were named after 5 of the best players to ever step onto the court: the Bob Cousy Point Guard Of The Year, the Jerry West Shooting Guard Of The Year, the Julius Erving Small Forward Of The Year, the Karl Malone Power Forward Of The Year, and the Kareem Abdul-Jabbar Center Of The Year. In 2017 the Hall of Fame announced a partnership with the Women's Basketball Coaches Association (WBCA) to present awards celebrating 5 of the best women to ever play the game: the Nancy Lieberman Point Guard Of The Year, the Ann Meyers Drysdale Shooting Guard Of The Year, the Cheryl Miller Small Forward Of The Year, the Katrina McClain Power Forward Of The Year, and the Lisa Leslie Center Of The Year. As we approach the April announcement of this season's women's award winners, HoopsHD's Jon Teitel completes his presentation of interviews with all 5 Hall of Fame legends:
Miller: September
Lieberman: December
Meyers Drysdale: January
McClain: February
Leslie: see below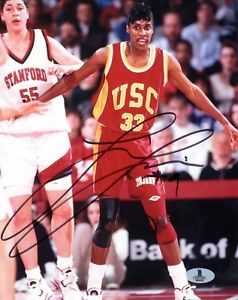 You grew up as a lefty but after a classmate begged you to help out your middle school basketball team and you realized that you were the only lefty in the group, you allegedly decided to become ambidextrous so that you would not have to stand in a layup line by yourself: is that true, and how much did that decision end up contributing to your long-term success? That is true: I changed hands on the 2nd day of practice. Being ambidextrous helped me on the court: it allowed me to shoot opposite of whatever side the defense was playing against me.
You received more than 100 college recruiting letters before even beginning high school: what made you choose USC? I had a great relationship with the coaches. I liked the chance to get the best of both worlds in terms of athletics and education: I majored in Communications.
As Morningside High School there was a tradition that the senior captain would try to score as many points as possible in the final regular season home game: how on earth did you score 101 PTS…in the 1ST HALF?! I have always been a scorer, not just a shooter. We used a full-court press on defense and my teammates just kept feeding me the ball.
After being named national college freshman of the year in 1991, you proceeded to set conference records for career PTS/REB/BLK en route to being named national POY in 1994: what did you learn from playing for a pair of Hall of Famers in Marianne Stanley/Cheryl Miller? Coach Stanley really planted in me the concept of being consistent. I showed up every day whether it was practice or a game and tried to make the players around me better. She set that standard for me as a freshman and I never looked back.
In July of 2002 you became the 1st woman to dunk in a WNBA game during a loss to Miami: were you confident that you would make it, and how big a deal was it at the time? I was actually mad because we lost the game. Part of the dunk was out of frustration because we were losing at the time. I had made some dunks before but not during a WNBA game so it was good to finally get that TV footage and have that place in history. I am proud to have been the 1st.
In August of 2002 you were named Finals MVP for the 2nd straight year after winning your 2nd straight WNBA title with the Los Angeles Sparks: how were you able to play your best when it mattered the most? I had a wonderful trainer and loved working out/setting goals. He was really big on me visualizing what I wanted to accomplish and writing it down, which helped me try to focus on getting better every single year. That was the 1st year I ever wrote down that I wanted to dunk in a game and become MVP of the Finals, so it was just a matter of checking those items off my list and committing myself to my craft.
In September of 2004 you became the 3rd player in WNBA history to record a triple-double with 29 PTS/15 REB/10 BLK in a win over Detroit: where does that rank among the best all-around games of your career? I do not know…but scoring 101 PTS in a game was pretty cool! I never had a triple-double on my radar back then, which is unfortunate because now it is a very popular stat. We had lost to Detroit in the 2003 Finals so it was bittersweet to beat them in the regular season: I am a perfectionist.
You won 4 straight Olympic gold medals from 1996-2008: what did it mean to you to represent your country, and did it reach a point where you just expected to win every single time that you competed in the Olympics? It is 1 thing to represent your city/state, especially because I got to play my entire college/pro career in Los Angeles where I had grown up, but it means even more to wear the red/white/blue. We were always expected to win so we joked that "anything less would be uncivilized"! We did not want to be the team that disappointed our entire country so there was a lot on the line and we put a lot of pressure on ourselves. We set a high standard for ourselves dating back to the 1988 team with stars like Katrina McClain/Teresa Edwards and creating our own nucleus with newer players in 1996 like Dawn Staley. Our desire to win was unprecedented and we passed it along to the next group of women like Diana Taurasi/Sylvia Fowles to keep it a well-oiled machine. We had great camaraderie: the legacy was passed down from 1 team to the next to show them a certain way to do things.
In 2015 you were inducted into the Hall of Fame, which recently named an award after you in recognition of the best center in college basketball: what did it mean to you to receive such outstanding honors? I was just happy that they named an award after me while I was still alive: that is pretty cool! I am not an attention-seeker but I am happy to hand out the award to a young woman who might move on to the pros someday. Hopefully it will allow the younger players to look into the history of myself and the other great women in the Hall of Fame to see how the sport has evolved over time.
What have you been up to since retiring, and what do you hope to do in the future? My husband and I are both realtors so that is what we spend most of our time doing. We work with a lot of athletes/celebrities to help them find 2nd homes or property that they want to invest in.