On Saturday Stephen F. Austin beat SE Louisiana in the Southland tourney title game to earn an automatic bid to this week's NCAA tournament. The Lumberjacks made the CIT before losing to Idaho in 2017, but bounced back this year to claim the school's 4th NCAA tourney bid in the past 5 years. Earlier today HoopsHD's Jon Teitel got to speak with Coach Keller about his vast NCAA tourney experience as an assistant and what it will feel like to face his longtime friend Chris Beard on Thursday night in his hometown of Dallas.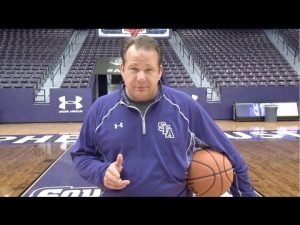 You had a 1-PT loss at Missouri back in December: how close did you come to beating the Tigers, and what did your team learn from playing a fellow NCAA tourney team? They have a great team: I think Coach Cuonzo Martin's will can impact his entire roster. No disrespect to former coach Kim Anderson but I think they needed a change and a fresh coat of paint.
All you had to do last week to return to the NCAA tourney for the 4th time in the last 5 years was beat the Southland POY (Central Arkansas PG Jordan Howard)/COY (Nicholls State head coach Richie Riley)/DPOY (SE Louisiana PG Marlain Veal) on 3 consecutive nights: how were you able to knock off all of these award winners? We have great kids who are selfless and care about winning more than anything else.
In the title game on Saturday JR PF TJ Holyfield scored a team-high 13 PTS in your 4-PT win over the Lions en route to being named 2018 conference tourney MVP: how was he able to play his best when it mattered the most, and what was the reaction like when you got back to campus? We are on Spring Break so our students were not here but basketball is very important to our school. We had almost 4000 fans at the title game. It was a crazy scene after the game with a floor full of our fans: I could not find my wife and ended up missing the trophy presentation because I was taking photos with some people. We talked about this moment at the beginning of the year: it is time for this group of kids to create their own legacy. We have lived off of the previous players/coaches for long enough: we are so grateful for the culture that former coaches Brad Underwood/Danny Kaspar started.
The Lumberjacks have now won 27+ games for the 5th time in the past 6 years: is it too soon to start thinking of your program as a "dynasty"? Each team is different and the expectations are really high. At our school if you do not play in the NCAA tourney it is almost like a disappointment, which makes me glad because I want it to be that way. At the same time, if you have new players and cannot stay healthy, you can win "only" 20 games and still have a great year because you consider that to be overachieving.
SR SG Ty Charles has plenty of NCAA tourney experience under his belt (14 PTS/4-8 3PM in a 7-PT loss to Utah in 2015 and 4 STL in a 1-PT loss to Notre Dame in 2016): how crucial is it to be able to rely on veterans at this time of the year? Absolutely! I can talk to the players about how I was an assistant coach in 7-8 Sweet 16s, but there is nothing more impactful then Ty talking about beating West Virginia and then going down to the wire against Notre Dame in 2016. He is 8 months recovered from shoulder surgery and is finally starting to look like his old self.
Your relationship with Texas Tech coach Chris Beard dates back a couple of decades and you were also an assistant to Chris's current assistant Sean Sutton when you were both at Oklahoma State: what will it be like to face a coaching staff who you know so well? It will be awkward for sure. I was blessed to go to the Final 4 at my alma mater with Coach Sutton. I consider Sean to be not just a friend but a dear friend: he has impacted my life so much and I would not be here without him. Chris and I go back 25 years: he helped me get my start in this business when he was just getting started at North Texas. We have a lot of ties: we realized that we were scheduled to play each other a couple of years ago, talked about it, and came to the conclusion that we did not want to play the game because we were friends. I texted/called him last night and we talked about the fact that we would be playing against each other this week.
Texas Tech lost to the Jayhawks a few weeks ago: will you be asking your old boss at Kansas (Bill Self) for any tips?! I know Coach Self has been really busy but we talked 2 Sundays ago after he lost to Oklahoma State. He was not really excited after losing Udoka Azubuike to injury for the Big 12 tourney but it still did not stop him from winning the title.  He has his own issues with Penn so while I do not want to bother him, he has taught me a lot and I would be remiss if I did not take 5 minutes this week to get his advice.
You are returning to your hometown of Dallas to play the Red Raiders: will you have a lot of family/friends in attendance? I have told everyone that I have ZERO tickets: it is a logistical nightmare! We just do not get enough so I have my operations guy sitting with my credit card right now trying to buy as many tickets as he can. My phone has blown up with ticket requests: any money I make this summer is going to pay for tickets.
What do you think of getting a #14 seed, and what will it take to pull off the upset? I am not a Catholic or Muslim but it will take a lot of prayer. I had a dream several months ago that we were going to play in Dallas and win 2 games.  It was just like Hoosiers: there was a line along I-20 from Dallas to Nacogdoches with people on the side of the road congratulating us.
You have been a coach for more than 25 years and have been on both sides of success as an assistant in March (you were an assistant at Kansas when Ali Farokhmanesh made a game-winning 3 to beat you in 2010 and you were an assistant at Texas A&M when you overcome a 12-PT deficit with 44 seconds left in regulation in a 2-OT win over Northern Iowa in 2016): is there anyone in the nation more prepared for their 1st NCAA tourney as a head coach? I have seen it all. That is the great thing about this sport: there are unbelievable highs/lows. I feel that if you continue to try to win each possession then something good will happen. You have to stay in the now, learn from the past, and do not focus on the future. I have been really blessed to work for coaches like Bill Self/Eddie Sutton/Billy Kennedy and be around their success. Whatever our challenges on Thursday, and there will be a ton of them, I think we will compete and try to find a way to win.