Last week Central Arkansas lost 86-64 to Stephen F. Austin in the Southland tourney but their season has not yet come to a close. After being named an Academic All-American earlier this week, SR G Jordan Howard kept it rolling on Wednesday with 30 PTS in a 2-PT OT win at Seattle in the CBI, and the reward is that the Bears will host Jackson State in the CBI quarterfinals on Monday night. On the court Jordan is averaging 25.4 PPG: off the court he averaged a 3.71 GPA while getting his degree in digital filmmaking last December. Earlier this week HoopsHD's Jon Teitel got to speak with Jordan about being named Southland POY and how his parents follow him and his brother Markus when they have postseason games on the same evening.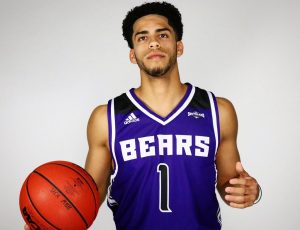 You play for Coach Russ Pennell: what makes him such a good coach, and what is the most important thing that you have ever learned from him? Coach Russ has such a great basketball mind. He loves the game and loves his players even more. He is a players' coach so he understands how to deal with each position and puts guys in positions to be successful. The most important thing I have learned from Coach is how to constantly adapt to each way that a team defends me.  Over the years he has really etched into my game the decision to be patient and let the game come to me.
You are 5'11": do you consider your size to be an advantage or disadvantage on the court? The disadvantages are pretty obvious: I do not have the luxury of being tall, being able to see over the defense, or being able to play above the rim.  However, what I have learned is that since nothing was given to me I have to make the most of every opportunity and having that chip on my shoulder always motivates me.
In 2015 you were named conference ROY: how were you able to make such a smooth transition from high school to college? Coming out of high school all I needed was the opportunity. I was not highly recruited so when Coach Russ gave me the opportunity to come and play for him immediately, I worked extremely hard and was blessed enough to come in and perform well enough to win Freshman of the Year.
Last week you were named 2018 conference POY: what did it mean to you to win such an outstanding honor? This is a special award that I was truly thankful for due to everything we went through as a team since my freshman year.  We were not winning very much in the past but now we are 1 of the better teams in our conference: it is just a huge testament to our great coaches/players. For me to be a catalyst in reviving this program, and now being recognized as the player of the year, is just such an honor and really special.
In 2017 you were named 3rd-team Academic All-American and earlier today you were named 2nd-team Academic All-American: how do you balance your work on the court with your work in the classroom? To be named an Academic All-American is one of my most important achievements because my parents have always preached that being more than a basketball player is very important. It is tough to balance everything at once but I always make sure that I am focused/organized and (most importantly) emphasizing time management. Sorting out periods throughout the week to organize time for your work is really important if you want to stay on top of your studies: managing that time was a huge part of my academic success.
You graduated in December with a 3.71 GPA and a degree in digital filmmaking: how did you pick your major, and what do you hope to do with your degree? I have always loved filmmaking since I was a young kid. It has always peaked my interest and I have always been a pretty creative individual so when I realized that it was one of my passions and I could go to school for it I jumped on it immediately. Eventually I would love to get into the cinematic side of sports and telling stories/documentaries like "30 for 30". I would also love to work with sports companies like Nike and do projects with them in the future.
The past 2 seasons you led the conference in 3P%/FT% and this year you finished 3rd in the nation with 25.3 PPG: what is the key to being a great shooter/scorer? Consistency…and more consistency! It has become like a ritual for me to continue to work on my craft. I am constantly working at it and never becoming satisfied with anything that I have done in the past. I just love this game and am very passionate about being successful in it, so I work as hard as I can to become the best that I can be. I have great people around me as well that care enough to help me along the way so I am blessed to be in a great situation.
You played a pair of NCAA tourney teams earlier this year in UCLA/Stephen F. Austin: which of them impressed you the most? They are both great teams but since I always see SFA every year I would say them: they are always consistent and have been really impressive. They are just a really solid team that has the potential to beat anyone on any given night.
Your father Chuck played football at Indiana, your brother Desmond played basketball at Phoenix College, and your brother Markus led the nation with 54.7 3P% last year at Marquette: who is the best athlete in the family? I have to go with the man in charge: our dad! He is the man as well as the best father an athlete could ask for. We are so blessed to have a man like him in our life to guide us in athletics, but more importantly in life. He and my mother Noemi have given us every resource possible to be successful and are the best support system we could ask for.
On Wednesday night you scored 30 PTS in a 2-PT OT win at Seattle in the CBI while Markus scored 22 PTS in a 7-PT win over Harvard in the NIT: how will your parents keep dealing with such logistical nightmares if you 2 keep winning?! I guess they will have to bring another TV into the living room!