It has been an eventful little month in Des Moines: a 2-PT loss to Bradley in the MVC tourney, a 9-PT loss to Northern Colorado in the CIT, and Coach Niko Medved just announced that he will become the new head coach at Colorado State. On a positive note, SR SG Reed Timmer was named an Academic All-American. On the court Reed completed his college career by averaging 15.7 PPG/84.1 FT%: off the court he averaged a 3.47 GPA while getting his doctorate of pharmacy. Earlier this week HoopsHD's Jon Teitel got to speak with Reed about the guy who shares his name and what it was like to face the Ramblers twice in conference play.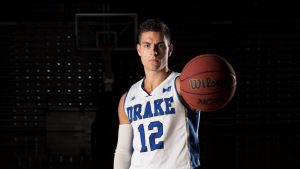 There is another guy named Reed Timmer who is a famous storm chaser: do people ever mix you 2 up? On Twitter they do quite often! He tweeted at me 2 years ago in an attempt to clear it up.
You played for Coach Niko Medved: what makes him such a good coach, and what is the most important thing that you have ever learned from him? He is an awesome coach. He is enthusiastic and gained our trust/respect right away. He was not asking for anything because he knew the relationship needed to build. He has a lot of tricks up his sleeve strategically and knows how to make use of our talent.
Back in 2010 your assistant coach Ali Farokhmanesh made the cover of Sports Illustrated after beating Kansas to get to the 2010 Sweet 16 as a player at Northern Iowa: have you ever asked him about his famous tourney run, and how does he feel when you play the Panthers? We joke about it all the time! He is 1 of my favorite coaches and is still good friends with all the guys at UNI. It is not awkward at all when we play them: he wants us to win.
You played a pair of NCAA tourney teams this year in South Dakota State/Loyola-Chicago: which of these teams impressed you the most? Both of them are good teams but Loyola was more impressive. They were picked 3rd in our conference and came out of nowhere to get where they are. They are really shocking the world but we knew that it was coming: they have a really solid group with a good team dynamic.
You made the CIT and beat Abilene Christian in OT at home before scoring 20 PTS in a 9-PT loss at Northern Colorado: what is the biggest difference between the regular season and the postseason? The level of play: all of the teams in the postseason are really good and you have to do a lot of scouting because they are not in your conference. You know you are in for a battle every single game.
You are 1 of several seniors on the roster: how will the Bulldogs do next year after losing all of that talent? It has been a lot of fun playing with my fellow seniors this year. There will be a bit of a learning curve next year and expectations will be different but they are headed in the right direction.
Last week you were named an Academic All-American: how do you balance your work on the court with your work in the classroom? It has gotten easier over time: I just try to balance my schedule and study every night. You have to enjoy studying because if your mindset is that it is going to suck then it will never be fun. It gets easier when you find people who share the same vision as you.
You have a 3.47 GPA while getting your doctorate of pharmacy: why did you choose that subject, and what do you hope to do with your degree? I did not know what I wanted to do at 1st but the administrators suggested I try a pre-pharmacy program, then I just stuck with it after arriving on campus. It is 2 years of pharmacy and then 4 years in a graduate program, so after 6 years I hope to become a pharmacist.
Last month you scored a career-high 39 PTS in a win over Indiana State and also broke the school's all-time record for career PTS: was it just 1 of those scenarios where every shot you put up seemed to go in because you were "in the zone", and do you think that anyone will ever break your own record? We knew that Indiana State would be a big game because they came in gunning and not wanting to play on the 1st day of the conference tourney. My 1st 3 looks were pretty wide-open and then Coach kept calling more plays for me. It was a fun game and I definitely felt in the zone. I hope that someone breaks my record in the future: we have a good program that attracts good players but I never thought that I would own that record. You need the right teammates/coaches/skills.
Your father David played football at Wisconsin: who is the best athlete in the family? My grandfather played football at Marquette so there is definitely a genetic aspect to it.