There are only 3 weeks left for the college kids to impress the scouts before the NBA Draft takes place on June 21st. We will spend that time talking to the stars of tomorrow as they prepare for the next phases of their careers. Stephen Brown made the All-Patriot League Team 3 times during his career in Lewisburg and made the conference All-Defensive Team 3 times as well. HoopsHD's Jon Teitel got to chat with Stephen about being a great FT shooter, winning the conference tourney MVP award, and what it would mean to get drafted.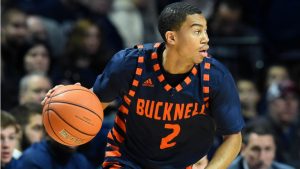 You grew up in Virginia: what made you choose Bucknell? I played with Team Takeover out of the DC area and 1 of our coaches knew 1 of the coaches at Bucknell. They recruited me and were the 1st school to give me an offer so it was my 1st choice. When I got to campus to take a tour it just felt like home.
You played for a pair of coaches in Dave Paulsen/Nathan Davis: how difficult was the transition from 1 to the other, and what is the most important thing that you learned from either of them? The transition was difficult: the hardest part was just going through the process of figuring out who would be the next coach. Coach Paulsen taught me how to have a great work ethic and he brought a lot of positive energy to the team to prepare us for what lay ahead. Coach Davis came in with a great style and gave us a lot more freedom than what we had before. The biggest adjustment was the speed of the game, but I liked the new style.
In the 2017 NCAA tourney you had 18 PTS/5 STL/1 TO in a 6-PT loss to West Virginia: what was it like to be a PG facing "Press Virginia"? It was not the best feeling to see their name come up on the TV screen during Selection Sunday but the coaches definitely prepared us for the game. It was nice to use our speed and it was a lot of fun: it gave our team a lot of confidence going into the following year.
You led the league in FT% in 2016 and were 2nd in FT% in 2018: what is the secret to making FTs? There is no secret to it: you just have to be consistent and go through the same routine every time. You have to get comfortable during each game and just find the flow.
In the 2018 conference tourney title game you had 22 PTS/6 AST/0 TO in a 29-PT win over Colgate en route to being named conference tourney MVP: how were you able to play your best when it mattered the most? Being aggressive: my coaches/teammates kept telling me to take what the defense gave me and to be aggressive when I was on defense. You do not want to have any regrets as a senior so we left it all out on the floor.
In the 2018 NCAA tourney you had 20 PTS/4-8 3PM in a 4-PT loss to Michigan State: how close did you come to pulling off the upset? It was pretty close: we were sticking with them throughout the 1st half but they came out and hit some tough shots in the 2nd half. We had a couple of our bigs get into foul trouble but give them credit for playing well. I am proud of how we played given their size advantage.
You played for the Patriot League team in the inaugural 3X3U National Championship on Final 4 weekend in San Antonio: how did you play, and was it weird to see guys like Jordan Swopshire (Colgate)/Kahron Ross (Lehigh) switch from opponents to teammates? It was a little weird at 1st to be teammates with guys who had been my opponents only 3 weeks earlier but they are all great guys. We came together, connected with each other, and played to each other's strengths. It is nice to see how they are introducing that tournament to college seniors and it was a great opportunity for us to represent our league.
You graduated in the top-20 of the school's all-time career lists for PTS/AST: how were you able to balance your scoring with your passing? I did not really think about it. Every year is an adjustment period: as a freshman I just tried to get the ball to our scorers but as I got older I had more opportunities to become a scorer as well. As a senior I tried to find whoever had the hot hand and worked with my coaches to figure out what game plan would be most effective.
You were a co-captain each of the past 2 years: what is the key to being a great leader? For me the keys are communication and leading by example: those were some of my strong suits. As a PG you are an extension of the coach on the floor and you have to make sure that everyone is on the same page both on/off the court. We had guys who were willing to be led so it was not a struggle at all.
What would it mean to you to get drafted? It would mean a lot. Going through this whole process has been a blessing and for a guy like me coming from a small school it would be a testament to my hard work.