The final roster for the 2018 USA Men's U18 National Team will be announced later this week before the team heads to Canada to try to win its 5th straight gold medal and qualify for the 2019 FIBA U19 World Cup.  This year's coaching staff has a decidedly Kansas feel thanks to head coach Bill Self and assistant coach/Jayhawk legend Danny Manning.  The list of 18 player finalists includes many of the top teenagers in the nation such as Cole Anthony (1 of the best players in the Class of 2019), Tyrese Maxey (SG who committed to Kentucky last month), and Coby White (2018 McDonald's All-American).  1 of the other McDonald's All-Americans still in the running is Quentin Grimes, who committed to Kansas last November and played in the Nike Hoop Summit in April.  HoopsHD's Jon Teitel got to chat with Quentin about choosing the Jayhawks, keeping up with his athletic family, and trying to win a gold medal this month.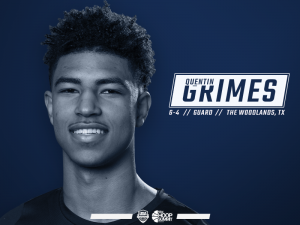 You grew up in Texas and got scholarship offers from schools such as Arizona/Kentucky/Texas: what made you choose Kansas? Coach Self was real honest with me: I did not want to play for a coach who just told me what I wanted to hear. I know that I will have to work hard for the Jayhawks and that nothing will be handed to me.
In February you scored a career-high 51 PTS in a win over Montgomery: was it just 1 of those scenarios where every shot you put up seemed to go in because you were "in the zone"? In the 1st half I hit my 1st 4 or 5 threes and then they started fouling me a lot. I scored more than 30 PTS in the 1st half and just kept playing consistent in the 2nd half.
In the 2018 McDonald's All-American Game you scored 14 PTS in 19 minutes in a 3-PT win by the West: which of your fellow honorees impressed you the most? Probably Nassir Little, who was named MVP. He is a high-energy player and a terrific athlete.
In the 2018 Nike Hoop Summit you scored 15 PTS in a loss by team USA: how on earth did the World Select Team grab 60 REB?! I had to guard RJ Barrett and did a pretty good job on him, but they were shooting a lot of threes and getting lucky with all of those rebounds in the post.
What will it be like to play for Coach Bill Self (as well as assistant coach/Jayhawk legend Danny Manning) this summer on the U-18 FIBA Americas team and then follow him to Lawrence later this year? It will be great to get a head start in terms of learning what Coach Self is looking to help his players become successful.
You are part of an amazing freshman class for the Jayhawks along with Devon Dotson/David McCormack: have you had a chance to get to know either of them before you all arrive on campus? We got to know each other a few months ago at the McDonald's All-American Game in Atlanta so the connection will be pretty strong by this fall.
Kansas is losing several important players from last year's team (Malik Newman/Devonte' Graham/Sviatoslav Mykhailiuk): what was your reaction to Udoka Azubuike's announcement last week that he would be returning to school after declaring for the draft earlier this spring, and any idea if Lagerald Vick will also be back? I am really happy to have Udoka coming back: I have never played with a big man like that before and I think he will make me a better player. I have not heard anything about Lagerald's situation.
You were a combo guard in high school: what position do you feel most comfortable at on the court? I feel comfortable at the 1 or the 2. I have good size for a PG so I can see over defenders if I have the ball, and if I am playing SG I can just find ways to get open for shots.
What does it mean to you to represent your country on the U-18 FIBA Americas team? There are only 12 players selected to wear the jersey with "USA" on the front so it is very special. We will try our hardest to win a gold medal.
Your brother Tyler Myers plays hockey for the Winnipeg Jets and your father Marshall played basketball at Louisiana Tech: who is the best athlete in the family? I think it is me: I have been measured with a 38" vertical and I also ran track during high school. My dad played football as well as basketball so we are just a pretty athletic family.