It is only June but we have already lost several Hall of Fame basketball players in 2018: Jo Jo White passed away in January, Hal Greer passed away in April, and we just learned that Anne Donovan died Wednesday of heart failure at age 56. Anne dominated the sport at every single level both on the court and on the sideline: 1979 national high school POY, 1980 AIAW national champ, 3-time All-American at Old Dominion, 1984/1988 Olympic gold medals as a player, 2004 WNBA title as a coach, and 2008 Olympic gold medal as a coach. If you like defense, her 801 career BLK for the Lady Monarchs remains #1 in NCAA history. HoopsHD's Jon Teitel had the honor of speaking with Anne a couple of years ago and we are proud to present the previously unpublished interview below. We also send our condolences to the entire Donovan family on their loss.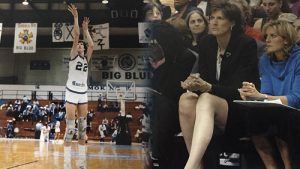 As a 6'6″ center at Paramus Catholic High School you were named 1979 national high school POY after leading your team to consecutive undefeated seasons/2 state titles: did it just reach a point where your fans expected you to win every single time that you stepped out on the court? I think that our supporters probably did have high expectations for us but when you are the one competing you know that you are going to get your opponent's best shot in every game. We were balanced and competitive so we were pretty heady/determined.
You received scholarship offers from more than 250 colleges: what kind of recruiting pitch did you get from Penn State football coach Joe Paterno, and how close did you come to becoming a Nittany Lion? I received a phone call from Coach Paterno telling me what a great school Penn State was and that I would never regret becoming a Nittany Lion. Actually, the biggest draw to Penn State was that my sister Mary played there and I really looked up to her. Penn State was on my final list of 5 schools along with Rutgers/Colorado/Kentucky/Old Dominion.
You partnered with fellow future Hall of Famer Nancy Lieberman to lead Old Dominion to the AIAW title in 1980: what made Nancy such a great player, and could you have ever imagined a few decades later that both of you would become professional basketball coaches? Nancy was really special on the court: she was definitely a rare talent in those days and was ahead of the curve in women's basketball. At 5'10" Nancy was a big point guard who could see the floor so well. She was a tremendous passer with uncanny court vision and loved setting us up where we would be successful on the court. Nancy had an aggressive personality along with confidence and a "swag" that many collegiate players did not possess at that time. As for our coaching careers, I did not aspire to be a coach and I do not think that Nancy did either but our passion for the game inspired us to stay in the game.
You were a 3-time All-American and the 1st Naismith national women's POY in 1983: what did it mean to you to receive such outstanding honors? I was proud to be recognized individually but winning championships was what mattered the most. I was blessed to play with some of the greatest unsung players ever and was coached by the best. Marianne Stanley was a tremendous coach who brought out the best in those who played for her. The Naismith Award remains 1 of my fondest memories because it was well known as the symbol for the best college MALE player! It was a first in 1983 for a female to be recognized and so I certainly was/am very proud of that.
You set school records with 2719 PTS/1976 REB and your 801 career BLK remains the best in NCAA history: what is your secret for blocking shots, and do you think that anyone will ever break your record? Honestly, being 6'8" had everything to do with my record for blocks but timing is definitely a component as well. The goal was always to try and block an opponent's shot but also to keep the ball in play as much as possible for our own possession. However, every record is made to be broken.
You graduated as a 2-time Academic All-American and were inducted into the Academic All-American Hall of Fame in 1994: how were you able to balance your work on the court with your work in the classroom? In my generation it was never a secret that one day your time as a basketball player would end and that you had better have another career in place. I found myself to be as competitive in the classroom as I was on the court and enjoyed the challenge of "getting it done".
You made the US Olympic team in 1980/1984/1988: how did you feel about the boycott in 1980, and what did it mean to you to win a pair of gold medals? In 1980 I felt fortunate to be young (18 years old) and knew that if I continued to work hard then I might have another opportunity to become an Olympian. I was well-aware of the timing and that for some of our other tremendous players (Carol Blazejowski/Rosie Walker/Holly Warlick/etc.) there likely would not be another opportunity. Winning a gold medal for the USA is by far my proudest accomplishment as a player/coach. Thanks to USA Basketball events around the world I was able to travel the globe. With every trip I felt a deeper sense of pride for our great country so representing the USA was an absolute honor.
In the title game of the inaugural Goodwill Games in Moscow in 1986 you faced a Soviet Union team that had a 152–2 record in major international competition over the prior 3 decades: what was it like to face 7'2" Uljana Semjonova (who was considered the most dominant player in the world at the time), and how were you able to win by 23 PTS? That summer of 1986 was the turning point for USA women's basketball. Up until that time the Soviets had dominated competitions so beating them twice that summer (in both the Goodwill Games/World Championships) with both tournaments taking place in the Soviet Union was a major shift in power for international women's basketball. Our athleticism was superior and our coaching strategy was on point: we dismantled the style that the Russians played. We also went into that summer confident and mentally ready thanks to head coach Kay Yow and our entire coaching staff. Semjonova had been a personal nemesis of mine because we were both post players. She was not the most athletic player but my goodness she was big/strong/efficient! She symbolized the Soviets' dominance and that summer proved to be her last as the Russians went into rebuilding mode.
In 2004 as head coach of the Seattle Storm you became the 1st female coach to win a WNBA title: what is the biggest difference between male coaches and female coaches, and what did it mean to you to win a title? Winning the championship with the Storm was thrilling. It gave the city of Seattle its 1st professional title since the Supersonics in 1979. It felt good to win as the first female coach in the WNBA simply because I had been given the opportunity to coach. It signified that women were capable/deserving of these opportunities.
You spent more than 25 years as a coach until resigning from the Connecticut Sun in 2015: what have you been up to since then, and what do you hope to do in the future? I have been re-grouping/re-charging while enjoying time with my family/friends during my time away from the sidelines. I felt pretty beat up when I left my last job and have been taking the necessary time to step back and evaluate. I am uncertain what is next but I am enjoying the time/space to figure it out.