There is only 1 week left for the college kids to impress the scouts before the NBA Draft takes place on June 21st. We will spend that time talking to the stars of tomorrow as they prepare for the next phases of their careers. Hayden Dalton finished his career in Laramie as a CBI champion and 1 of the best rebounders/FT shooters in the conference. HoopsHD's Jon Teitel got to chat with Hayden about winning a 4-OT game, playing for 2 different coaches, and what it would mean to get drafted.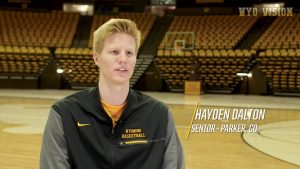 You began your college career at Central Wyoming: what made you eventually choose Wyoming? I went to Central Wyoming because I did not have many D-1 offers coming out of high school but after my 1st year there I looked at some D-1 schools and Wyoming seemed like the best fit for me.
You played for a pair of coaches in Larry Shyatt/Allen Edwards: how difficult was the transition from 1 to the other, and what is the most important thing that you learned from either of them? I am glad that I got to play for both of them. The transition was easy because Coach Edwards was already on Coach Shyatt's staff. The most important thing I learned from Coach Shyatt was to have an overall respect for the game of basketball and how to play the right way (especially on defense): he is a good human being. The biggest thing I learned from Coach Edwards was to have confidence in myself.
In February of 2017 you had 21 PTS/career-high 20 REB in 50 minutes off the bench during a 2-PT 4-OT win over Fresno State: what are your memories of that wild game? It was a long hard-fought game but it was 1 of the the most fun games I have ever played because the crowd was so great. To come out on top was awesome.
As a junior you led the team with 8.3 RPG: what is the key to being a good rebounder? My dad always told me from a young age that it is about who wants the ball more, and I have always taken that to heart. It is just about desire.
You also led the team with 83.4 FT%: what is the secret to making FTs? I attribute that to my focus/hard work every day. After every practice I make sure that I am getting my FTs in but not everybody takes it as seriously as I do. I hold my follow-through after each shot I take because they are really important points.
In the 2017 CBI title game you had a team-high 19 PTS/11 REB off the bench in a win over Coastal Carolina: what did it mean to you to win a title? That was a really big step for us both as a team as well as a program. It is not the NIT or NCAA tourney but we still took it seriously and it gave us good experience. It helped me grow as both a player/leader.
You only started 5 games during your 1st 2 years at Wyoming but started all 33 games last season: what is the biggest difference between being a sub and being a starter? I do not really see too much of a difference: you should always be ready to play whenever your number is called. It was frustrating to not start as a junior but I was basically playing starter minutes (including at crunch time).
Your sister Nicole played volleyball at Texas: who is the best athlete in the family? That is a tough 1: she is done playing now so I will say me but she had a great career at Texas. We also have some younger siblings coming up who are great athletes: we are a very competitive family!
You played 6 OT games last year (including 3 that were double-OT games) during a 2-month stretch and won all 6 of them: how do you win games that come down to the wire? You cannot get too emotional: it is just an extension of the game so you should remain consistent with your game plan. You cannot force bad shots: just control the pace and finish the game like you should.
What would it mean to you to get drafted? It would be awesome. That is what I have been working hard for every day for such a long time. It would be really rewarding and just another stepping stone. Regardless of whether I am drafted, the journey will continue.