Summer is upon us and there are no college basketball games to watch for a few more months, which means you can sit at home and read a book or go to the beach…and read a book. "Hang Time: My Life in Basketball" is a new memoir by Hall of Famer Elgin Baylor, covering his time from Lakers' All-Star to Clippers' general manager. Baylor did it all during his career: 1959 Rookie of the Year, 1977 Hall of Fame inductee, and 2006 NBA Executive of the Year.  HoopsHD's Jon Teitel got to chat with Elgin's co-author Alan Eisenstock about Elgin's tourney MOP performance in a losing effort, his 71-PT game with the Lakers, and his legacy.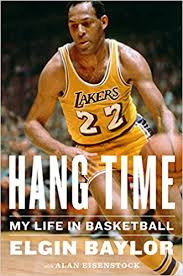 Elgin averaged 31.3 PPG at Seattle, was a 2-time All-American, and in 1957 he led the NCAA with 20.3 RPG: how was he able to balance his scoring with his rebounding, and how was he able to dominate on the boards despite standing only 6'5"? Of all the things he did as a basketball player, he is proudest of his rebounding because he was undersized. His high school coaches taught him that the team that wins the battle of the rebounds usually wins the game. He was very athletic and had very strong hands and could get himself in good rebounding position. He had a knack of knowing where the ball would go off the rim so he was really good at offensive rebounding. He did so many things that people have never seen before so the other players often stood around and simply watched.
Take me through the 1958 NCAA tourney:
He scored 35 PTS including a 40-footer with 2 seconds left in a 2-PT win over San Francisco: how did it feel to have the fans storm the court and parade him around the Cow Palace for 10 minutes? It was a magical tourney and was just 1 of those shots! I saw Steph Curry hit a similar half-court shot during the 2018 playoffs. He thought that his team was good enough to win it all both years so I think that he was disappointed to not make the NCAA tourney in 1957 during his 1st year at Seattle. The powers that be at Seattle thought the team could win the NIT that year so that is why they may have pushed to go to that tournament instead.  He was a really competitive guy even if he did not appear that way to others.
He had 25 PTS/19 REB and was named tourney MOP despite losing the title game to Kentucky: how much of a home-court advantage did the Wildcats have while playing in Louisville, and do you think that Seattle would have won if he had not gotten into foul trouble in the 1st half? I absolutely believe that they would have won: his foul trouble caused the coach to switch to a zone defense that they had never played before and were not familiar with. He was worried about fouling out so he was very careful on the defensive end. They had a substantial lead before he got in early foul trouble and he called it "home cooking" by the refs: if it was on a neutral court then I think Seattle would have won because they had a better team than Kentucky.
Minneapolis Lakers owner Bob Short said that if Elgin had turned him down, then he would have been out of business because the club would have gone bankrupt: how much pressure was there on him to save the franchise after signing with the Lakers, and how was he able to deal with that by being named ROY and leading the team from last place the year before to the NBA Finals the year that he arrived? He is very modest so I do not think that he felt any pressure at all. After a few games in the NBA he figured things out and was more concerned with fitting in with the grown men on his team. He had low expectations in a way but he soon realized that he was 1 of the best players in the league along with Bill Russell. He actually saved the franchise.
He was known for his running bank shot: how did he come up with it, and what made it so effective? He never thought about any specific shot: it was just something that he probably developed early on. When he 1st started playing basketball most people took 2-handed set shots: when you look back on that footage now it was rather ineffective. He improved the jump shot because he was always trying to find an advantage. He hated practice and just wanted to play games. He did not go out and take 1000 jump shots: he was always looking for a game.
On November 15, 1960 he scored a then-NBA-record 71 PTS (28-48 FG/15-18 FT) in a win over the Knicks, which remains 1 of the top-10 scoring performances in NBA history: was it just 1 of those scenarios where every shot he put up seemed to go in because he was "in the zone"? I think it was that but he never kept track of how many points he was scoring. His teammates knew that he was onto something so I think Coach Fred Schaus directed everyone else to get the ball to him. You also have to remember that Wilt Chamberlain scored 100 PTS against the Knicks in 1962 so I think they were pretty terrible on defense! 1 of the things I learned during my research was about Wilt.  I had no idea that he was a "Darth Vader" character but he clearly wanted to outscore Elgin and get the record for himself.
In the 1961-62 season he only played 48 games while on weekend passes after being called to active duty as a US Army Reservist: how big a deal was it at the time, and which gig gave him a better workout? It was crazy: I am still scratching my head as to how remarkable it was to schlep from Washington state to wherever the Lakers were playing that weekend. His stats that season were through the roof (38.3 PPG/18.6 RPG/4.6 APG) but he said he did not really play that much on the Army base. I am astonished that he was able to keep his level of play that high.
The Lakers lost to the Celtics in the NBA Finals all 5 times that they met from 1963-1969: how intense was the rivalry, and was it just a case of bad timing that he happened to keep running into 1 of the greatest dynasties in sports history? Unlike Jerry West who is bitter to this day, I think Elgin played it down a bit. It was incredibly intense but the Lakers' centers simply could not stop Bill Russell. If you look at footage of Russell he was 1 of the most athletic players you ever saw: he would sprint up and down the court and come out of nowhere to block shots. He had these ridiculous games where he would block 20 shots and tap them out to his teammates while also getting 30 REB. Even when Elgin was at the height of his powers the Lakers came close a couple of times but just did not have enough to push it over the top.
After he retired 9 games into the 1971–72 season due to knee problems, the Lakers went on to win an NBA-record 33 straight games and the 1972 NBA title: how long do you think that he could have kept playing if he was healthy, and does he have any regrets about not winning a title? He was probably 37 years old at that point: Coach Bill Sharman had made the decision to not start Elgin and he could not see himself coming off the bench. I think that he played as long as he possibly could. He was really great after the knee injury but before the injury he was Michael Jordan. He always wanted to win a title but feels adamant that winning titles is not the mark of greatness. He is so modest about it but I am sure that he really wanted to win a title: he never really won a title at any level. He was able to accept the fact because it is a team sport and his teams simply did not match up with the Celtics.
In 1977 he was inducted into the Hall of Fame: where does that rank among the highlights of his career? Really high. When he signs copies of his book he always writes that he is in the Hall of Fame. It was a great honor for him and he was very humbled by it.
When people look back on his career, how do you think that he should be remembered the most? I have a bias but I believe that without Elgin we would not have the Lakers. He finally got a statue this year but I think that he should have got the very 1st statue. There are no lakes in LA so the name does not even make sense! He was 1 of the greatest players of all time and was the force that caused the team to move from Minneapolis. He changed the game from a horizontal game to a vertical game so in a sense he is responsible for the pace of today's game. Someone asked me who else changed the functionality of the game and the only person I could think of is Steph Curry because now everyone shoots threes from way behind the line. He brought the game to a literally high level and was the 1st guy to play consistently above the rim. I was really gratified to write the book with him because once he became known as the GM of the Clippers his value as a player was completely obliterated.