Old players do not fade away after retiring: they prove that they still got skills by joining the BIG3 (a 3-on-3 basketball league featuring mostly retired NBA players created by Ice Cube). There are superstars everywhere you look from the players (2017 MVP Rashard Lewis) to the coaches (Julius Erving) and even the commissioner (Clyde Drexler). 1 of the many players who you have probably heard of is Bonzi Wells: after graduating from Ball State as the Mid-American Conference all-time career leader with 2485 PTS/347 STL, he was a lottery pick in the 1998 NBA draft and spent the next decade averaging 12.1 PPG. HoopsHD's Jon Teitel got to chat with Bonzi about his nickname, scoring 45 PTS in a playoff game, and the new league where he is now playing.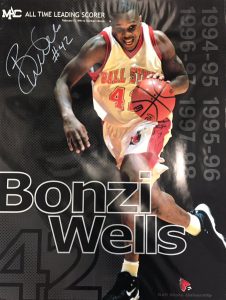 Your nickname is "Bonzi": who gave it to you and how do you like it? My mother gave me the nickname. It was a family nickname: my mom craved bonbons when she was pregnant. After I was born I was called "Bonbon", which later was shortened to "Bonzi", and my family has called me that ever since. My real name is hard to pronounce but "Bonzi" is pretty smooth!
In 1995 you were named MAC ROY at Ball State: how were you able to come in and contribute right from the start? I was blessed to go to Ball State in the city where I was born/raised (Muncie, IN). I had the chance to play with the guys on the Cardinal team each summer from the time I was a sophomore in high school. The coach believed in me and the school gave me a scholarship.
In the 1998 MAC tourney semifinals you scored 24 PTS but Earl Boykins scored 35 PTS in a 1-PT OT win by Eastern Michigan: how close did you come to pulling out the win? Earl was a tough player even at 5'5". He was a great leader/scorer/playmaker and an underrated defender. He just made more plays down the stretch than me so hats off to Eastern Michigan for winning the game.
You were a 2-time conference POY/1998 All-American: what did it mean to you to win such outstanding honors? It meant everything to me. I was an inner-city guy so I was not sure how my game would compare to that of guys from other places but it felt good to see that I could compete with everyone. I just concentrated on my craft.
You remain the all-time leading scorer in both school/conference history: did you realize at the time how prolific a player you were, and do you think that anyone will ever break your record? I knew that I could play: Indiana is a basketball state and I was ranked pretty high among the in-state players every year. I was not sure if I could make it to the NBA as a mid-major guy but after starting the process I just kept putting up good numbers. It was a joke during my freshman year because my coach (Ray McCallum) held the conference scoring record…but by my junior year it had become my low-key obsession to break his record. If a guy these days averages 20 PPG as a freshman then he will probably leave after 1 year so I think that my record might stand for a while.
You led the conference in STL during each of your 4 years, you led the nation with 3.55 SPG as a senior, and your 347 career STL remains in the top-10 in NCAA history: what is your secret for being a great defender? Coach taught me the art of watching video: what plays your opponent is running, what their tendencies are, etc. I always had quick hands but I tried to push every 1 of my opponents to their weaker hand to see if they would make a mistake. Coach was big on deflections and I wanted the team defensive award at the end of the year.
In Game 7 of the 2000 Western Conference Finals with Portland you scored 7 PTS in a 5-PT loss to the Lakers, who overcame a 15-PT deficit in the 4th quarter: where does that rank among the most devastating losses of your career? For my NBA career that is probably #1, but I was so young that I did not think about it like that at the time: I thought that we would make it back to the Conference Finals the very next year. I was just mad that we did not finish the job.
In Game 2 of the 2003 Western Conference 1st round you scored a franchise-record 45 PTS (16-24 FG) in 43 minutes during a 4-PT road loss to Dallas: was it just 1 of those situations where every shot you put up seemed to go in because you were "in the zone"? That is definitely your mindset when you are playing well. I liked my matchup that night and it was the 1st year that the NBA allowed teams to play a 2-3 zone defense. I was just finishing at the rim a lot and also made several threes (5-6 3PM) even though I was not known for doing that. However, I probably needed 50 PTS for us to win that night.
After you became a free agent in the summer of 2006 your teammate Ron Artest allegedly offered to forgo his entire salary in order to keep you on the team: what was your reaction when you heard about this amazing act of generosity? If you know Ron then you know he always said things like that because everything he says comes from a loving place. He is a brother of mine and I think that he meant it: even if he would not actually do it I still appreciate the thought.
You are spending this summer playing in the BIG3 Basketball League: how competitive is it, and who is the best NBA veteran that you have seen on the court? The BIG3 is great and a very competitive league. We have a lot of great guys so I cannot pick just 1 who stands out as the best. We are in Miami this week and are going to be playing live on national TV. Everything is crisper and more physical this season so I hope that people continue to watch us play.