CLICK HERE for all of Jon Teitel's Season Previews and Interviews
We continue our season preview coverage with Butler assistant coach Jeff Meyer. There are few assistant coaches in the country with more experience as a head coach and a winner than Coach Meyer: 1980 Final 4 as an assistant at Purdue, winningest head coach in Liberty history, 3 straight NCAA tourneys as associate head coach at Winthrop, 2 NCAA tourneys as an assistant coach at Indiana, and a run to the 2013 NCAA national championship game as an assistant at Michigan. After helping Butler head coach LaVall Jordan beat Arkansas in the NCAA tourney last March, he will try to help the Bulldogs advance even further this season. HoopsHD's Jon Teitel got to chat with Coach Meyer about his 1st tour of duty at Butler and almost upsetting a #1 seed in the 1994 NCAA tourney.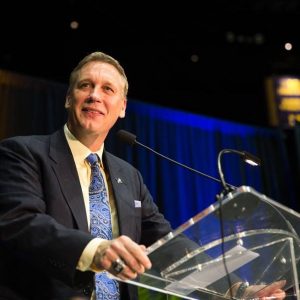 In the 1979 NIT title game as an assistant coach to Lee Rose at Purdue, Jerry Sichting missed an 18-foot jumper at the buzzer in a 1-PT loss to Indiana: how close did you come to beating Coach Bobby Knight? It was heartbreaking because we led the game for about 39 minutes until the Hoosiers made a shot at the top of the key to take the lead. Coach Rose (my mentor) took a timeout to draw up a play to get the ball to midcourt and then call another timeout, which I had never seen before as a young coach. Jerry ran around 3 screens, came back to the ball, and was wide open. He would make that shot 8 out of 10 times in practice but he just missed it that night off the rim. Our previous game was against Alabama and I had to go get some videotape of the Tide from Coach Knight himself, which was unbelievable. We tied for the Big 10 title that year with Michigan State (who won the NCAA tourney with Magic Johnson) and Iowa, but only 2 teams from a single conference were allowed to go to the NCAA tourney, so we went to the NIT despite the fact that we tied for the conference title. The next year they instituted the "Purdue" rule to allow a conference to send more than 2 of its teams to the tourney.
Take me through the 1980 NCAA tourney:
Isiah Thomas scored 30 PTS in 40 minutes in a 7-PT loss by Indiana: was it extra-special to beat your in-state rival after the previous year's NIT title game loss? It was special. We made the adjustment to stay on their shooters like Isiah/Mike Woodson even after they dumped the ball into their big men in the post. Coach Knight got a technical foul on the way into the locker room at halftime, so after making some FTs we started the 2nd half with a 21-PT lead. The Mideast region was pretty impressive that year: teams like Duke/Kentucky were in the other half of the bracket.
Kiki Vandeweghe scored 24 PTS in a 5-PT win by eventual national runner-up UCLA in Indianapolis: how close did you come to winning that game, and could you tell at the time that Vandeweghe was going to become a star? They had a really talented team coached by Larry Brown and Kiki was a tough cover for us. We had a chance to take the lead late but a shot by Joe Barry Carroll went in and out. There was also some late controversy when the wrong guy got called for a foul. We played in the 2nd to last consolation game in tourney history and beat Iowa.
In 1981 you became head coach at Liberty, and in 1988 the school made the transition to D-1: why did you take the job, and what is the biggest difference between D-2 and D-1? It is a story inside a story. Rose left to go to South Florida and I followed him there. He knew the AD at Liberty Baptist and asked if anyone was interested in going there. I said yes and interviewed there: I was not their 1st choice but when I got the job I looked at it as a great opportunity to run/grow my own program. I was 1 of the youngest coaches in the country at age 26. We were an Independent for 3 years, which was really hard because we had to play a lot of road games and had no postseason options. The biggest difference is obviously the recruiting rules and having to be compliant.
In the 1994 NCAA tourney your #16-seeded team was leading with 10 minutes left before losing to North Carolina (Eric Montross had 17 PTS/10 REB/3 BLK): did you really think you could pull off a historic upset? It was a David vs. Goliath deal and a landmark game for our school to get the exposure on CBS. We knew that we would have to keep the game to a low number of possessions against a team with guys like Jerry Stackhouse/Rasheed Wallace/Montross, so we expected their traps and rotated the ball to create some open 3-PT shots. It was a 1-PT game with 8 minutes left…but then Coach Dean Smith said something to the refs and it began to unravel from there.
You remain the all-time winningest coach in Liberty history: what makes you such a great coach, and do you think anyone will ever break your record? I am thankful for the opportunity I had at a very young age to coach at Liberty and lead them to the D-1 level. I stay in touch with so many of the players who helped build the program, and a lot of the relationships I made back then have allowed me to stay in the profession.
You later became an assistant coach at Winthrop: how did you like working for Gregg Marshall (who is now at Wichita State)? Gregg is an outstanding coach: we made 3 straight NCAA tourneys after being a traditional doormat. It was interesting to stay in the same league (Big South) while switching teams and going from head coach to assistant coach. It also helped me get my next job because the Butler head coach was looking for an assistant with some good experience.
Take me through the 2003 NCAA tourney as an assistant coach at Butler under Todd Lickliter:
Brandon Miller scored 14 PTS including a runner in the lane with 6 seconds left in a 1-PT win over Mississippi State: where does that shot rank among the most clutch you have ever seen? It is definitely in the top-3 because the other Bulldogs were a very talented team. We got slighted by the NCAA the year before despite starting the season 24-3. Brandon used a ball screen and then a re-screen to make a floater: it was a great experience.
Darnell Archey scored 26 PTS (8-9 3-PM) in an 8-PT win over Louisville: was it just 1 of those scenarios where every shot he put up seemed to go in because he was "in the zone"? We sold our guys that 94 feet was a large area to press despite Coach Rick Pitino's teams being known for doing that, so we attacked it 5-on-5. They tried to play us 4-on-3 and we were able to get Darnell some really good looks.
As an assistant coach at Indiana under Kelvin Sampson you helped recruit Eric Gordon after coaching his dad at Liberty, although the controversy surrounding the recruitment led to Sampson getting fired: how good a player was his father, and how good a player do you think the son will become? The very 1st player I recruited at Liberty was Eric Gordon, Sr. He played for me for 3 years after coming out of junior college and his wife used to babysit my kids! I think Eric Jr. is already 1 of the top 25 players in the NBA and will eventually turn into an All-Star.
Take me through the 2009 NCAA tourney as assistant coach to John Beilein at Michigan:
KC Rivers missed a 3-PT shot at the buzzer in a 3-PT loss by Clemson: did you think the shot was going in, and what was the reaction like in the locker room afterward? I do not think it had much of a shot to go in. They chased us and caught us but we contested that final shot.
Blake Griffin had 33 PTS/17 REB in a 10-PT win by Oklahoma: where does Griffin rank among the best college players you have ever seen? Blake was like King Kong but I am unsure if I can even rank him. I have seen some great ones like Magic Johnson/Isiah Thomas/Joe Barry Carroll.
In the 2011 NCAA tourney Darius Morris scored 16 PTS but missed a runner in the lane with 2 seconds left in a 2-PT loss to Duke: what was it like to see Coach Mike Krzyzewski win his 900th career game? We were just a young, gritty Wolverine team that could have folded up our tents after winning 8 of our last 10 conference games just to get into the tourney and then beating Tennessee by 30 PTS. We were down by 15 PTS to Duke with 10 minutes left but we had tremendous leadership by Darius and others to fight and fight and give us a chance to win. Duke had their way with us in our man-to-man defense but Coach Beilein switched to a 1-3-1 zone and really changed the complexion of the game.