CLICK HERE for all of Jon Teitel's Season Previews and Interviews
We continue our season preview coverage with Wright State G Mark Hughes. The Raiders were 1 of the great success stories in college basketball last year: after losing 20 games back in 2015, they won a school-record 25 games last season and made the NCAA tourney for the 1st time since 2007. Loudon Love received most of the media love as the 2018 Horizon ROY, but it takes much more than freshmen to succeed. Mark Hughes has played 94 games in a Wright State uniform and after the graduation of leading scorer Grant Benzinger he will be expected to take on a much larger role as a senior. HoopsHD's Jon Teitel got to chat with Mark about becoming a great FT shooter and All-League defender.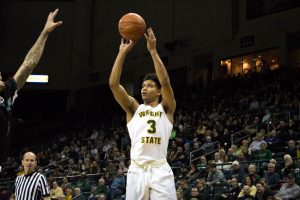 You grew up in Ohio: what made you choose Wright State? It was between Wright State and my hometown school of Youngstown State. I wanted to get out and experience something new and when I came here to visit it was just a good fit. My family can travel to my games to watch me play, which was very important to me. I was recruited by Coach Billy Donlon but Coach Nagy is great too.
You play for Coach Scott Nagy: what makes him such a good coach, and what is the most important thing that you have learned from him? He expects a lot from you, which makes you want to work even harder. We play free and play with a lot of love for each other: we are all close. When you know that a coach cares for you, it makes playing for him that much easier.
You started 20 games as a freshman, 0 as a sophomore, then all 35 as a junior: what is the biggest difference between being a starter vs. coming off the bench? As a starter you are expected to contribute right away, but coming off the bench you can watch the flow of the game. There is more emphasis on your warm-up when you are a starter.
Last February you had 13 PTS/career-high 14 REB in a 4-PT win over Green Bay: how on earth were you able to get so so many REB as a 6'4" G? That night it was just like every ball was bouncing my way. I am a good athlete with good size so I just gave Big Lou (Loudon Love) some relief.
In the 2018 NCAA tourney you scored 2 PTS in a loss to Tennessee: what did you learn from that game that you think will help you this year? Just how important a good start is when you are facing a good team. There is little margin for error against SEC teams so going forward we will focus on starting every single game well.
Your FT shooting increased from 52.6% in 2017 to 83.1% in 2018: what is the secret to making FTs? Just a lot of practice reps and going through your game routine. I did not get to the line that much as a sophomore but they are free points so they are important. My work last summer obviously helped me a lot last year.
You made the All-League defensive team last year: what is the key to playing good defense? A lot of it comes from our scouting reports. Our assistant coaches do a great job of teaching us about our opponents' tendencies: who is a driver, who is a shooter, etc.
Your non-conference schedule includes games against Penn State/Mississippi State: which of these games do you feel will present your biggest test? Penn State will probably be our biggest test. We played them 2 years ago and they are always a good team that has good talent.
You are 1 of 4 seniors on the roster: how crucial will all of that experience be to your team's success this year? I think it will be very crucial from a leadership standpoint. Coach Nagy talks a lot about enjoying the moment because it is our last go-round as seniors.
What are your goals for the upcoming season, and what are your expectations for the upcoming season? Our goal is definitely to get back to the NCAA tourney and make some noise once we get there. I think we have the guys to do it so it will just come down to whether we want it badly enough. We will have a target on our back all year so we just have to come ready to play every night.