CLICK HERE for all of Jon Teitel's Season Previews and Interviews
We continue our season preview coverage with Stephen F. Austin assistant coach Jeremy Cox. Head coach Kyle Keller has known Coach Cox for more than 2 decades, and their combined efforts have served the Lumberjacks well in their short time together in Nacogdoches: last year they led the nation in both SPG and turnovers forced/game while making the NCAA tourney and holding their own against #3-seed Texas Tech. HoopsHD's Jon Teitel got to chat with Coach Cox about winning a national title and being named national COY.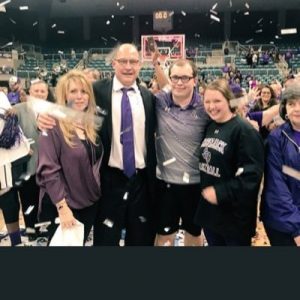 You are a coaching lifer who has worked at 14 different schools over the past 3 decades: what has been the best part, and what has been the not-so-best part? The best part by far is the relationships I built with the players/coaches that will last a lifetime. I do not know how many bad things there are but I suppose the worst part is that you care so much about the team's success that it can define you as a person at times.  When you live it 24/7/365, it can torment you at times.
In 2006 as head coach at Arkansas-Fort Smith you won the NJCAA title and were named national COY: what did it mean to you to win a title and receive such an outstanding honor? It gives you some validation that we did things in a good way: recruiting, playing, etc. To be at the top of your profession at any level is very meaningful. I was at a place that allowed us to compete for a national title and it was great to accomplish that: I cherish it each and every day.
You are known as 1 of the best coaches in the country when it comes to interior players: what is the secret to success in the paint? Stay lower than your opponent and make him uncomfortable.
You currently work for Coach Kyle Keller: what was he like 2 decades ago when you 2 were assistants to Tim Carter at Texas-San Antonio, and could you have ever imagined that you would eventually work for him? He had the same qualities back then that make him a great coach now: he was a relentless recruiter/competitor who always did the right things for the right reasons. Those characteristics have not wavered in the past 25 years and I still enjoy learning from him. When you have great partnerships you work "with" people rather than "for" them and it has been really good to be back with him.
Last year your team led the nation with 10.8 SPG and 19.8 turnovers forced/game: what sort of defensive philosophy has allowed your team to dominate on that end of the floor? We just try to disrupt whatever our opponents are trying to do by contesting every pass.
In the 2018 NCAA tourney your team had a 10-PT loss to Texas Tech: what do you think your team learned from that game that will help them this year? We learned that we belong. We led the game for a long time and everyone felt that we belonged in the building.
Your non-conference schedule includes games against Miami/Baylor/Alabama: which of these games do you feel will present your biggest test? Each game is a test and I honestly do not know if any 1 is bigger than another. Alabama at home will be big for our fans but we just have to build our habits and play the next possession as best we can. The maturation of this team from now to March is about getting better each day.
You return each of your top-3 scorers from last season (TJ Holyfield/Shannon Bogues/Kevon Harris): how crucial will all of that experience be to your team's success this year? Those kids led us in scoring last year and they are all fantastic players…but they had the luxury of knowing that several of our now-graduated seniors were all-conference-caliber players. Now they have the nightly responsibility of having to score/lead: it is on their shoulders. Ty Charles was a great leader in the locker room and Ivan Canete made a ton of big plays so now the returning guys have to go out and get it done. They have proven that they are capable: they have the arms but they need the spine as well.
You played college basketball and your daughter Kaili plays high school volleyball: who is the best athlete in the family? I do not think that any of us are good athletes but we all work really hard: I hope she ends up better than I was!
What are your goals for the upcoming season, and what are your expectations for the upcoming season? My goal is to win the last game that we play this year! I think our expectations are, as always, to play in the NCAA tourney. It is not arrogance: it is just what has been done by the prior teams who came before us: that is the expectation here at SFA.