CLICK HERE for all of Jon Teitel's Season Previews and Interviews
We continue our season preview coverage with Georgia State G D'Marcus Simonds. D'Marcus was D'Man last season: he had the 1st triple-double in school history, averaged 21.2 PPG, and was named conference POY/conference tourney MVP/All-American. He can also turn it up when the stakes are highest: he scored 27 PTS in the Sun Belt tourney title game win over Texas-Arlington and 24 PTS in the NCAA tourney loss to Cincinnati. HoopsHD's Jon Teitel got to chat with D'Marcus about being conference ROY and what it takes to win in OT.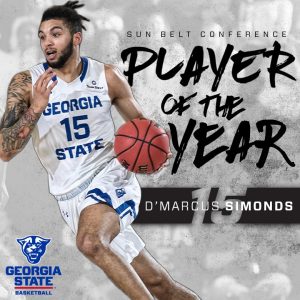 You grew up in Georgia: what made you choose Georgia State? There were a couple of things that led me to Georgia State. Obviously at the top was the coaching staff: it felt right being around them. I knew what my goals were entering college and I had seen what they did with RJ Hunter. I also loved the thought of living in Atlanta and still being close enough to home for family and friends to come out and watch me play.
You play for Coach Ron Hunter: what makes him such a good coach, and what is the most important thing that you have learned from him? I think he is such a good coach because he will always be honest with you. There are times were players do not always want to hear that but in the long run honesty is the only way to get better. I do not know that there is just 1 thing I could pinpoint that I have learned from him. I have grown up so much under him the last few years and I know I still have a lot to learn this year as I try to help our team win another championship.
As a freshman you averaged 13.4 PPG and were named conference ROY: how were you able to come in and contribute right from the start? The funny thing is that the first 10 games or so of that year I was coming off the bench and only played limited minutes in a few games. I needed to have the game slow down a bit for me and when it finally did so in December I felt like I could really make an impact. Coach Hunter runs a complicated style of defense that it takes everyone some time to learn, but once you do the fans can see why we are so good defensively.
In November 2017 you had a triple-double with 20 PTS/10 REB/10 AST in 28 minutes in a win over Carver Bible: where does that rank among the best all-around games of your career? Honestly, that was pretty cool! It was not something that I set out to do and I did not know it was the first one in school history until after the game. It does rank as 1 of the cooler things I have been fortunate enough to accomplish in basketball. The number I love the most is the 10 assists: I take great pride in getting the ball to my teammates and that night I was able to do it better than I ever have before.
Last year you averaged a school-record 21.2 PPG and were named conference POY/All-American: what is the key to being a good scorer, and what did it mean to you to receive such outstanding honors? The key to being a good scorer is taking the right shots as well as driving to the hoop for an easier shot whenever possible. I think one of the biggest things I learned between my freshman and sophomore seasons was knowing when to shoot and when to pass. I felt like I started to take smarter shots last year even though my shooting percentage went down: hopefully I can continue to improve on that this year. As for the awards, they are great but none of them would be possible without my teammates help. We truly came together as a group of brothers last year and I want that bond to continue this season.
In the 2018 Sun Belt tourney title game you scored 27 PTS in a win over Texas-Arlington en route to being named tourney MVP: how were you able to play your best when it mattered the most? Before the tournament even started our team was truly focused and came together. When I struggled in the semifinals of the tournament they really picked up me and I was ready for that championship game. I think that was what led me to having a great game against UT-Arlington. I was able to refocus and prepare to win a conference championship. As I said earlier, none of this would be possible without them.
In the 2018 NCAA tourney you scored 24 PTS in a loss to Cincinnati: what did you learn from that loss that will help you this year? My teammates and I learned a lot in that game. The thing that we took out of it is that even though we lost, we can still play with anyone in the country. We had the lead in that game with about 10 minutes to play before Cincinnati wore us down. We have used that as motivation in the offseason to come back even stronger this year. We want to get back into the NCAA Tournament in March and take our program deeper in the tournament that it has ever been before.
Your team was 0-3 in OT games last year: what is the key to success in OT? That is a really good question…and one that if we can figure out will hopefully lead us to having a better record if we play any overtime games this year! With the short amount of time you have in OT it is important to get off to a quick start. Looking back on those three games last year, I do not think we ever got off to a good start and that definitely hurt us in those games.
Last year you led the conference in turnovers: did you do any specific kind of work this summer to try to cut down on your turnovers, or is it not that big a deal because it did not prevent your team from making the NCAA tourney? I have always played an aggressive style of basketball, which has probably led to some extra turnovers over the years. It is definitely something I always work on as no one wants to turn the ball over. However, I think my aggressiveness also leads us to more opportunities to score. It is something I have to balance as it is not a category you ever want to be leading.
What are your goals for the upcoming season, and what are your expectations for the upcoming season? Our goals and expectations at Georgia State basically remain the same every season: win conference championships and get to the NCAA Tournament. My teammates and I have worked extremely hard so hopefully those opportunities will occur once again this season. Our coaches have put together a demanding non-conference schedule that will hopefully get us ready for success when the time comes.