CLICK HERE for all of Jon Teitel's Season Previews and Interviews
We continue our season preview coverage with UMBC head coach Ryan Odom. There were 3 things that I used to think were inevitable: death, taxes, and the #1 seed making it to the 2nd round of the NCAA tourney. The Retrievers might die someday, and their 1040 form is due to the IRS next April, but they crossed #3 off the list last March with a 20-PT upset of #1-seed Virginia. UMBC won all of 7 games in 2016, then Coach Odom came in and won 21 games in 2017, led his team to a final-second victory over Vermont in the 2018 America East tourney title game, then showed the country that perhaps the Cavaliers should not have been 20 1/2-PT favorites after all. HoopsHD's Jon Teitel got to chat with Coach Odom about what is quite simply the greatest upset in the history of the NCAA tourney.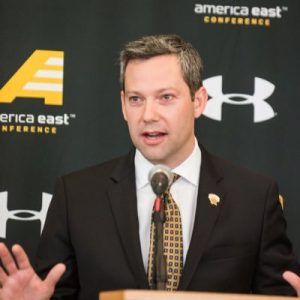 You were a 4-year starter at Hampden-Sydney and team captain as a senior, where you set a school record for 3PM: what is the key to being a good leader, and what is the key to making shots from behind the arc? The key to making shots is having good teammates who can find you at the right time when you are open. Repetition/practice are also important: you cannot be afraid to take a shot at a key time. Sometimes you get into a slump or get hot, which are 2 extremes that you need to navigate.  If you are labeled a "shooter" then the other team will focus on not letting you get open. People do not always realize all of the work that happens before the shot ever gets taken to make it happen. You need to have the mentality that your next shot will go in. It is an honor for any player at any level to be named captain: it means that the staff has a lot of confidence in you and that you understand the culture of the program. "Captain" is not just a label: it is used for someone who is deserving and can deliver the coach's message to the team when he is not around. I had a great coach in Tony Shaver: you know that he had a good program because he always had the upperclassmen as leaders after they had been shown the way.
Your father Dave was a 3-time ACC COY at Wake Forest and won 3 NIT titles in a 7-year span from 2000-2006: what made him such a great coach, and how much of an impact did he have on your own decision to become a coach? I was not planning on going into coaching early in my college career: 1 reason is that my father was gone all the time due to recruiting. The rules have changed since then but he was literally gone for months at a time. I loved playing the game but did not view myself as a coach. My brother was a coach at the time and my dad had just won back-to-back ACC titles so I was not ready to give up basketball. I did an internship with Bank of America but realized that it was not what I wanted to dive into. Seth Greenberg gave me a chance and I have not looked back since.
In the 2007 NCAA tourney as an assistant to Greenberg at Virginia Tech you had a 2-PT win over Illinois: how were you able to overcome a 10-PT deficit in the final 4½ minutes without allowing the Illini to score a single point? That was a crazy game! We were in trouble but we had a good team that season. Our guards were fantastic and their leadership was spot-on. We were not afraid of anyone we played against due to our success in the ACC. We had a tough draw against Coach Bruce Weber's team: they were beating us pretty handily throughout the game. Seth made a decision to press toward the end of the game and we were pretty good at that, which helped us get some timely steals/baskets after changing our game plan. It was a fun game…and then we ran into a tough Southern Illinois team.
You were hired in April of 2016 to take over a 7-win UMBC team and proceeded to win 21 games in your very 1st year: how were you able to turn things around so quickly? They were primed to win so the players should get a lot of credit for buying in right away. 1 word I use to describe them is "unselfish". There have been both bumps and major highs along the way and we want to continue to grow. We had good talent when I arrived and then added some good pieces. We have moved into a brand-new arena and the recruiting footprint is very strong in this area. We tried to establish a winning culture: you cannot win every game but you can try to win every day and give your best while holding 1 another accountable. We have great character/good leadership due to guys who have come back every year and have a taste for more.
After your school had lost to Vermont 23 straight times dating back to 2008, Jairus Lyles scored 27 PTS in the 2018 America East tourney title game including a 3-PT shot in the final second of a 3-PT win over the Catamounts: did you think the shot was going in, and what did it mean to you to win a title? It was very emotional both during and after the game: we had to fight and claw because Vermont was playing good basketball. They were an experienced team who knew how to win in tight situations: their expectation is always to win. To go into their gym and get a win at that moment was very special for our players/program. I just wanted Jairus to have the room/rhythm to do what he does. It was a shot he worked on every day after practice: he would literally go around the horn and make the same move over and over again. It was fitting that he had the ball at the end after so many things that led up to that moment. Our guys hung in there, which is what champions do.
In the 2018 NCAA tourney Lyles scored 28 PTS in a 20-PT win over #1-seed Virginia (a 20½-PT favorite) to become the 1st #16-seed to ever pull off the upset: how on earth did you score 53 PTS in the 2nd half against a team that led the NCAA with only 53.4 PPG allowed, and how did that win change your life (if at all)? The 2nd half was obviously incredible for us but the 1st half was also key. You have to just be in the game at halftime, which was our goal. Virginia does not typically blow out teams by 25 PTS but if they get any kind of a lead it is a problem because they are so hard to score on. We knew that we would have to take some shots that were more guarded than usual. Vermont is a good defensive team so that helped prepare us for Virginia as well. I walked in at halftime when we were tied at 21 and the guys were pretty pumped up. The positivity was evident and our key to the start of the 2nd half was to attack/score in transition. When Virginia gets set in the half-court they are really tough to score on, but we did a great job of finding ways to score and stretch the lead while also getting 1st-time rebounds on the defensive end. We knew our best chance was to dominate the 3-PT line and pressure them on defense, and we were able to do that and then get loose in transition. It certainly changed all of our lives: when you have a historic upset that has never happened before then attention will come your way. It was just 1 game…but it meant a lot to a lot of people who just love basketball and wanted to see a #16-seed finally beat a #1-seed. A lot of people will remember where they were when it happened so to be the team that accomplished that was really special. I want us to be proud of it but our goals are bigger than just that: we want to create new and exciting moments because we will always have that 1.
Your non-conference schedule includes games against Marquette/Penn State: which of these games do you feel will present your biggest test? Those are the 2 high-major teams we are playing and they are both really good. Penn State won the NIT and Marquette has a ton of guys back so both of them will be challenging. However, we have some other tough games as well: FGCU has a lot of guys back, Manhattan is always a tough out, Towson is in our community, etc. We are also going to the Bahamas for 3 games against teams we do not usually face so we are looking forward to that as well.
Grad student Joe Sherburne was a 2018 1st-team Academic All-American: how proud are you of all that he has accomplished both on and off the court? That is what it is all about! He has never even gotten a B and is a tremendous representative of our university. I look forward to seeing where he is at in 10-12 years and I know that he will continue to represent us so well.
You lost each of your top-3 guards from last year (Lyles/KJ Maura/Jourdan Grant): how will you try to rebuild the backcourt? Ricky Council is a transfer from Providence but played against those guys last year every day in practice, which was big. He can handle the ball and is 1 of our best shooters: I think that he will be a major-impact guy for us this year. We also recruited KJ Jackson from Texas who scored 28 PPG and has a really bright future and an opportunity to help us. We signed 2 other PGs who have international experience in Jose Placer (who played for the Puerto Rico U-18 national team) and RJ Eytle-Rock (who played for the Great Britain U-20 national team). We feel good about who we have in the backcourt, and we also have a lot of forwards with guard skills.
What are your goals for the upcoming season, and what are your expectations for the upcoming season? Our expectations do not change: we want to compete for a championship every year. We are still thinking about the Kansas State game but this is a new year and everything starts over. We are just working hard to earn the right to be in the mix for a conference championship. We have to handle the bumps along the way but you want to have high expectations because it means that your program is in good shape.