CLICK HERE for all of Jon Teitel's Season Previews and Interviews
We continue our season preview coverage with Murray State G Shaq Buchanan. 1 of the most fascinating social trends of the past few decades was the rise/fall in popularity of the name "Shaquille". Here is the short version: the name was very uncommon prior to 1990, then skyrocketed for several years as Shaquille O'Neal became national POY at LSU/was selected #1 overall in the 1992 NBA Draft/won ROY in 1993/released a rap album called "Shaq Diesel" that went platinum/was featured in the movie "Blue Chips" (sidebar: why did "Neon" not turn into a popular name?!)…then went downhill after album #2 (Shaq Fu: Da Return) and movie #2 (Kazaam) did not do as well (for further information I recommend: https://harvardsportsanalysis.wordpress.com/2012/05/02/shaq-attackthe-rise-of-the-baby-name-shaquille). There are still a couple of versions left in college (including Shaqquan Aaron at USC and Shaquille Doorson at Rutgers) and 1 in the NBA (Shaquille Harrison of the Phoenix Suns) but they are getting harder and harder to find. HoopsHD's Jon Teitel got to chat with 1 of the few remaining "Shaqs" about being a good defender and making the NCAA tourney last March.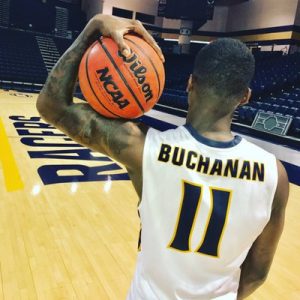 You grew up in Mississippi and began your career at Northeast Mississippi, where you became the 1st player from the school in more than 50 years to be selected for the NJCAA All-Star Game: what did it mean to you to receive such an outstanding honor? It was a big honor for me and my family. It just showed that my hard work paid off.
What made you choose Murray State? The atmosphere here is great: they treated me like I was their own child. I am a homebody and they made me feel like I was at home.
You play for Coach Matt McMahon: what makes him such a good coach, and what is the most important thing that you have learned from him? The thing that nobody sees is how he helped me off of the court. I have a child and he has helped me grow up faster: he pushes me every day.
Last year you started 30 games how were you able to come in and contribute right from the start? The main thing was knowing my role. We had 3 guys who were the focal points of the offense (double-digit scorers Jonathan Stark/Terrell Miller Jr./Ja Morant) so I just played my role as hard as I could. I tried to be the energy guy, lead the team on defense, and stay positive.
You led the team with 50 STL and were #4 in the OVC with 1.6 SPG: what is the key to being a good defender? I try to stay lower than my man and pay attention to the details I get from the scouting reports.
In the 2018 OVC tourney title game you scored 11 PTS in a win over Belmont: what did it mean to you to win the title, and what was the reaction like when you got back to campus? Winning the title meant a lot: it is something that I dreamed about while going up. It was big time on campus and just showed our school's great tradition.
In the 2018 NCAA tourney you scored 6 PTS in a loss to West Virginia: what did you learn from that game that will help you this year? I learned to not take any plays off and pay attention to all the little things (like not turning the ball over).
Your non-conference schedule includes games against Alabama/Auburn: which of these games do you feel will present your biggest test? I would say Auburn because they have a nice team and have been talked about as possibly being 1 of the top teams in the country. We played them last year and only lost by 4 PTS so we are looking forward to the rematch.
You are 1 of only 3 seniors on the roster: how much pressure is there on you to be a leader this year? It is not that much pressure. I had a voice last year as a junior so my focus this year is to just show the new guys the ropes and what it takes to help us win.
What are your goals for the upcoming season, and what are your expectations for the upcoming season? My goal is to be better than last year, go undefeated in conference play, and become 1 of the winningest 2-year players to ever come through Murray State.