CLICK HERE for all of Jon Teitel's Season Previews and Interviews
We continue our season preview coverage with Stephen F. Austin G-F Kevon Harris. Since going 12-15 in 2005 under Danny Kaspar, the Lumberjacks have axed that losing feeling with 13 straight winning seasons and 5 trips to the NCAA tourney (including tourney wins under Brad Underwood for 3 years in a row from 2014-2016). Coach Kyle Keller hopes to keep chopping wood in March with a veteran team led by the nucleus of TJ Holyfield/Shannon Bogues/Kevon Harris. HoopsHD's Jon Teitel got to chat with Kevon about recovering from injury and being a great 3-PT shooter.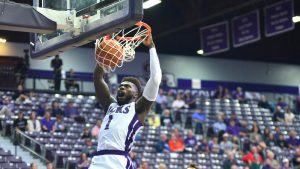 You grew up in Georgia: what made you choose Stephen F. Austin? I came here due to the culture. I was really excited about the coach and it has worked out great.
You play for Coach Kyle Keller: what makes him such a good coach, and what is the most important thing that you have learned from him? He holds everyone accountable for their actions and has pushed me beyond the limits that I thought I had.
You played in all 33 games as a freshman: how were you able to come in and contribute right from the start? I felt that I could contribute in multiple ways: even if I was not scoring I just did whatever I could to help the team.
Last December you scored a career-high 31 PTS/8-11 3PM in a win over Rice: was it just 1 of those scenarios where every shot you put up seemed to go in because you were "in the zone"? I caught fire a little bit that night…and plan on having multiple games like that in the future. However, even if my shot is going in I need to stay humble for the next 1.
You finished the year ranked #2 in the conference with 42.6 3P%: what is the secret to making shots from behind the arc? Just repetition. I have a hard work ethic: I am the 1st 1 in the gym and the last 1 to leave. Even if I miss a shot I think that the next 1 will go in.
In the 2018 Southland tourney title game you scored 9 PTS in a 4-PT win over SE Louisiana: what did it mean to you to win a title, and what was the reaction like when you got back to campus? It was a great feeling: there is nothing like it. I hope to win many more titles because I did not want that feeling to end. We have some of the best fans in the nation so we got a lot of love even before we left for the tourney.
In the 2018 NCAA tourney you had 12 PTS/4 STL in a 10-PT loss to Texas Tech: what did you learn from that game that will help you this year? I got some experience that should help me in the long run. It was a great learning opportunity but I view every game as a big game so I plan on going back next year.
Your non-conference schedule includes games against Miami/Baylor/Alabama: which of these games do you feel will present your biggest test? None of them really: I try not to look down the line because every game is big. We will just come out ready to play every night.
You suffered a nerve injury in your leg last January: how is your health doing at the moment? I am definitely 100% and have been fine for awhile. I have been doing everything since the summer so I have no worries at all.
What are your goals for the upcoming season, and what are your expectations for the upcoming season? I plan on getting better every year so I want to make a big upgrade this year. I definitely plan on winning another ring, making the NCAA tourney, and then winning some games. I would love to win conference POY and help our team get another ring.