CLICK HERE for all of Jon Teitel's Season Previews and Interviews
We continue our season preview coverage with Princeton G-F Bella Alarie. Genetics might play a larger role in basketball success than we originally thought: just look at some of last year's best players such as national POY Jalen Brunson (whose parents played basketball [Rick] and volleyball [Sandra] at Temple), national PPG/APG leader Trae Young (whose father Rayford played basketball at Texas Tech and then professionally in Europe), and 2nd-team All-American Keenan Evans (whose father Kenny was an Olympic high jumper). The trend also exists in the women's game, as Ivy POY Bella Alarie's father Mark was the 1982 Arizona High School Player of the Year at Brophy College Prep, an All-American at Duke, and a 1st round pick of the Nuggets in the 1986 NBA draft. HoopsHD's Jon Teitel got to chat with Bella about being named Ivy tourney MOP and watching 2 of her favorite players square off in last month's WNBA Finals.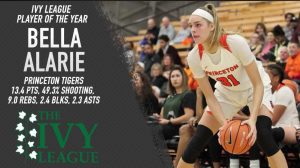 You grew up in Maryland: what made you choose Princeton? There were many factors that made Princeton a clear choice for me so I will just mention a few of the biggest ones. Princeton has consistently been ranked the #1 college in America: I wanted to be challenged academically and I knew that Princeton would provide that opportunity. With respect to basketball, I knew that I could learn a lot from Coach Banghart and that she would be a good fit for me as a coach. I was drawn to the competition and winning culture. When I visited Princeton I got an immediate gut feeling from meeting my prospective teammates that we would be like a family, and that has proved true. My grandpa went to Princeton and I attended reunions with him so it was a place close to my heart since my childhood. Princeton provides the foundation for me to pursue excellence in all aspects of my life.
You play for 2015 Naismith national COY Courtney Banghart: what makes her such a great coach, and what is the most important thing that you have learned from her? Having played for her for two years now I can see why she was deserving of that auspicious award. Coach Banghart is one of the most competitive individuals I have ever met: she has the rare ability to truly inspire her players to succeed and win championships. She cares about her individual players, not only as players but as people. She carefully develops the individual members of the team, and by doing so creates a cohesive end product. She has taught me to always set goals for myself (both personal/team goals), work every day to achieve them, and hold myself accountable. Lastly, she has taught me that even when things do not come easily, to always be tough both mentally and physically.
The roster lists you as a 6'4" G/F: how much of an advantage is your height on the court, and what position are you most comfortable at? As the saying goes "you cannot teach height" so I definitely got lucky there. The collegiate game is very physical so I have worked hard on developing my strength and not relying solely on my height/wingspan to rebound and block shots. As a freshman, I came in being most comfortable playing as a guard because I had played that position in high school. After my freshman season my coach put her foot down and said, "it is time to start using your height to our advantage." We began developing my inside game over the course of the spring. When I played for team USA I was the clear forward for them because I was the tallest player on the team. In my sophomore year, since I was much more comfortable with my inside game, I was able to be more of a post threat and play inside. This spring/summer I have worked really hard at both positions and I am excited to see how I can be a true guard/forward and use both skills to the advantage of my team. I have not had a season yet where I truly lived up to the guard/forward role but my plan is for this to be that season.
In 2017 you averaged 12.6 PPG/8 RPG and were named Ivy ROY: how were you able to make such a smooth transition from high school to college? Truthfully, the transition was not entirely smooth for me. The first practice we had at Princeton really gave me quite a shock in terms of the speed/physicality of the college game versus the high school game. During the first game, I was incredibly nervous and was not quite sure what to expect. Once I was able to get the jitters out I realized it was a game that I have been practicing my whole life, and while it would still take a lot of practice to get better I knew that I would be okay. I could not have been the kind of freshman player I was without my coach's guidance and advice and her ability to push me. Most importantly, my teammates were able to take me in as a rookie and help me become the best player I could be. They put a lot of trust in me and helped me score, and when I was down they picked me back up, so that made the transition a lot easier for me as a freshman.
Last year you broke your own single-season school record with 79 BLK: what is the key to blocking shots? Quite honestly I could not tell you the first time that I blocked a shot. I never learned how to do it: it is just something that came naturally to me. If I could give any key it would be to have good timing and try to be tall.
You finished the season by being named Ivy tourney MOP & Ivy POY: what did it mean to you to receive such outstanding honors? It means the world to me. At the beginning of the season Coach Banghart had us fill out a list of our goals for the season and those 2 were very high on my list, right next to winning the Ivy League championship and making it to the NCAA tournament. I know there are a lot of excellent players in the league but winning those awards showed me that with hard work, dedication, and accountability every day, in every practice/game, I could achieve the goals that I set. Receiving the awards helps motivate me and makes me want to work harder and keep proving that I was deserving of the awards last year and that I can do it again. Most importantly, those awards mean a lot to me but I realize that I could not have done any of it without my team. You score points off of great plays/assists and you get blocks because your teammates draw the opponent's offense to you. I had to be surrounded by the right people to win those awards and I am grateful for my amazing teammates/leaders who helped me get there.
In the 2018 NCAA tourney you had 12 PTS/4 BLK in a loss to Maryland: what did you learn from that game that you think will help you this year? Playing in the NCAA tournament was an incredible experience and I am grateful for the opportunity to earn 2 more trips to the big dance. I learned that I have to get a lot stronger (both physically/mentally) to win games like that one. I need to be more aggressive with the ball and look to score in the games that mean the most: I did not do that until too late in the game against Maryland. I was nervous and did not kick it into gear early enough in the game to get my momentum going and keep my confidence up.
Your father Mark was a 2-time All-ACC 1st-team player at Duke who later spent 5 years in the NBA, and your grandfather Norman graduated magna cum laude from Princeton and was a professor at Princeton's School of Engineering and Applied Science: who is the best athlete in the family, and who is the smartest person in the family? My mom is definitely the smartest person in the family and has the most incredible work ethic. She is a brilliant person and an amazing writer. As for best athlete, I would say myself but my younger brother Zander is definitely going to give me a run for my money. He is a total baller who is so dedicated to the sport.
2 of your favorite athletes from the 2016 Olympics were Elena Delle Donne/Breanna Stewart: what did you think of Seattle's sweep of Washington in the WNBA Finals last month? I was sad to see my home team (the Mystics) not come out victorious but it was such a fun Finals series to watch. There were so many incredible players out on the court and Delle Donne/Stewart are both players who I model my game after and look up to.
What are your goals for the upcoming season, and what are your expectations for the upcoming season? My goals for this season are to no only repeat some history from last year (win the Ivy title/Ivy tournament/Ivy POY) but go far beyond that. Our team has big dreams, one of which is to make the Sweet 16. I have so much faith in my team that we can go far: we work hard, have a ton of talent (both experienced players/great new rookies), and most importantly we have heart. The combination of all those things can take us beyond where we went last year.