CLICK HERE for all of Jon Teitel's Season Previews and Interviews
We continue our season preview coverage with Maine assistant coach Edniesha Curry. When most basketball fans hear the name "Curry" they think of 2-time NBA MVP Steph, or perhaps former Florida Atlantic head coach Michael. However, with apologies to Minnesota PF Eric (who is scheduled to return this year after missing last season due to a knee injury), the most interesting Curry in the world is not a man, but rather the only female full-time D-1 assistant coach in the nation. Coach Curry won a WNIT title as a player at Oregon, played in the WNBA, and last March was hired to work for Coach Richard Barron up in Orono. HoopsHD's Jon Teitel got to chat with Coach Curry about her film study skills and her new job.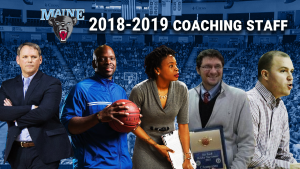 You played basketball at Cal-State Northridge, where you set a school record with 168 career 3PM despite leaving after only 3 years: what is the secret to making shots from behind the arc? A little bit of luck and a lot of consistent practice. You have to work on your shot every day and stick to your fundamentals.
After transferring to Oregon in 2000 you helped lead the Ducks to a WNIT title: what did it mean to you to win a title? Winning is something that I love to do. I have been blessed to be on a lot of winning teams during my career and all of the championships feel the same.
You played pro basketball in the WNBA for Phoenix/LA: how did you like playing for the Sparks along with such Hall of Fame teammates as Chamique Holdsclaw/Lisa Leslie? They are awesome people both on/off the court. Chamique is still 1 of my best friends and we are very close.
In 2017 you joined the NBA's assistant coaches program: what was the most important thing that you learned during your yearlong training? The importance of studying/mastering your craft. The coaches up there really know their stuff and have studied the history/nuances of the game. It showed me that a lot of work goes on behind closed doors that people do not get to see.
You reportedly can study film for 12 hours at a time: how do you do it without losing your mind?! I am a video connoisseur! I do not do 12 hours consistently but I have been known to sit on a couch on a Saturday and just watch games on my TV/laptop. When I watch successful coaches I learn a lot, but now I am a 4-hour/day kind of coach.
In March you were hired as the only female full-time assistant coach in D-1: why did you take the job, and how is it going so far? The job is going great: I am doing what I love. This is a part of my transition: I have wanted to be a men's basketball coach so it was a no-brainer to jump on the opportunity and achieve 1 of my goals.
You work for Coach Richard Barron, who was head coach of the women's team at Maine until having to take an indefinite medical leave of absence in 2016: how is his health at the moment, and how goes his transition from coaching women to coaching men? He is a rock star! It is awesome to be working with him because we have great chemistry. We bounce ideas off each other and push each other to make each other better. I do not think there is a big transition: basketball is basketball and it is just a joy to see the things that he can do with a team.
Your team has never won a league title, won only 30 games over the past 5 seasons, and does not even play in an on-campus arena: I assume that does not make recruiting very easy? It is not safe to say that. A lot of programs do not have on-campus arenas and are still successful (such as our women's program). It is easier to make excuses rather than buckle down and do what you need to do to win games. We are looking forward to working hard and moving the culture forward.
Your non-conference schedule includes games against Utah/NC State/Rutgers: which of these games do you feel will present your biggest test? Every game on our schedule is an opportunity to face elite teams and bring out our best competitive fire. I started at a small school in Northridge and anytime we played a big team like USC/Kansas they turned out to be some of my best games as a player. You do not know how far you can go until you face the so-called "best of the best". We look forward to the challenges of those 3 games.
What are your goals for the upcoming season, and what are your expectations for the upcoming season? Our goal is just to move forward in a positive way. We are not looking at specific numbers: it is about all the little things we are doing now that will lead to victories. You never know what tomorrow brings: it is better to focus on the present day, which is something that Coach Barron has always preached to us. At the end of the season we will take it…as long as we get better as a program.