CLICK HERE for all of Jon Teitel's Season Previews and Interviews
We continue our season preview coverage with Vermont G Ernie Duncan. You may have expected the Ball brothers (LiAngelo/LaMelo/Lonzo) to be the best college basketball trio of the decade but the Duncans of Vermont (by way of Evansville, IN) appear to have them beat. SR Ernie led the Catamounts with 66 3PM last year, JR Everett started 34 games and set a school single-season record with 47.2 3P%, and incoming FR Robin finished off his senior year back home at Harrison High School with some Lonzo-like stats of 13.7 PPG/6.8 RPG/9.8 APG/2.3 SPG. Kudos to Stan/Melinda Duncan: we look forward to moving on from LaVar Ball with your help. HoopsHD's Jon Teitel got to chat with Ernie about being a great shooter and having his brothers on the roster.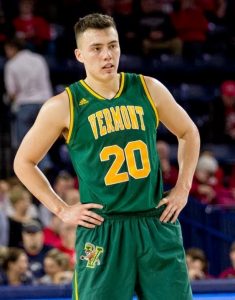 You play for Coach John Becker: what made him such a good coach, and what is the most important thing you have ever learned from him? He is able to balance knowing how to get on your case with knowing how to coach you. He knows when to go light on us and is like a friend off the court. He transforms everyone into playing defense at a very high level.
In 2016 you averaged 11.5 PPG and were named to the America East All-Rookie team: how were you able to bounce back from the back injury that caused you to miss most of the previous season? I put in a lot of work to get back to playing the way that I knew I could play and have kept improving year after year. It was a challenge to be out for a long time and then only get cleared 1 month before the season started.
After your school beat UMBC 23 straight times dating back to 2008, you scored 10 PTS in the 2018 America East tourney title game but Jairus Lyles scored 27 PTS including a 3-PT shot in the final second of a 3-PT win by the Retrievers: where does that rank among the most devastating losses of your career, and how on earth did they go on to beat Virginia by 20 PTS in the NCAA tourney? It was probably 1 of the most devastating losses of my life: I will think about it for awhile. I knew that they were a good team but everyone was shocked when they upset Virginia. However, it was good for our league to get our name out there.
Last year you were named to the conference All-Defensive team while the Catamounts finished top-25 in the nation with 65.1 PPG allowed but bottom-10 in the nation with only 134 STL: how is your team able to play great defense without making a ton of STL? We do not pride ourselves on trying to get a steal because if we miss the ball then it gives an advantage to the offense. In practice/film session we just focus on being solid by staying in front of our man.
You are a career 41.3% 3-PT shooter (#1 in school history) and an 83.2% FT shooter: what is the secret to being a great shooter? A lot of practice! You cannot become a shooter overnight: I have been practicing every day since I could start shooting a basketball.
1 of your teammates is your younger brother Everett: what is it like having him on the roster? Our other brother Robin is also a freshman on the team. I have been teammates with Everett my whole life but to have both of them here is a real blessing and I am looking forward to playing with both of them.
Your non-conference schedule includes games against Kansas/Louisville: which of these games do you feel will present your biggest test? I think that every game will be a real challenge. We are a young team so we will have our bumps.
You lost each of your top-3 scorers from last season (Trae Bell-Haynes/Payton Henson/Drew Urquhart): how will you try to replace all of that offense? We need a lot of guys to step up, including myself. We have guys who can score so we just need to get the young guys up to speed and turn them into veterans quickly.
Anthony Lamb was named 2017 conference ROY/conference tourney MVP but missed half of last season due to a left foot fracture he suffered during practice: how crucial is he to your team's success, and how is his health doing at the moment? He is a huge part of our team and has been since he was a freshman. In my eyes he is 1 of the hardest guys to guard because he can shoot from outside or get in the post and then do whatever he wants.
What are your goals for the upcoming season, and what are your expectations for the upcoming season? Our goals never change: we want to win the conference title and then make some noise in the NCAA tourney.