We were very sad to learn of the passing of Hall of Fame coach Tex Winter on Wednesday at age 96. Tex spent his entire life in the company of greatness: ball boy during the playing days of Hall of Famer Pete Newell at Loyola Marymount (who later hired Tex to coach the Houston Rockets when Newell served as their GM), All-American pole vaulter who competed against 3-time Olympian Bob Richards, basketball teammate of Hall of Famer Bill Sharman at USC, assistant to Hall of Famer Jack Gardner at Kansas State, assistant to Hall of Famer Dale Brown at LSU, and assistant to Hall of Famer Phil Jackson in Chicago/Los Angeles. He played basketball in the Navy for future sneaker legend Chuck Taylor, made a pair of Final Fours during a 7-year span as head coach at Kansas State, and arguably changed the course of NBA history by teaching the triangle offense to a nice little player named Michael Jordan. HoopsHD's Jon Teitel got to chat with former Kansas State player Larry Weigel a few years ago about his famous coach and we now present that previously-unpublished interview. We also send our condolences to the entire Winter family on the loss of their loved one.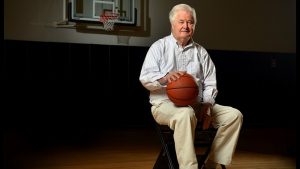 Winter learned the triangle offense from Sam Barry as a player a USC and later wrote a book about it called "The Triple-Post Offense": what made it so effective, and how did he use it after becoming a coach? He was a great fundamental teacher of the game. The "triangle" offense does not have any set plays: all 5 players have to remain in sync (like the fingers on your hand). The basic idea involves critical spacing of 15-18' at all times. It allows you to score under any circumstances against any sort of defense: there is a reaction to whatever situation is thrown at you. He was also brilliant at making halftime adjustments.
In addition to basketball he was a pole-vaulter at Oregon State: do you think that he would have made team USA in 1944 had the Olympics not been cancelled due to World War II? I know that Bob Richards was the best in the US but Tex was in the top-3.
In 1958 he was named national COY at Kansas State: what did it mean to him to receive such an outstanding honor? I am sure that he was pleased because he had quite a season with a couple of All-Americans like Bob Boozer/Jack Parr.
In the 1958 NCAA tourney Boozer had 24 PTS/14 REB in a 3-PT 2-OT win over 2nd-ranked Cincinnati: did you think that Oscar Robertson (who scored 30 PTS) was going to make his 2nd FT after the game was tied in the final seconds of regulation? I later interviewed Boozer and some other players, all of whom were shocked that Oscar missed the FT. Roy DeWitz was the hero of that game, scoring the final several points for the Jayhawks. Oscar made his 1st FT, then laid the ball down and walked toward mid-court to talk to his teammates who had already dropped back on defense. The officials started doing a 10-second count, and his teammates yelled at him to get back to the line and take the 2nd FT. Oscar runs back, flings the ball at the basket before the 10 seconds run out, and misses it. It was 1 of Tex's greatest wins ever.
The Bearcats got their revenge by beating the Wildcats in the Elite 8 in both 1959 and 1961: how big of a rivalry did the 2 teams have back in the day? I do not recall there being a huge rivalry: it was just a pair of great teams who kept playing each other every March.
In the 1964 NCAA tourney All-American Willie Murrell had 29 PTS/13 REB in a 6-PT loss to eventual national champion UCLA in Kansas City: how big of a factor was the home-court advantage (if any)? It should have been a big advantage because we had just won the Big 8 tourney and many alumni lived in the area so anytime we played there it was like a home court. We were leading for most of the game due to our 1-3-1 zone defense and had a shot late in the game to go up by 7 PTS that rimmed out. I told John Wooden's daughter Nan that the reason her dad won the game was the UCLA cheerleaders. Their cheerleaders showed up late in the game due to a transportation delay wearing the shortest shorts you have ever seen: the ongoing joke is that they distracted our players! It also did not help that Gail Goodrich/Walt Hazzard were making all of their jumpers.
He also coached at Marquette/Washington/Northwestern/Long Beach State and won more than 450 career games as a head coach: how was he able to be so successful despite moving around to so many different schools? Tex was a very good teacher and could always adapt to his opponents' defense. He did not have much luck at Northwestern because he was only allowed to recruit players who were very smart. When he got to Long Beach State to replace Coach Jerry Tarkanian, 1 of his players asked him if they would still get paid: he said no! The press loved him because he was so open and honest: they would go out of their way to protect him.
He won an incredible 10 NBA titles with the Bulls/Lakers as an assistant/consultant under Hall of Fame coach Phil Jackson: what kind of relationship did he have with Phil, and what was the most important thing he ever learned from him? Chicago GM Jerry Krause would come to campus to watch Tex run practices.  He invited Tex to become an assistant to Doug Collins in the mid-1980s but Collins did not love that idea. Soon after that an assistant named Phil Jackson joined Tex on the bench and watched Collins let Michael Jordan scored 50 PTS while his team kept losing, and then Phil took over and the rest is history. It is hard to imagine anyone criticizing Jordan but Tex would tell him exactly what he needed to work on. Tex and Phil had a very close relationship. The reason the triangle offense worked is that Tex was a genius with Xs and Os and Phil was a genius in relating to his players. Collins did not want anything to do with Tex, but Phil's brilliance was that he saw the genius in Tex and incorporated the triangle into his Zen-like philosophy of having a team approach.
In 2011 he was inducted into the Hall of Fame: where does that rank among the highlights of his career? The sad thing about the Hall of Fame is that he should have been inducted many years earlier: I think there was some political reason for not putting him in sooner: Kobe Bryant and many others have said that it is a disgrace that Tex had to wait so long. He has not been able to talk since having a stroke in 2009, which is a shame that he was unable to make a speech to celebrate the honor. He turns 92 next week and I will bring him a custom "triangle" cake from Baskin-Robbins!
When people look back on his career, how do you think that he should be remembered the most? I think that he should be remembered as a players' coach. He was honest/passionate and a basketball genius, particularly on offense. He was a good person who was beloved by all. He was 1 of the giants of the game and basketball was his life.