CLICK HERE for all of Hoops HD's Preseason Coverage
We continue our season preview coverage with Nevada preseason All-American F Caleb Martin. Yesterday the AP announced its preseason All-American team: 5 guys from power conferences (Carson Edwards/Purdue, Luke Maye/North Carolina, RJ Barrett/Duke, Dedric Lawson/Kansas, Ethan Happ/Wisconsin)…and the 1st Nevada player to ever be named a preseason AP All-American. This just makes his resume more impressive, if that is even possible after an incredible junior season: MWC Player of the Year, Sweet 16 appearance, 18.9 PPG, 40.3 3P%. HoopsHD's Jon Teitel got to chat with Caleb about his twin brother Cody and why they decided to return to school instead of stay in the draft.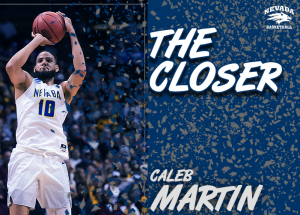 In the 2015 NCAA tourney as a freshman at NC State you scored 4 PTS while your team held #1-seed Villanova to 31.1 FG% to pull off the 3-PT upset: how were you able to do something that very few teams have done recently (beat the Wildcats in March)? The main thing that stood out to me was our chemistry: everyone knew their roles. I was an energy guy who tried to rebound/play defense.
After your sophomore season you and your twin brother Cody decided to transfer to Nevada: what makes Eric Musselman such a good coach, and what is the most important thing that you have learned from him? He is so straightforward with everybody and does not sugar-coat anything. He tells you from your 1st official visit what you can expect and exactly what your role will be. I learned how to be blatantly honest: he has made me a tough-minded player.
In the 2018 Sweet 16 you had 21 PTS/5-11 3PM/3 BLK but Marques Townes made a 3-PT shot with 6.3 seconds left in a 1-PT win by Loyola Chicago: what did you learn from that game that will help you this year? That was the 1st time in the tourney that we started off hot so we might have become a bit complacent. You need to keep your foot on the pedal, especially when you are facing a team with a chip on their shoulder. We just ran out of gas and need to act like the score was 0-0.
Last year you led the MWC with 680 PTS and were named conference POY: what is the secret to being a great scorer, and what did it mean to you to receive such an outstanding honor? I just try to move on to the next play if I miss an easy shot. A lot of my confidence comes from my coaches/teammates: they help me execute the plays when it is time to get a bucket. Getting POY was not a specific goal: I just wanted to play well and help get the school back on the map. It was such an honor because there are a lot of great players in this conference.
Your family kept winning awards when Cody was named conference DPOY: what makes him a good teammate, and what makes him a good brother? His unselfishness: he is the size of a PF but plays like a pass-first PG who loves to set everyone up to get their own baskets. It allows me to be more offensive-minded even though I know that he can score. He takes so much pride on defense and knows how to get guys into the right spots in a timely manner. All of that stuff translates to our relationship off the court as well: he looks after my best interests and will give me a different type of perspective. He does not just tell me what I want to hear.
You and your brother declared for the NBA Draft last spring: how did the Draft Combine go, and why did you 2 decide to return to school? The Combine was a good experience: it was fun to play in front of people like that. However, it did not go as well as planned: there are a lot of factors as to how well you can play. I do not think that we could have made a bad decision either way, but it helps to come back to a top-10 team and know that I will get better. The plan this year is to get past the Sweet 16.
You both turned 23 last month: what did you do for the big day? I was just chilling with my brother and hung out with 1 of my boys who came to visit. It was the day after our pro day, which led to a great birthday. We do not do all that wild stuff: just relaxed.
1 of your incoming freshmen is 6'10" McDonald's All-American Jordan Brown: how is he looking so far? He has a really good feel for the game and plays beyond his age. His touch around the rim is great and he has good hands/footwork. He looks like a McDonald's All-American and will be fun to play with. He is still working on some little things but he has a majority of it covered because he is such a smart player.
Your non-conference schedule includes games against USC/ASU/Utah: when did your school join the Pac-12, and which of these games do you feel will present your biggest test? I have not done too much research on those teams yet but Utah is always a tough place to play at. We have a really good schedule lined up because our coach has a lot of confidence in us and the schedule will prepare us to get to the postseason. We need to see what kind of team we really are.
What are your goals for the upcoming season, and what are your expectations for the upcoming season? Everyone's goal is to make it to the NCAA tourney and win a national title…but it is so hard just to make the tourney. My goals change throughout the season: right now I want to have the best record in non-conference play, but later on my goal will be to win the MWC tourney and make it to the Final 4. We have really high expectations because we know what kind of talent we have. Last year was great but it is over.