Last month the Knight Commission on Intercollegiate Athletics held a public meeting at the National Press Club in Washington, DC, to discuss USA Basketball programs/policies that affect elite college basketball players, requirements for coaching education/certification, and accountability throughout college sports. The Commission subsequently asked the NCAA to establish more serious oversight standards regarding shoe and apparel income (a call for greater public transparency) and college basketball coaches (via a higher level of professional preparation/certification). In light of all the recent scandals and health concerns in college sports these issues seem to be more important than ever before. HoopsHD's Jon Teitel attended the meeting and conducted interviews with multiple Knight Commission panelists. We conclude our exclusive 2-part series with panelist Danielle Donehew (Executive Director of the Women's Basketball Coaches Association), who discussed working for Pat Summitt as well as the hiring of Edniesha Curry as the only full-time female assistant coach D-1 men's basketball in the country.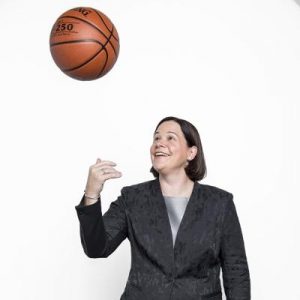 You grew up in Atlanta, became 1 of the best 3-PT shooters in ACC history at Georgia Tech, and later served as Executive Vice President of the Atlanta Dream: what is the secret to making shots from behind the arc, and when are the Dream going to finally win a WNBA title (after making the Finals 3 times in a 4-year span from 2010-2013)?! Practice makes permanent so practice like you play. The Dream are going to win the WNBA title next year!
After college you became a graduate assistant for the Lady Vols before becoming Director of Basketball Operations for Coach Pat Summitt at Tennessee (making 6 Final Fours and winning 2 national championships during your tenure): what made Pat such a great coach, and what was the most important thing that you ever learned from her? Coach Summitt understood that her players would not care how much she knew until they knew how much she cared about them. Pat was a person of her word: her word was her bond.
You previously served as associate commissioner for women's basketball in the AAC/Big East: what do you think has been the biggest change in women's college basketball over the past decade? The talent and athleticism of our athletes is tremendous in today's game.
You were named an ACC Legend in 2013: what did it mean to you to receive such an outstanding honor? Being named an ACC Legend was a significant moment for me. The experience reinforced that I could continue giving to our game long after my playing days finished. The award served as an encouragement for my future efforts to protect and grow the game.
What is the Women's Basketball Coaches Association (WBCA) and what do you do as Executive Director? Founded in 1981, the Women's Basketball Coaches Association is the professional association for coaches of women's and girls' basketball at all levels of competition. The WBCA offers educational resources that coaches need to help make themselves better leaders/teachers/mentors to their players; provides opportunities for coaches to connect with peers in the profession; serves as the unifying voice of a diverse community of coaches to those organizations that control the game; and celebrates those coaches/players/other individuals who excel each year and contribute to the advancement of the sport. We are passionate advocates/supporters of the game of women's basketball at all levels of the sport. As Executive Director, my role is to be an extension of our board of directors and membership. I serve and represent women's basketball coaches throughout their coaching journey. I am proud of the impact coaches make on student-athletes who play women's basketball.
You also serve as a non-voting member on the NCAA D-1 Women's Basketball Oversight Committee and a voting member on the NCAA D-1 Women's Basketball Competition Committee: what recommendation has either Committee made recently that you agreed with the most? The NCAA Women's Basketball Rules Committee recently adopted a rule change to a 4-quarter format as opposed to a 2-half format. Also included was a foul reset and timeout format change. The WBCA along with NCAA committees supported these changes and the results have been very well received.
Last year you began a 3-year term as president of the Women's Basketball Hall of Fame Board of Directors: how proud are you of the Class of 2018 (Tina Thompson/Katie Smith/Chamique Holdsclaw/Mickie DeMoss/Chris Dailey/Dr. Rose Marie Battaglia/Ceal Barry), especially in light of the fact that Tina (Virginia)/Katie (New York Liberty) have recently become head coaches themselves? The Women's Basketball Hall of Fame is celebrating 20 years. The first class was inducted in 1999 and this year's Class of 2018 was a powerful representation of the strength of our game. I am proud of the Women's Basketball Hall of Fame's role in protecting the game's historical narrative. I also very much enjoy seeing many of our great players become coaches and give back to the next generation of our athletes.
What was your reaction last March when Maine announced that it was hiring Edniesha Curry as the only full-time female assistant coach D-1 men's basketball in the country? I was fortunate to serve as mentor for Edniesha as part of the International Women's Forum 2017 EY Women Athletes Business Network Mentoring Program. Edniesha and I worked together for a year and I found her to be an accomplished player and coach, both domestically and internationally. She is a gifted teacher and was a strong choice for Maine.
You were a panelist at the Knight Commission's October meeting regarding Coaching Education/Certification Requirements/Professional Development: what was the most important message that you wanted to convey to the audience? The coach of today is CEO of their program. The profession of coaching demands excellence in teaching, business, and communication skills. The coach of today must be a lifetime learner: outside of a parent or guardian, the coach is one of the most impactful teachers an athlete will encounter in life.
In light of last month's guilty verdicts in the college basketball "pay-for-play" trial of James Gatto/Merl Code/Christian Dawkins, what tools do you recommend to strengthen oversight of college sports? We are tipping off what promises to be another exciting season of women's and girls' basketball. Our coaches are focused on their teams and the WBCA is focused on supporting our coaches.