HoopsHD's Jon Teitel will spend the upcoming months covering several Georgetown basketball home games, with a very special reward coming in March. Part 1 of his series featured an early-November game against Central Connecticut State (http://hoopshd.com/2018/11/11/hanging-with-the-hoyas-part-1), while Part 2 is about Richmond's visit to DC earlier this week for the schools' 10th meeting all-time:
The Game 1 pregame media room meal was make-your-own tacos but they kicked it up a notch for Game 2: salmon crostini, chicken and orzo, with berry crunch pie for dessert!  Moving on to the game: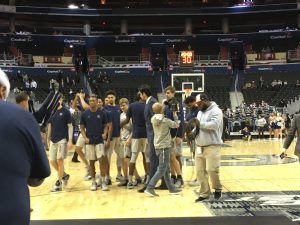 Richmond limped into the nation's capital missing 2 of their top-3 scorers: Nick Sherod (12.7 PPG but out for the year after tearing his left ACL last Sunday) and Jacob Gilyard (16.6 PPG but missing his 2nd straight game with a strained groin after starting all 32 games last year as a freshman). Their inexperience was on display early as they were whistled for a 5-second call…coming out of a TV timeout! However, despite a quiet 1st half from leading scorer Grant Golden, the Spiders were only down 40-35 at halftime thanks to the efforts of 2 of their younger players. I still cannot tell if SO SF Nathan Cayo can make shots from the perimeter but he did not need to because he kept driving to the basket and made layup after layup (finishing with 18 PTS on 7-11 FG). FR SG Jake Wojcik (son of former San Jose State coach Dave, nephew of former Tulsa/Charleston coach Doug) was coming off of an 0-7 shooting performance in his prior game against Hampton, but apparently he rediscovered his shooting touch by making a trios of threes in the 1st half.
Georgetown had some freshman firepower of their own in the form of PG James Akinjo, who matched Wojcik with 3 threes of his own during the 1st 20 minutes. The star of the show, as expected, was SR C Jessie Govan who was simply unstoppable in the paint with 18 1st half PTS: layups, jump hooks, rebound/putbacks, you name it.  He stood alone as the best player on the court: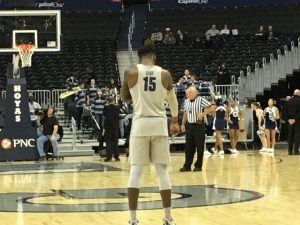 The shorthanded Spiders did not get a single bench point all night but stayed close throughout the 2nd half thanks to Golden. Wojcik kept converting from the backcourt with 3 more threes after halftime but it was his 6'10" teammate who did his best Govan impression: he made a ton of turnaround hook shots as well as layup after layup to finish with 22 PTS/10 REB/3 BLK in only 31 minutes of action.  I thought it would be an easy win for Georgetown but Coach Patrick Ewing kept calling timeouts to get some effort out of his team: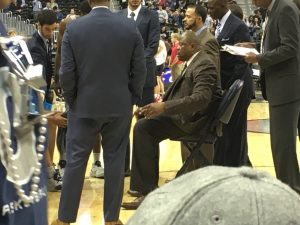 The quietest contributor was FR G Andre Gustavson: he started the night with 1 career AST in his short college career, but somehow had 10 more during 39 minutes from start to Finnish (he's from Helsinki: give me a break!).
Govan kept pouring it on in the 2nd half and looks like the Big East Player of the Year at the moment: 29 PTS/9 REB and only 1 TO in 36 minutes.  He even made all 7 of his FT attempts:
The freshman backcourt of Akinjo/Mac McClung struggled when I last saw them in person against CCSU but they have grown up a lot over the past 3 weeks, combining for 29 PTS/5-10 3PM/7 AST. The breakout star was Greg Malinowski: he had 3 solid years at William & Mary before sitting out last year after transferring to Georgetown and he played like a veteran senior on Wednesday with arguably the best all-around effort of his lengthy college career (10 PTS/7 REB/5 AST in 20 minutes off the bench) to help the Hoyas win 90-82.
I expected Coach Ewing to be ecstatic in the postgame press conference after scoring 90+ PTS in back-to-back games for the 1st time in forever and improving to 6-1 this month (with their only loss coming to undefeated Loyola Marymount in Jamaica) but he was quite unhappy. Wins are important…but allowing an opponent that is missing 2 star players to score 82 PTS on your home court must have rubbed him the wrong way. I attempted to improve his mood by asking if he was impressed by Malinowski's growth as a player and he said that Greg "did all of the things that I wanted him to do":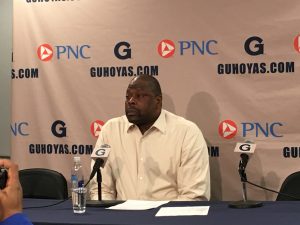 That was followed up by Greg's 1st-ever appearance at a postgame press conference as a Hoya. I asked him (sitting to the left with Govan on the right) if his great game was due to confidence/matchups/other and he responded that it was not a matter of confidence because "any man on our team can step up and I just took advantage of the opportunity tonight".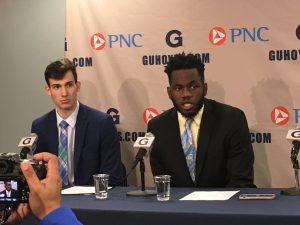 I also questioned Golden about whether he had shared any words of wisdom with Sherod since Grant had overcome his own medical redshirt situation 2 years ago. He stated that he told Nick that the injury was not the end of the world and that "the silver lining is the fact that he will get a medical redshirt that will give him 1 more year on the team".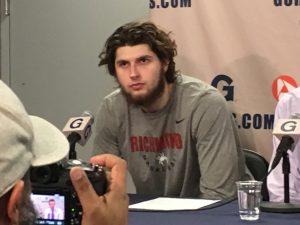 That's all for now, check back in the weeks ahead for Part 3.