If you want to win an NCAA title you need a good coach, a great resume…and a McDonald's All-American. Only 1 championship team since 1979 has not had such a player (Maryland in 2002). The 42nd annual McDonald's All-American Game will take place on March 27th in Atlanta, GA, and the rosters were announced on January 24th after selecting the 24 best players in the nation from a whopping 2500 nominees. If you do not think these guys can make an immediate impact in the fall, just ask Coach K how he likes having 2018 honorees RJ Barrett/Zion Williamson at Duke! Florida will be getting a pair of 2019 honorees in the fall when Scottie Lewis/Tre Mann head to Gainesville. Earlier this week HoopsHD's Jon Teitel got to chat with Tre about being a McDonald's All-American and his favorite Gator memory.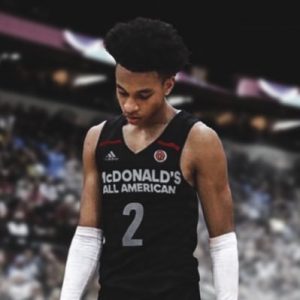 Last August you signed with Florida (over ASU/Florida State/Georgia Tech/Indiana/Iowa State/Kansas/Louisville/NC State/Tennessee): what made you choose the Gators? I just felt like they had the best situation for me and I think that I can succeed there.
Do you have a favorite Florida basketball memory from growing up in Gainesville? My mom worked at a local restaurant and the basketball team came in 1 day to sign some autographs. My brother and I were eating some French fries and before we knew it Joakim Noah had walked over and taken 1 of our fries!
The Gators are currently 13-11 but have played 1 of the most difficult schedules in the nation (including Florida State/Oklahoma/Michigan State once each and Butler twice in non-conference play): do you think that they will make the NCAA tourney next month? Hopefully! It is a game of runs so if they can play well down the stretch then they will have a chance to get there.
You are 6'4": what position do you play in high school, and what position do you expect to play in college? I play more of the 2 now but I played PG last summer and feel that I can play both positions. I want to be a combo guard in college.
Your dad is 6'3" and your mom is 6'4": do you think that you are done growing, and who is the best athlete in the family? I do not know but my doctor said that my growth plates are still open. My dad is the best athlete in the family…aside from me!
Last year you scored 20+ PPG before suffering a torn right meniscus during your Class 5A-District 5 championship game: what is the secret to being a great scorer, and how is your health at the moment? There is no secret: I practice/work out a lot and try to make whatever shots the defense gives me during games.   If they step out on my then I drive to the hoop, and if they back off then I will shoot from outside.  My knees feel fine: I am just a little sore from the season.
In January you were named a McDonald's All-American: what did it mean to you to receive such an outstanding honor? It meant everything to me. It was a dream come true that I have been working for my whole life, so I will try to go out there and compete to make the most of the opportunity I have been given.
You are 1 of several homegrown honorees from the state of Florida (Vernon Carey Jr. attends NSU University School and Josh Green attends IMG Academy): have you ever played with/against either of them? I played with Vernon in Las Vegas and against him in the Peach Jam. I have played against a couple of other McDonald's All-Americans as well: Armando Bacot of IMG at the Peach Jam and Precious Achiuwa of Montverde Academy in Las Vegas.
Another 1 of your honorees (Scottie Lewis) will be joining you at Florida this fall: how often do you 2 talk, and what makes him such a great player? We were just on the phone earlier today! We have hung out a couple of times: we went bowling with our mothers the last time he came to visit the campus. I have seen his videos on social media: he is a great person who wants to win so I think that we will get along great together.
Will you get a nice summer vacation or is it going to be a quick transition from high school to college? I am not really sure: my focus right now is on the current season.