It has been a nice little month for Ivy League basketball. On the court, Yale won the Ivy tourney and was only a few points shy of upsetting LSU in the NCAA tourney on Thursday, Harvard beat Georgetown in the NIT and will play NC State on Sunday, Brown beat UAB in the CBI and will play at Loyola Marymount on Monday, and Cornell almost upset Robert Morris (coached by Penn alum Andy Toole) in the CIT before losing on the road in overtime. Off the court, Dartmouth JR G James Foye was named an Academic All-American due to averaging a 3.96 GPA as an Economics major. Earlier this month HoopsHD's Jon Teitel got to chat with James about facing Buffalo earlier this season and his super-athletic family.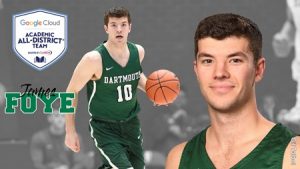 You went to high school at Phillips Exeter: were you ever teammates with Duncan Robinson, and will you eventually surpass him as the best basketball player in school history? He was 1 of the guys who recruited me and helped me get there. I think it would be difficult to surpass him: I know him pretty well and he is an awesome player.
What made you choose Dartmouth? I liked it a lot from the beginning. I am from New England and it is the quintessential New England college. They were the 1st ones to take a chance on me and when I visited I just loved it.
You play for Coach David McLaughlin: what is the most important thing that you have learned from him? He is big on having a "work" culture: work hard, work smart, work together. I have learned a lot from him leadership-wise to become the best teammate that I can be: he constantly asks me how I can get the best out of my teammates and has taught me how to have a selfless view.
After coming off the bench during your 1st 2 years you started every game as a junior: what is the biggest difference between being a starter vs. coming off the bench? When you come off the bench the biggest part is trying to stay ready, especially when you act as the scout team during practice. When you become a starter you cannot get complacent and there is the added pressure of having to produce because if you do not then you can really hurt your team.
Last November you played 15 minutes in a 39-PT loss to Buffalo: where do the Bulls rank among the best teams that you have ever faced? They were unbelievable! I have never played against any team with their combination of speed/athleticism. We kept hearing about their transition game…and then they came out and scored in transition on each of their 1st 5 possessions. What is underrated is how hard Coach Nate Oats has them playing on defense.
Last month you scored a career-high 25 PTS/7-10 3PM in a 3-PT loss at Brown: was it just 1 of those situations where every shot you put up seemed to go in because you were "in the zone"? I actually missed my 1st shot that night but when I later banked in a 3 I knew that things would go well for me. We lost Ian Sistare to a foot injury earlier that week so I knew that the rest of us would all need to step up in his absence. Unfortunately we could not get the win.
Earlier this week you were named 2nd-team Academic All-American: how do you balance your work on the court with your work in the classroom? From my time at Exeter I learned how important it is to get my work done. I try to get it done during the week so that I can focus entirely on basketball during game days. I separate the 2 and try not to conflate them.
You turn 22 later this month: what are your plans for the big day? Nothing too big: I will just be hanging out with my friends. My parents usually come up to take me out to dinner that night. It feels weird getting older.
You have a 3.96 GPA as an Economics major: what made you choose Economics, and what do you want to do after college? I took an Econ class in high school and loved it. I like math as well as problem-solving questions: I try to solve inefficiencies with math. This summer I am doing an internship in finance. Since I like to argue a lot many people have suggested that I should go to law school so that is where I might end up.
Your father Paul played football/baseball at Amherst and 11 of your 28 1st-cousins played college sports: who is the best athlete in the family? That could get me into trouble! My dad still holds some passing records as a QB at Amherst. I have a ton of cousins who played at a high level in college so I refuse to answer that question but I am pretty sure that it is not me.