Carsen Edwards had an NCAA tourney for the ages last month: 26 PTS in Purdue's win over ODU, 42 PTS against defending champion Villanova, 29 PTS in a 5-PT OT win over Tennessee, and another 42 PTS (including 10 threes) in a 5-PT OT loss to Virginia. Earlier today he announced that he will be leaving school to enter the NBA draft, where he can only hope to follow in the footsteps of fellow Purdue legend Terry Dischinger. Terry was a 3-time All-American at Purdue, 1963 NBA ROY, and a member of 1 of the greatest basketball teams ever: the gold-medal-winning 1960 Olympic team. Last week he was named a member of the National Collegiate Basketball Hall of Fame's Class of 2019. Yesterday HoopsHD's Jon Teitel got to chat with Terry about his terrific career and we congratulate him on his awesome honor.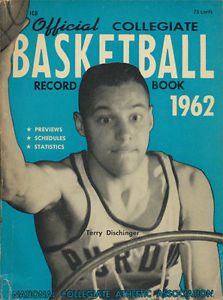 You graduated #1 in your class from Garfield High School, majored in chemical engineering at Purdue, and were valedictorian at dental school in Tennessee: how much importance did you place on academics? When I was in the 8th grade my dad was a coach and I played all kinds of sports. During a check-up a doctor found that I had a heart murmur and I was not allowed to play: you can imagine how that affected me. I learned that year that schoolwork comes 1st, which is what my parents had taught me. For that 1 year I was the best band player (trombone) in the school and had great grades!
You started for team USA at the 1960 Olympics: what did it mean to you to win a gold medal, and where does that team (inducted into the Hall of Fame in 2010) rank among the greatest that you have ever seen? I could not play at Purdue as a freshman so 1960 was my 1st year on the varsity. It was the 1st time that a college team had ever won the Olympic gold medal. We went to Denver for tryouts and I felt like I was on vacation. Oscar Robertson was my hero…and he ended up being my roommate! I think that I was the youngest person to ever play for team USA: I could not believe that I was in it. We were the greatest team up to that time: we played some exhibition games and actually lost our 1st game. My dad told me that after that game Oscar and Jerry West went to Coach Pete Newell and said that they would go home if he did not put me and Jerry Lucas in the starting lineup! When we got inducted into the Hall of Fame in 2010 in Springfield we were all up on the stage. Oscar and Jerry West, our captains, spoke on the stage and were the first off the stage. Oscar's seat was in the 1st row right on the aisle, and when I passed by him he hugged me and said he loved me. Every time I think about that I tear up a little bit: it was an amazing experience for me in so many ways. Not many people get to honor their country by winning a medal. You are not playing for yourself or your college: you are playing for your country.
On Christmas Day 1961 you broke your Olympic teammate Jerry Lucas' Big 10 record by scoring 52 PTS in a game against Michigan State: was it just 1 of those scenarios where every shot you put up seemed to go in because you were "in the zone"? I scored 18 PTS in the end of the 2nd half and the rest of the team only had 2 PTS. Whatever I did that night felt like I was doing it before I did it. 52 is amazing: I was not 1 who looked at statistics but later on I reviewed some of the stuff that I did and wondered how I was able to do it. Ironically, that was the only home game that my parents did not see me play in college (due to a snowstorm), but my grandparents were able to make it there from Indianapolis.
You were a 3-time All-American with the Boilermakers and finished your career with 28.3 PPG/13.7 RPG: what was your secret for being a great scorer, and how did you balance your scoring with your rebounding? I could get to the boards fast and get up fast: I had a good 2nd jump as well. I tried to go to the opposite side of where the shot came from because that is usually where missed shots went. That is the only Purdue record I still hold: most REB in a single season in school history. I was so quick for my size and could shoot with either hand: we did not have a 3-PT line back then but I could step out and score or beat people to the basket. I also used to practice shooting on a rim that was smaller than a normal rim, which helped me make sure to put a lot of arc on my shot and not have it come up short. I also had the student manager try to block my shots with a broom and I jumped a lot of rope. It was not work for me: it was fun even through my pro career. I played 4 different sports in high school: track/baseball/football/basketball. Coach Bob "Slick" Leonard came from my hometown of Terre Haute and was my head coach during my 1 year in Baltimore in 1964. We had lunch 1 day with our wives and he asked me how many Indiana high school athletes were all-state in 4 different sports. He said the answer was 2 (me and Joe Sexton)! Bob was a great player at Indiana (1953 NCAA champ) and 1 of the best coaches ever (3 ABA titles with the Pacers from 1970-1973).
Your 713 career FTM remains top-20 in NCAA history: what is the key to getting to the line/making FTs? In high school I shot them underhanded like Rick Barry, but when I got to Purdue the coach said I had to stop that. You need great shooting fundamentals: it is getting better now with college kids but I worked really hard at it.
In the spring of 1962 you were drafted 8th overall (1 spot behind John Havlicek and 4 spots ahead of Chet Walker): did you see that as a validation of your college career, or the realization of a lifelong dream of reaching the NBA, or other? I was a chemical engineer at Purdue but had not yet received my diploma by the time of the draft. I went to school to get my diploma. I was planning to be an employee/player at Phillips 66 but I really wanted to play in the NBA against the best. They put a provision in my contract that I only had to play on holidays/weekends so that I could go to class during the week.  In January I started playing full-time.
In 1963 you scored 25.5 PPG and were named NBA ROY: how were you able to make such a smooth transition from college to the pros? That was 1 of the greatest things that ever happened to me because I was voted on by the players. I do not think I knew better: it did not feel real to me. It was always fun for me so I never got tired of it. Back then they did not have quick forwards like me, which helped me beat a lot of guys off the dribble or beat them down the court. I could shoot with both hands around the basket.
After making 3 straight All-Star games from 1963-1965 you spent 2 years in Hawaii serving in the Army: how did that decision change your life, and do you have any regrets? I took ROTC in college because it was during the Vietnam era. After graduation I had to go to the service at some point but they let me play for 3 years before doing so. I arrived in Hawaii and a colonel asked me why I thought I was there: he said that he was losing recruits because he did not have a good basketball team. I also had a teaching thing where I trained people to put their gas masks on correctly! 1 of my basketball teammates was a dentist around my age and we both had kids the same age so we became close friends: he asked me if I ever thought about going into dentistry. He told me I could go to dental school in Tennessee while continuing to play in the pros so I did that. I was not as good a player after I returned to the NBA but I could still play well.
You later became an orthodontist in Oregon: how did you like the dental business, and what have you been up to since retiring? I loved my dental job as much as my basketball job. The ability to give people beautiful smiles helped change their lives. I am trying to get a handicap on the golf course: I used to be a 1. When we moved to Portland I was able to join the local country club. I was playing 1 day and saw a sign that there was a house for sale on the course. I dropped by his house after the round and we moved in 3 months later. I won a club championship once and was also named the best golfer over age 50. It is tough as I get older because it is not so easy but it was a wonderful thing. My son took over my orthodontic practice and is also a great golfer himself. I have had a wonderful life and a wonderful wife and 3 great kids and 9 great grandkids.
Last week you were named a member of the National Collegiate Basketball Hall of Fame's Class of 2019: how did you learn about the great news, and where does it rank among the highlights of your career? I got a call about it and had a very nice talk with the people from the Hall. I am 78 and did not think I would be getting any more awards but as you get older they mean even more to you. I will be there in Kansas City this fall for the ceremony and it is really a joy to make it. I was inducted into the Naismith Hall of Fame with the Olympic team, which was also great. I really improved a lot during my freshman year when we were not allowed to play: I got stronger/faster so I liked the idea of freshman not being eligible.  I could maintain my studies and could get ready to play in my freshman year with no pressure. We scrimmaged most nights against the varsity and it worked well for me, but I fully understand one and done.