On the fourth day of conference tourneys… the Buffet is STILL giving.
It was a pretty crazy week in the Waiting Line… so much so, that as today's Buffet was being crafted, Kentucky went from definitely out (losing at Georgia) to almost certainly in as of now (today's win over Florida)….
Let's take a look, and since this is all happening in real time, here' how Buffetology looks as of 12pm PT, March 9 (only adjust made for Robert Morris' loss in the NEC tournament)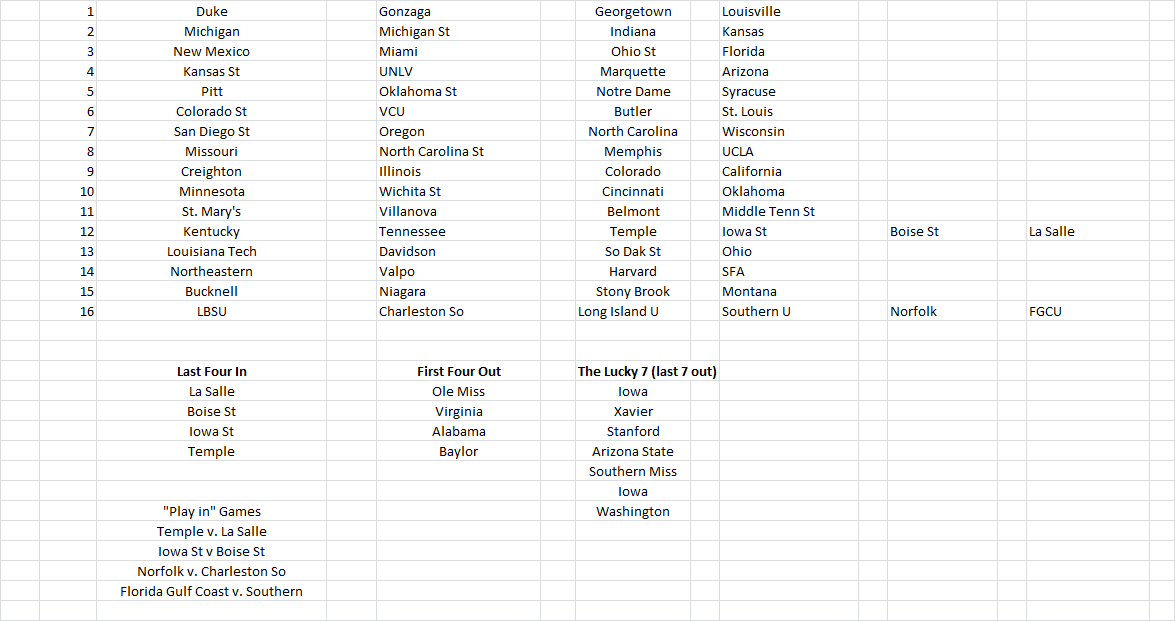 Now, we've made repeated references to Pack of Wolves Wednesday, the carnage is reflected in the Buffetology above.  There were a total of 16 games featuring teams who could feel good about their NCAA tournament chances versus those who either could not, should not, or don't even know what that feeling is.  Only 56% of those teams were successful.  The names of the winning schools Wednesday: Washington St, Nebraska, Georgia Tech, Xavier, Stanford, Iowa St, and Villanova. Now for Villanova, Stanford & Xavier, Wednesday was huge.  For good reasons.  For UCLA, California, Oklahoma St, Saint Louis, and especially Georgetown & Miami, it was huge for separate reasons.   Throw in Southern Miss losing to Marshall, Illinois losing to Iowa, Virginia falling to Florida St, Wisconsin getting essentially bombed on by Michigan St, Colorado shaking off the Roberson injury to sweep Oregon, New Mexico St rendering La Tech an autobid hopeful, Texas beating Baylor, (you keeping up?) Louisville dousing Cincy, the aforementioned Kentucky loss to Georgia, Boise St losing, and Indiana dropping their 4th Big Ten game (but Ohio St getting that road win CBS so desperately wanted them to have) it was just how you want the week leading to the weekend of the first conference tournaments/last regular season games.
Waiting Line… Games for Saturday:
In the books:
Kentucky 67-Florida 57: After a pair of ugly road losses, the post-Nerlens Noel edition of Kentucky seemed destined for the NIT, but a show-me performance today versus Florida, and we put Kentucky back in (well, hypothetically, since no Buffetology was published, of course), having been in the middle of Buffetology construction as that went final.  Florida now sees themselves on the 3 line. (we will wait for standings to finalize and brackets to come out to really tell you where Florida could go seed-wise)
 Kentucky's back. Back again. Kentucky's back. Tell a friend. They're in. They're out. They're in again.  The Waiting Line… isn't pretty, so you beat Florida this time of year, that's  going to make the Buffet notice.  After Georgia we wanted them out, now we put them not only in, but ahead of the even the final four in. That's solidifying things for yourself.
UCLA 61 Washington 54. UCLA wasn't totally in the Waiting Line…, more like 1 ½ feet in, ½ foot out after the loss to Washington State, more like "on alert" that similar performances will not be tolerating for too long, and Washington, perhaps due to the "strength" of everyone else, was creeping towards consideration, well UCLA but an end to that.
Iowa State 83 West Virginia 74. A loss here wouldn't have been killer, but as a follow up to their win over Oklahoma State, this a nice solidifier not only for Iowa State's chances, but also as a sign of which direction they are headed in.  Iowa State was among the last four in at last blush, but they'll get a long look tomorrow night once the weekend shakes out to pop ahead of some just ahead of them.
Ole Miss 81 LSU 67 You don't beat LSU and do anything good for your chances, but you bust them open in Death Valley like that, and you definitely notice that they want back in the Buffet.  For now they are at the front of the Waiting Line… but still not quite in.
Saint Louis 78 La Salle 54.  Hmm, maybe we take back what we just said about Ole Miss still being out.
Minnesota 73 Purdue 89. Minnesota isn't going anywhere just yet, but this is two straight bad losses, and some horrible defense to boot, and eye is being kept on them next week, because they're teetering towards the line.  There's a wealth of nice wins that others won't have, but their string of performances suggest maybe they don't belong.
Iowa 74 Nebraska 60. Maybe we should ask Minnesota how difficult the RED ALERT can be… we won't, but just commend Iowa for managing to stay in the conversation even if they did nothing  to enhance the discussion.
NC  State 67 Florida St 71.  This was never going to be listed here, because it seemed irrelevant, then NC State made it relevant, much like Cincy below, this game just says bad things about where NC State is headed, even if it doesn't mean their invitation is in jeopardy.
In play:
Boise State hosting San Diego St: What a huge win this would be for a Boise St team who's been teetering on the Waiting Line… fence most of the year.
Georgia at Alabama. Only so many teams can absorb a loss to Georgia right now, Alabama, especially at home,  you are not one of them.
South Florida at Cincinnati:  Cincy isn't actually in the Waiting Line… but they've sunk to a 10 seed, it's time to stem that tide.
Missouri @ Tennessee – Missouri is solidly safe, almost cemented at the 8 seed slot, and this wouldn't be a bad loss.  Tennessee isn't solid anywhere, and this is almost a gift of a game, Missouri will look like a solid win on their resume, but they play like a sub100 team on the road, we'll notice if Tennessee doesn't get the win, especially when we're splitting hairs at the bottom of the Buffet invitation list.
Arizona St @ Arizona – Another free falling lock (Arizona) this time versus a free falling Waiting Liner…  (Arizona State), something will have to give.
Oregon St @ Colorado – Colorado already showed themselves bit to be ok with Andre Roberson.  They'll need to do so, he should be back for the P12 tournament, but if not, and he can't get back at all, the Committee will evaluate them without him, don't lose to Oregon St, no matter what, but especially if that's who don't want the committee to think you are.
Oklahoma @ TCU – Kansas can get by with a random loss to TCU, Oklahoma, you are not Kansas
Illinois State @ Wichita St – This is the classic MVC conundrum.  Illinois State is not a bad team.  They should've been a higher MVC seed and if they hadn't waited, apparently, until now, to be the team they should've been, they'd be in the Waiting Line… with Wichita. But, if Wichita loses, even though it isn't a death knell, it does give all other big conference teams a week to prove themselves up while Wichita has a blowout loss to Creighton and (hypothetically) this loss weighing on the committee's minds.  Advice from the Buffet: As good as Carmichael and Co. are, Shockers, don't lose here.
Kansas at Baylor: You can't lose to Kansas and hurt your chances. Unless you get blown out at home, and unless you playing like Baylor has been, and this game has become a near must.  Without it, they'll need to do some SERIOUS Big12 tourney damage, with it, they'll probably resemble Kentucky after they beat Florida today.
Xavier at Butler – The Musketeers sort of snuck up out of nowhere, didn't they? Beat Memphis on February 26, Saint Louis earlier this week, VCU on Feb 23, and suddenly, this win might go a long way to wiping out a lot of the bad.  Without, there's probably not enough there to support a plate at the Buffet, but with it, and X gets a long look leading into and through the A10 tournament.
Murray @ Belmont – Belmont was actually a line ahead of the last 4 teams in at last Buffet, but not sure they'd stay there with a loss here. Murray isn't bad loss, but nonetheless, Belmont loses the championship and things get tense for them.
Louisiana Tech @ Denver – For the WAC regular season title.  Not real Waiting Line… implications, but both could be teams that make a higher seed's life miserable next week.
UCF @ Southern Miss – Personally the Buffet thinks we can turn out the lights, the party's over for USM after the home loss to Marshall, but they still linger around some people's last 4 or 8 out, so remind them that while SOMEONE still believes, they ought to remember to beat the teams they should.
San Diego @ Saint Mary's – As of right now, as long as they get to the WCC final, St Mary's is likely getting in. But it's weakly scheduled, soft resume that may or may not deserve it, so don't lose to USD, because even the tepid Buffet support will go up in smoke.  
As always, questions, comments (but not about grammar/editing, the Buffet wants you to have knowledge, not a Strunk & White lesson.  And we make this promise, you get HoopsHD through critical mass, and the Buffet will be succinct, grammatically correct, and still maintain the same level of entertainment.  Vow made) please bring them to the Buffet at either the comment section below, to reach the Buffet at inthebuffet@gmail.com, or on Twitter at @inthebuffet.
We will be back with a look at Scanning the Scene… where 1-15 conference seasons = semifinals or 11-20 overall records = tournament finals.  Or 9 game winning streaks have you breeze through higher seeds and on to your championship game.