On the 7th Day of Conference tourneys gave to me…
Mo' of Momo
A wealth of auto bidding
Top Seeded Carnage
Scanning the scene
Huge Buffet
Killer Top Seeds
An extra day of conference tourneys…
7 days in readership, today was a little more favorite-normal night, and come Scanning the Scene, we will give you the details, we've got previews on tap, and with the WCC final, we are ready for our Buffetology leading into the major conferences tipping off.  Quick reminder, as much of readership are alumni of and/or fans of teams from major conferences, we will not provide a conference season recap as part of the previews, but rather a run through of the Buffetology projects/Waiting Line… status as we see it, of the teams competing in the tournament.  But first, let's go check out the Wiggity Wiggity Wigitty WAC.  Yes, we wrote that, we don't take it back, and are actually slightly proud.
Where do we stand? the LATEST Buffetology: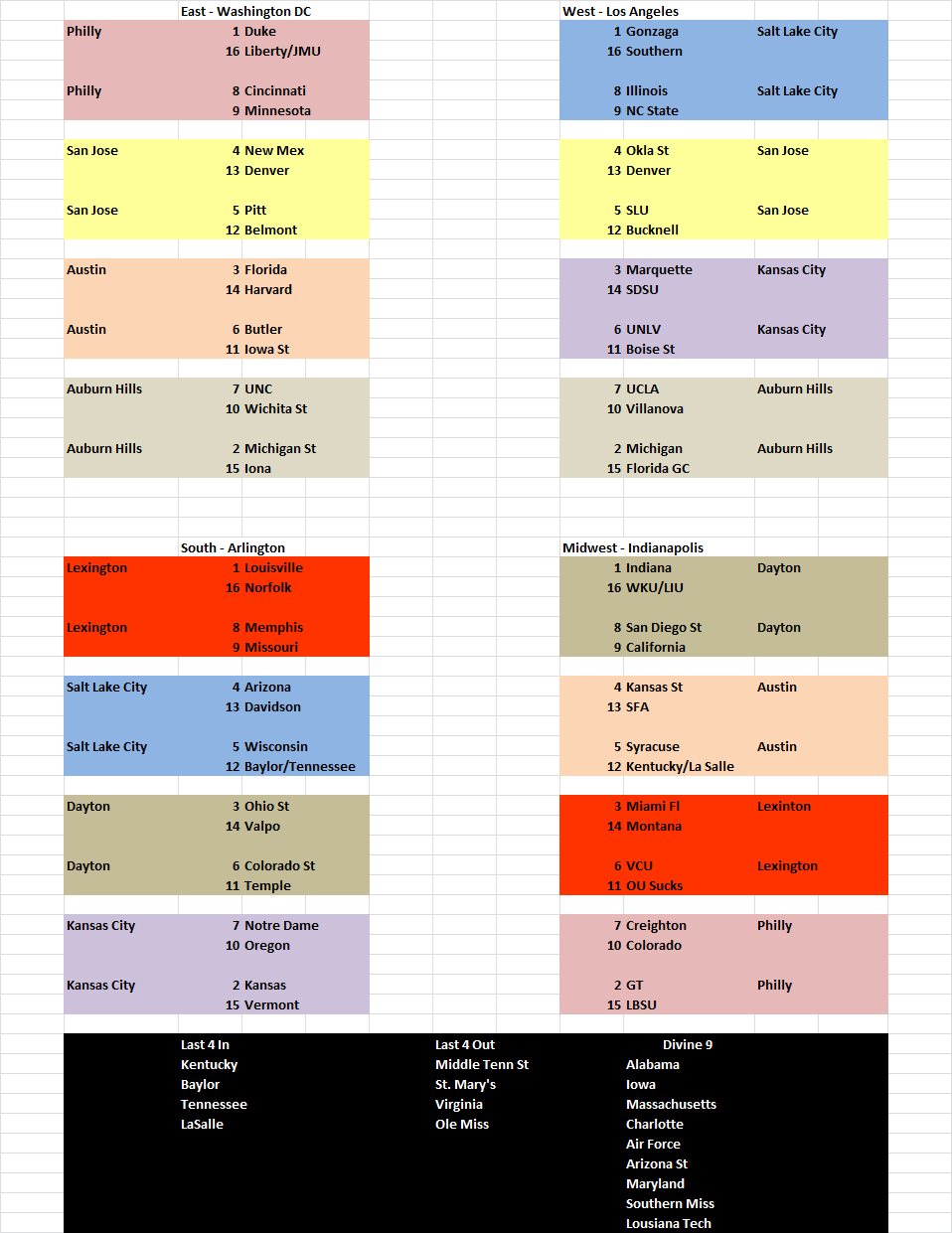 2013 WESTERN ATHLETIC CONFERENCE BASKETBALL TOURNAMENT
March 12-16, Orleans Arena, Las Vegas baby Vegas, Nevada
It shapes up for a shootout out West, a pair of teams at 14-2, seeded based on RPI #s that sit just 11 slots away from each other.  Pretty much, they were doled out seed on the strength the difference between a Louisiana Tech beating Southern Miss and Denver losing to them on the road (of course, it much more scientific than that, but it's essentially the glaring difference in the results).  That's the separate between #1 seed Louisiana Tech and #2 seed Denver.  Both teams have very mid-major like Waiting Line… aspirations.  As in, they play in one of those leagues where they only have a 1-2 chances at a good win in the conference tournament, and really to maximize they would have to win.  Denver has a bit of a leg up there, as they get New Mexico St, but really if they beat the Aggies, the only team they could afford a loss to in the championship is La Tech. Anyone else, and it would their first bad loss, but one they probably could not afford at this stage, even with the recent performances of fellow Waiting Line… teams.
Louisiana Tech is the top seed, but they were 16-0 in conference, before a pair of late season road losses may have been a sign of where things are headed, especially for a team without a real strong resume – they pretty much a riding an RPI wave from beating Southern Miss (ranked 35) and going undefeated at home.  However, somehow their RPI is like NBA scouts drafting Casey Jacobson, it ignores their biggest flaws – his defense, footspeed and over athleticism, theirs a loss to McNeese St.  It's hard to say we saw their pair of double-digit late season losses coming, they had pretty much cruised leading up to then, with some close wins, but not a string of them to indicate they were a team ready to lose.  However, this is a team that is really a poor performer on the road, but at least they've got the Lady Techsters pulling for them.   The good thing about Louisiana Tech is they don't have too much trouble scoring points, even though they aren't particularly efficient, per Ken Pomeroy, they still led the WAC in ppg, and on defense they lock down, 31st in the country in D efficiency – but what gives the Buffet pause, is those points are slightly TOO evenly distributed.  Raheem Appleby is a clear go-to – 14.5 points and Michale Kyser with his 5 rebs and 2 blocks per game is a presence inside, but down the list scoring-wise it goes: 8.3, 7.5, 7.5, 7.4, 6.6, 5.0, 4.9 – a dedicated defense effort by a conference for that knows you, and suddenly guys who aren't accustomed to shouldering the load are put in the spotlight right away, and that could be trouble, and was exactly what happened in their season closing, and conference title sharing loss to Denver 78-54.
Hence, Denver is our pick.  They haven't loss since January 23rd, and only twice since December 29th, winning 10 straight and 17 of 18 over that period, including a nice road BracketBuster in at Northern Iowa. Really, it's a shame they can't take a mulligan, now that they've got their game together, on the start of the season when they went 1-5, losing to all five tournament caliber teams they played (Iona, California, Colorado St, @Southern Miss and at Stanford). Now, it seems easy to say having won 17 of 18, but then again, two teams finished 16-2 in conference, which perhaps is more indicative of a weak WAC than two teams who deserve long tournament looks.  For our money, if Denver has a nice showing getting to final and falls in a close one to Louisiana Tech, we would consider them FAR more deserving than some other Waiting Line… teams, such as St. Mary's, who didn't schedule nearly as well, and had an equally dominating conference season, yet DID beat Creighton, but limped their way (and not in an injured sense) through the WCC tournament before looking wholly outmatched by Gonzaga.  In any event, since Louisiana Tech can't pretend Las Vegas is Ruston, the guess here is we won't need that deep Denver inspection.  Just in case, get to know Chris Udolfa (12.9 ppg), Royce O'Neale (11.5), Brett Olson (11.1), Chase Hallam (10.0) and Jalen Love (7.1). Those ppg averages may not seem dramatically more than La Tech's, and no one scores as much as Appleby, but we feel a lot more secure in a team with multiple double-digit guys. The guard situation is a little dicier, as they are literally led in rebounding and assists by the same two front-court guys (Udolfa & O'Neale)
If not them, who? Seems obvious that "the who" would be New Mexico State, the only team not named Denver or Louisiana Tech to beat those teams in conference play.  Since it seems Southern Miss would really like to play in the WAC, they completed the top of the WAC trifecta, losing to the Aggie on Dec 1.
Keep your eye on Daniel Mullings, who can put points up in a moment's notice, and All-Name candidate Bandja Sy, a battler inside with 7.3 rpg to go with his 11.8 points.
Best Non-Conference win: (tie)
New Mexico vs. Southern Miss 68-60
Louisiana Tech vs. Southern Miss 65-55
WAC Postseason Awards have not been announced yet
2013 WAC Player of the Year:  
2013 WAC Defensive Player of the Year:
2013 WAC Freshman of the Year:  
2013 WAC Coach of the Year:  
2012-13 WAC First Team:
WAC 2013 Jack Leasure Madbomber Award Candidate:  (this could be the favorite in the clubhouse)
Connor Hill, Idaho, 85/189, 29 games, 2.9.game 45%
Gregory Douglas Ott Award Candidate: 
Da'Shawn Gomez, New Mexico St, 3.8 A/TO
Also, a shout out to Seattle U and Coach Cameron Dollar, after getting ducked for years from D1 schools not wanting to play his upstart DII school, they played their first season in a D1 conference.  It wasn't a successful W-L season, but it will be, mark our words.
Mountain West Conference
We will just go ahead and call it – this was the most successful year to date for the Mountain West.  It has finished the regular season #1. Yes that's a number sign, followed by a ONE, in Conference RPI.  That would be better than the Big12, Big East, ACC, SEC, and Pac10.  That's even higher than the Big 10 (by .0026 points) who, while no one is arguing is weaker than the MWC, but it is still quite an accomplishment.  It did seem as though it would be a bit more of a free-for-all for the conference championship, but preseason favorites UNLV & San Diego St struggled their way through the conference season, Wyoming briefly flashed as a potential candidate and then faded (losing 5 straight after already getting out to a 4-7 start), and some newer and then very new faces at the top of the standings made a push, before ultimately the consistency and depth of the Lobos of New Mexico won out, as they won the nation's top conference (by RPI rating) by 2 games. A tremendous accomplishment.  One thing you'll notice is uniformly true, the MWC is treacherous on the road (the top six teams have a combined 8 home losses this season, an average of 1.33 losses per team), but it also might suggest that UNLV has a slight leg up this week, as a tournament full of poor road teams can lead to unpredictable results.  Instead of a straight preview, we will look at the top team's chances of getting out of the Waiting Line… and into the Buffet.  (But for those who demand answers, we think it could be a slight shocker, with Colorado St. pulling the MWC title out this week, they will face the only quasi-home team in action (UNLV) but that would be in the semis, and if UNLV is going to be a home court locomotive, best to get them before their momentum really propels them down the tracks)
New Mexico:  New Mexico is in a tough spot, in the Buffet's estimation.  Currently sitting as a 4, a run through the MWC would be a powerful statement, but there are just really well profiled teams ahead of them. Difficult to see anyone come from the 2 line down to a 4, or even a 3 (except maybe Kansas, if that Baylor game was a signal), but there are a couple of vulnerable 3s, Miami FL has shown some weakness lately, Ohio St has been the opposite, but they just rose to a 3 in the Buffet, so maybe they get slotted one line lower with a weak B10 tournament showing, and Florida, who hasn't beaten anyone squarely in the tournament since Missouri (at home, when, as mentioned, Missouri plays like a low major on the road) on January 19.  Florida does have a weaker overall schedule, but stronger non-conference wins, yet they've done no impressive work on the road, versus New Mexico, who has less profile wins overall, but defeated Colorado St on the road (and twice overall, who is 15 in RPI), UConn on a neutral court, and Cincinnati on the road (not to mention Boise St, who is in the top 50).  If Florida fails to win the SEC (or even Miami loses before a Duke re-rematch), New Mexico could be primed for a #3 line.  Tough spot because they can do everything right, and still not have an opportunity to move up.  Junior Kendall Williams is still something to see on a basketball court (with 14 ppg, 5 assists, 1.2 steals, and nearly 4 rebounds), and he brings his friends to the party: Alex Kirk and Tony Snell with their 12.1 points and Kirk's 8.2 rebounds and 1.8 blocks per game.  And Hugh Greenwood still looks like Johnny Lawrence from the Karate Kid.
Colorado St.: Per Ken Pomeroy's ratings, this is the top ranked team in the MWC.  And carry an offense efficiency that is rated 6th in the nation (they are 20th overall per KenPom).  The trouble is, while the computers love them, their profile is a bit weak as well.  Really good at home, only one bad loss, in Chicago at UIC on December 8, but only 1-2 non-conference wins that mean much (both road games though, to their credit: Denver & Washington).  For now, they sit as a 6, there is some wiggle room their as the 5 line has struggled lately, and even Arizona is precarious as a 4.  Beating UNLV in their home city and then New Mexico in the final might see the Rams demand we push them up.  They also have tremendous balance with 5 guys averaging between 9-15 points, as mentioned before, we like a go-to scorer at tournament time, but when you've got multiple guys at 10 or more, you show an ability to get points somewhere other than your main source in times of drought. Here, the main source is All-Name candidate, Colton Iverson, with his 14.6 points and 9.7 rebounds, but they also get points from shooters Dorian Green and Wes Eikmeier (13.1 and 12.5), Greg Smith (11.3) and Iverson's front court partner in crime, Pierce Hornung and his 9 and 9.  Green is also their chief facilitator, at 4 assists per game.
UNLV. Now this is a hard team to figure, are they just inconsistent, a nine game winning streak and sterling home record also has them losing 3 out of 4 on the road in a critical point of the MWC season, or they just not that good (getting swept by Fresno St suggests the latter).  UNLV had a tremendous year at the Thomas & Mack, introduced us all to Anthony Bennett, one of the best, if not the best, freshman in the country, and started the year 11-1 with wins over Iowa St and at Cal.  But then they failed to get another big non-conference win (North Carolina round II would have qualified), and kept losing on the road in conference, that saw them never really contend for the regular season title.  They did sweep San Diego St, split with New Mexico and Colorado St, so they can play with the MWC big boys, it's just a matter of which UNLV shows up and if Orleans Arena is close enough to T&M to make them feel like they're protecting their home floor.  They sit as a 6, and truthfully, unless those on the 5 side, along with their fellow 6s really falter, there's not a lot of upward mobility in their future (even w/ wins over Colorado St and New Mexico), and, more likely, you've got UCLA, Notre Dame and UNC pressing hard on their heels.  You turn on UNLV and you're watching the Anthonys (Marshall – 15.9 points, 8.1 rebounds who can step out and shoot the three on occasion only 1 per game, but hitting on 37%, to go with 1.3 blks and Marshall, 10.5 points, 4 rebounds and 6 assists) and Katin Reinhardt (10ppg).  The big news for them is if Mike Moser, who missed several games with a dislocated elbow, is getting back to as close to form as his recent production suggests.  Averaging 12.5 points, 7.8 rebounds and 1 block per game over his last 4 – he does not have to be the 14 point scorer he was last year, but another go to option when an Anthony is getting shut down, and UNLV suddenly becomes the dangerous team we always expected them to be.
San Diego St. Talk about a disappointment.  This team returns the majority of their talent – and while they lost a bit of size with the graduation of 6'11" Garrett Green, J.J. O'Brien is actually out producing Green numbers (more points, slightly more rebounds, and more steals per game).  Yet,  this is a team rife with inconsistency, as they've shown an ability to beat Waiting Line… caliber teams: Indiana St, UCLA (during their period of dysfunction), Boise St and even those slightly beyond the waiting line: New Mexico, Colorado St, and a terrific showing in a 1 point holiday time tournament loss to UofA.  But they opened the season getting blown out on an aircraft carrier by Syracuse, have not had a real true road win of note (USC? Nevada? Missouri St?) and are 4-6 away overall.  We have watched them plummet down the Buffetology seeding ladder, and they are currently an 8, they have room to grow, with a MWC road featuring Boise St, New Mexico (hypothetically), and then a potential final with Colorado St or UNLV, that's three games against either Buffet-bound or head of the Waiting Line… teams, that could get them to the 6 range that they had seemed destined for before road misery took hold.  You know our old friends on this squad: Jamal Franklin, Chase Tapley, Xavier Thames, and James Rahon.  The biggest mystery for us is Rahon, ice cold from deep as a member of SD State's Sweet 16 outfit in 2011; he has gone from a 43% 3pt shooter to a 30% 3pt shooter.  It's unlikely that 2 year trend downward gets fixed in the next few days, but SD State would become a whole different team if he could.
Boise St.  Last seen in the NCAAs after winning the WAC tournament in 2008, and before that as a member of the Big Sky in 1994, this team has never received an at-large invitation, but this streak is likely over, as they added a pair of top 30 wins (San Diego St & Colorado St) to go with their previous strong profile wins over UNLV and at Creighton.  Weighing them down in the 11 line is their pair of ugly road losses to Utah (175, which just makes them join the company of Pac12 teams who suffered that fate) and Nevada (169).  A win over San Diego St., and you can hand them a plate.  2 wins, and they can start dreaming of the 8/9 line, and MWC Championship and that won't be a dream.  Should they lose to SD St, our intuition will be that they will stay plenty safely in, but it'll be a longer 72 hours than it needs to be.  Boise has a pair of big time scorer, outside sharpshooter Anthony Drmic with 17 points, 4.7 rebounds and hitting 40% of his 3s and Derrick Marks, the facilitator who also can fill the hoop, with 16.4 points, 3.9 assists and 3.6 rebounds.  They are backed mostly by Jeff Elorriaga, and his 10.4 pts/3.4 rebounds and 45% 3pt shooting (hitting on average 3 per game).
Air Force: This is a team sitting back DEEP in the Waiting Line… but a .500 MWC finish and an end of regular season over New Mexico (coupled with wins over UNLV, San Diego St and Boise St) does get our attention somewhat.  Their resume is lacking non-conference and in strong road wins, but with only 2 bad losses and both in conference, a run to the MWC final could garner more inspection for the Falcons. It would also give us more time on TV with Michael Lyons, his 18 pts, 4 rebounds, 2 assists.
Best Non-Conference win: Boise State at Creighton 83-70
2013 MWC Player of the Year:  Kendall Williams. New Mexico
2013 MWC Defensive Player of the Year:  Khem Birch, UNLV
2013 MWC Freshman of the Year:  Anthony Bennett, UNLV
2013 MWC Newcomer of the Year:  Colton Iverson, Colorado State
2013 MWC Sixth Man of the Year:  Daniel Bejarano, Colorado State
2013 MWC Coach of the Year:  Steve Alford, New Mexico
2012-13 MWC First Team:
Michael Lyons, Air Force               Sr.           G
Colton Iverson, Colorado State Sr.           F/C
Kendall Williams, New Mexico*                 Jr.           G
Jamaal Franklin, San Diego State*             Jr.
Anthony Bennett, UNLV               Fr.           F
MWC 2013 Jack Leasure Madbomber Award Candidate:  (tie)
Anthony Drmic, Boise State, 73/185, 30 games, 2.4/gm, 40%
Jeff Elorriaga, Boise State, 81/179, 27 games, 3.0gm, 45%
Malik Story, Nevada, 78/220, 30 games, 2.6/gm, 36%
MWC Gregory Douglas Ott Award Candidate: 
Todd Fletcher, Air Force, 3.2 A/TO
The Buffet is aware the Big East tourney starts today, but as it involved 4 teams who don't even know what the Waiting Line… could possible look like, we will save your reading team and hold that preview for tomorrow.  For now, let's Scan the Scene and sign off for Day 7.
SCANNING THE SCENE…
America East:  #2 Albany vs. #1 Vermont, Saturday 11:30am ET
Atlantic Sun: Florida Gulf Coast, Atlantic Sun Conference Tournament champion.
Big South: Liberty Flames, 2013 Big South Conference Tournament champion.
Colonial:  Apparently Northeastern is into degree of difficulty, this time they notched a bit too far, falling down 23-1 in the first 13 minutes, 40-18 at halftime, trying to close it, and had it to 8 with 8:23 left, but a foul to Joel Smith, and the momentum was gone, and AJ Davis' 26 points and Rayshawn Goins 14 points and 13 rebounds led the Dukes to a 70-57 win, a CAA tournament title and their first NCAA tournament bid since 1991
Horizon League: Championship game tonight, Valpo off their buzzer beating clincher faces the #3 seed Wright State Raiders who upset Ray McCallum and Detroit to get here.
MAAC: Mo' Mo' Momo.  A game slightly marred by an overzealous ref looking to make the postgame write-up as much as the teams (we will not print his name for that VERY reason) saw Iona pull a reverse on Tim Cluess' teams usual script, they dominated after halftime and didn't let up for a 60-57 win (it was an 8 point spread before an uncontested 3 by Manhattan that left .1 on the clock, only the in-arena scoreboard read 0, so fans/players ran on the court to celebrate – and predictably, given the preceding sentenced, Mr. Big Shot (other words would like be used for non-family friendly publications), decided to T up Iona, seemed reasonable. Damn those kids for wanting to celebrate making the NCAA tournament again, especially when the clock read 0:00.
MEAC: Top seeds held serve, as #5 Morgan State and #4 Savannah State really didn't have too much trouble, the balance of opening round games take place tonight (See HoopsHD.com viewers guide to find your time and listing)
MAC: A couple of held serve games (Buffalo over CMU and Eastern Michigan (do yourselves a favor, passed along to the Buffet was the scheduled from the EMU athletics home page, and look how extended they believe the season would be for them, Jack Palance salutes their confidence).  One mini upset, but probably only seeding and not talent wise was Miami Ohio knocking off Bowling Green.
MVC: Creighton Blue Jays, 2013 Arch Madness champions
NEC: We're crowning a champion (and 16 seed, and maybe even a first four participant) tonight at the WRAC: #3 Long Island vs. #5 Mount Saint Mary's at 7pm ET
OVC: Belmont Bruins, 2013 OVC Tournament champions.
Patriot: Bucknell (#1) vs. Lafayette (#2), Wednesday at 7pm ET.
Southern: Davidson Wildcats, 2013 Southern Conference tournament champions after easily handling College of Charleston 74-55, behind 24 points and 8 rebounds from De'Mon Brooks and 3 other starters going into double figures.
Summit: It's the fierce, always nationally relevant, battle for Dakota Supremacy! As expected, South Dakota St had little trouble with IPFW, as Naterz Gonna Nate has 18 points, and Chad White added 17 with Tony Fiegen putting in 16, quickly erasing an early 10 point lead, before racing out in the 2nd half, with a final after half spread of 40-22 en route to a 72-56 lead.  They will face North Dakota St, who although were dictated tempo to by Western Illinois, were able to get just enough to knock of the Leathernecks 55-43, with a 31-23 second half – led by TrayVonn Wright's 19 points and the rapidly getting up to speed Taylorz Gonna Taylor with 14 points and 7 boards.
Sun Belt: For the second straight year, Western Kentucky, Sun Belt conference tournament champions, virtually no-showed the conference season, then rode a wave of upsets both by them and on the other side of the bracket to an NCAA berth, and likely first four date next Tuesday, squeezing out a 65-63 win over FIU Fightin' Pitinos – led by George Fant's double-double: 17 points, 13 rebounds and 4 blocks.
West Coast: It truly wasn't even 65-51 close, Gonzaga, 2013 WCC Conference champions, beat St. Mary's pillar to post, but the Gaels have heart, they get credit for that, and even after watching Jordan Page go down with a knee injury, stuck around, best they could, ultimately Kelly Olynyk just continued his storybook season with 21 points and 12 rebounds to pace the Bulldogs and give St. Mary's a long 6 days of waiting.
Until next time readership, hope you got enough to eat, but will come back for more….