Last Stand for Waiting Liners…
WAC: A tire fire
Big Conference Kick Offs
Buffet v Experts
Mo' of Momo
A wealth of auto bidding
Top Seeded Carnage
Scanning the scene
Huge Buffet
Killer Top Seeds
An extra day of conference tourneys…
This one goes to ELEVEN.  Well, Readership, here we are the final day of true wall to wall hoops until the 2 days of basketball madness that has everyone glued to their televisions, computers, mobile devices, and (where it's legal, of course) their sports book accounts.  We've got conference tournament championships all day long, including Southern Miss trying to take decision-making out of the hands of the committee, a battle for Kansas supremacy and settling the "Who is the 2013 Big12 champ" question once and for all, a sneaky powerful game in Vegas, and a couple of teams who won't even be in the Big East next year, playing for the BET title.  Big Ten lets us revel in 2 more of their games, and the storyline of the day, for the Buffet, Bob Thomason, after 25 years at Pacific, is retiring, and tonight, versus UCI, tries to cap his career with a NCAA tournament automatic bid exclamation point.
We get mail…
Dear Buffet,
Please give us your take on the effect of last night's PAC game between the cats and bruins.  Will the bruins lose tourney ranking with a win since they lost Jordan Adams?  Will the cats still be a 4 seed since there was clearly a zebra conspiracy in effect?
Thanks,
Unbiased in Phoenix
Unbiased – Right now, UCLA hasn't had a huge seed downgrade due to Adams' injury.  We moved then down to 7 instead of the 5/6 range, but if they go on to win the Pac12 tourney, we will actually move them up 1-2 seed lines, because we don't see a team getting punished by an injury they haven't shown to affect them.  Think Kenyon Martin when broke his leg just into game 1 of the C-USA tournament, and UC still got a #2 seed, now UCLA would have a tournament final win to show the committee, if they get blown out, an 8 seed could be their destiny…
Before we Scan the Scene, let's get you all to the last version of the Buffet.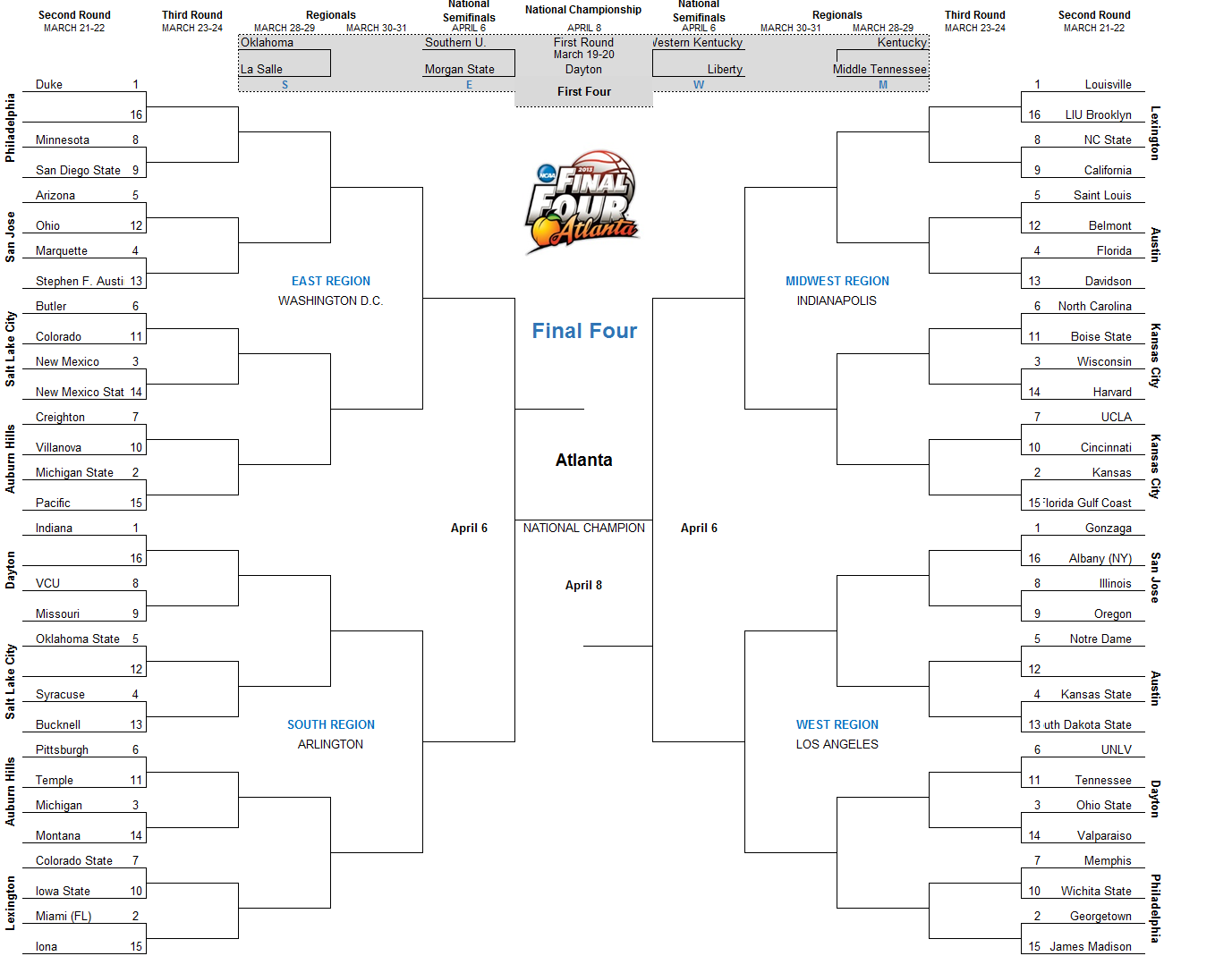 Waiting Line… teams in:
Colorado
Boise State
Tennessee
La Salle
Oklahoma
Kentucky
Middle Tennessee
*Notes: Illinois is probably a seed or two lower than they will end up, for this version, they needed to be sent to 8/9 to avoid breaking some seeding rules, but they should shake up a bit in the final version.
Same with Villanova, who we like on the 9 line.
Memphis we actually moved for seeding rules, but after an undefeated CUSA run capped by an tournament title, 7 seems right.
Yes, for you visual purists, we know So Dakota State got cut off, it happens, but also if you know to complain, you know what school that is – not mention, if you're a visual purist, you should've given up on the Buffet long ago, since we fired our Editor before we published our first Buffet 9 years ago…
Now onto the Waiting Line… teams not listed: 
Last 4 Out
Ole Miss
St. Mary's
Southern Miss
Maryland
Rest still being considered:
Massachusetts
Baylor
Alabama
Charlotte
Ole Miss beat Vandy by 12 – this will be real battle royal for the Buffet: Kentucky, Tennessee, Ole Miss, MTSU, Southern Miss, La Salle and Oklahoma for 4 spots.
Maryland is gave it a ride, but we fear they fell one win short (either that blown 17 point lead against Virginia or today)
Southern Miss did everything you could in one last game without winning the tournament, will it be enough? It wasn't as of this press time, but we will give another deep look before the final bracket is published
UMass staying relevant, somehow, if they are, that is, by hanging with VCU, lose, though, and that dream is over
Alabama was beaten handily by Florida, which should put that one to rest.
No other team under consideration is still going; they'll have to go on their own (current) merits, whatever those may/may not be.
Scanning the Scene…
ACC: Miami used a 10 point to remind people they were once a top contender for the #1 overall seed, too late? We'll see if they win the ACC tournament.
Maryland, whose win over Duke launched to the head of the Waiting Line… might be out of chances, down 11 to UNC with 14 minutes left.
America East:  Albany Great Danes, 2012 America East Champions, mounted a great late comeback on Vermont's home floor (after the first few rounds last week were on theirs) and won 53-49.
Atlantic 10: Saint Louis likes impressing the Buffet; they advanced to the A10 tournament final with a 67-56 win over Butler, whose seed, despite some great non-conference work, appears to be sliding.
VCU leads UMass, who just wants to stay in the discussion, 35-34
Atlantic Sun: Florida Gulf Coast, Atlantic Sun Conference Tournament champion.
Big 12: SUNFLOWER SHOWDOWN! Yeah, we got to do something about that name.  I think the moratorium on "shootouts" as a label for college sports rivalries might be needed, just to do something tougher with Sunflower.  Kansas State v. Kansas, 3pm PT, ESPN/WATCH
Big East:  As noted – Syracuse v. Louisville, 530pm, ESPN/WATCH
Big Sky: Weber State and Montana, settle things, at 6pm tonight, ESPNU/WATCH
Big South: Liberty Flames, 2013 Big South Conference Tournament champion.
Big Ten: Wisconsin continued their mysterious mastery of Indiana, perhaps costing Indiana the chance to be in Indianapolis for their region, but shouldn't do anything to their #1.  Also, Wisconsin is in range to take a seed jump.
Michigan State and Ohio State engaging in another developing Big 10 classic, on CBS – at halftime.
Big West: The Bob Thomason retirement party continues! A last second put back by Travis Fulton (literally under a second) lifted Pacific to a win over Cal Poly and a date with UC-Irvine, who upset Long Beach, in tonight's championship game.  730pm tonight – ESPN2/WATCH
Colonial:  James Madison 2013 Colonial Athletic Association champion.
C-USA: Early this morning (afternoon, depending on your location) Memphis and Southern Miss played a classic, 2OT, well, it was fun to watch, the free throw shooting, late flagrant, and disappearance of the Golden Eagles in the second overtime wasn't so classic, but the undefeated 2012-13 conference run is complete – Memphis Tigers, 2013 Conference USA Champions. 
Now, as for Southern Miss – they are still out, but close, we will do a longer look tonight/tomorrow AM – this could be one team that sees a late switch in.
Horizon League:  Valparaiso Crusaders 2013 Horizon League tournament champs.
Colonial:  Harvard Crimson, 2013 Ivy League Champs
MAAC: Iona Gaels, 2013 MAAC Tournament champion.
MEAC: The survivors' final – a conference tournament which saw upset left and right – North Carolina A&T and Morgan State, 2pm PT, ESPNU/WATCH
MAC: The final we thought before the Abreu suspension, but Akron has maintained their strength, and they face Ohio at 330pm, ESPN2/WATCH
MVC: Creighton Blue Jays, 2013 Arch Madness champions
MWC: Well, we were wrong, Dorian Green did play, but UNLV was still too much for the Rams, while New Mexico had little trouble with San Diego State.   Today at 3pm on CBS – should be a great final – UNLV v. New Mexico
NEC: Long Island University Brooklyn Blackbirds, 2013 NEC Tournament champs
OVC: Belmont Bruins, 2013 OVC Tournament champions.
Patriot: Bucknell Bison, 2013 Patriot League champions.
Pac 12: A great early game was marred by what happened on the last play, challenging Solomon Hill's game tying attempt, UCLA's Jordan Adams came down awkwardly, and the uber-talented freshman has a broken foot that will sideline him for the season.  That will likely to some damage to UCLA seed, but we only knocked them down 1 line, pending what they look like in tonight's championship game versus Oregon.  It's been a heckuva weekend in Vegas, not quite the quality of play of the Big 10, but every bit the basketball drama – which now, unfortunately, includes a big injury.  8pm PT, ESPN/WATCH
SEC: What to do with Ole Miss, they defeated Missouri and leaped back into the Buffet's eyes.  What they can't do is lose to Vandy, for sure.  But this is tough, their profile is largely better than MTSU, but they lost to MTSU.  They have two wins over Tennessee, but lost to Kentucky. Right now, we're keeping them out, win over Vandy, and tonight/tomorrow AM's Buffetology will probably look a bit different.
Florida advanced to the final and extinguished the Waiting Line… hopes of Alabama.
Southern: Davidson Wildcats, 2013 Southern Conference tournament champions
Southland:  Northwestern State v. Stephen F. Austin, 530pm PT, ESPN2/WATCH
Summit: South Dakota State Jackrabbits, back to back Summit Tournament champs.
Sun Belt: Western Kentucky, Sun Belt conference tournament champions
SWAC:  Prairie View A&M v. Southern U – right now – ESPN2/WATCH
WAC:   Championship game – 8pm PT tonight: Texas-Arlington v. New Mexico St, ESPNU/WATCH
West Coast: Gonzaga, 2013 WCC Conference champions