Apparently 2019 is shaping up as the year of "Coaches of their alma maters visiting DC". Last weekend I got to see St. John's alum Chris Mullin bring the Red Storm to the nation's capital for an OT win over Georgetown. Last night Dayton grad Anthony Grant came to Washington with his Flyers to take on GW: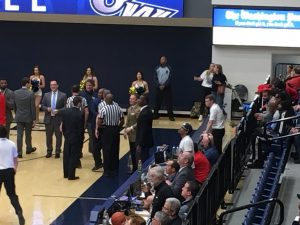 Next month NC Central legend LeVelle Moton and his Eagles will head north to face Howard. HoopsHD's Jon Teitel may not be working this month, but as long as there is a basketball gym open near a subway stop then the hobby continues…even if attendance figures are down: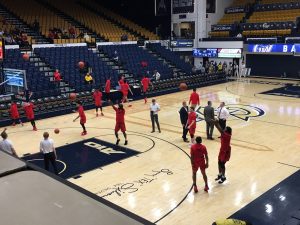 At least the band showed up: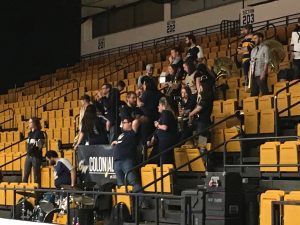 Domino's pizza: the perfect pregame meal for an unemployed government worker! There were a pair of legendary alums in the house while the students were away during winter break:
1. Pops Mensah-Bonsu: PF who helped the Colonials go 26-1 during the 2006 regular season:
2. Shawnta Rogers: PG who was 1999 A-10 POY while leading the nation with 3.6 SPG: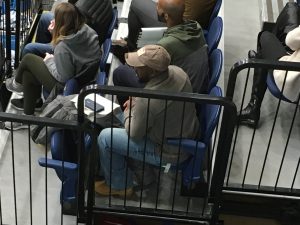 And away we go: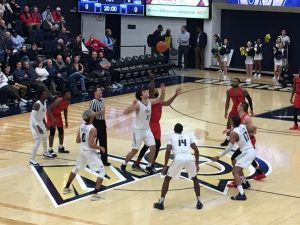 Apparently GW Coach Maurice Joseph drew up 1 hell of a game plan because his team got things started with 1 of the best 7½ minute sequences of basketball you will ever see: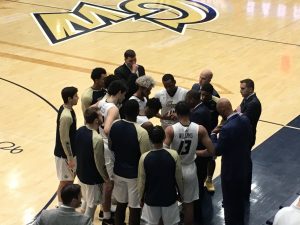 They used a full-court press on defense and some spectacular 3-PT shooting over the top of the Flyers' zone to get out to a 28-6 lead. Justin Mazzulla made a trio of threes, Maceo Jack made a pair of long-distance shots, and DJ Williams did some damage closer to the hoop with a pullup jumper, a turnaround jumper in the lane, and a layup. However, Dayton was able to regroup by taking care of business down low (an 18-10 advantage in PTS in the paint) and cut the halftime lead to 40-30 while Coach Joseph sat by himself and tried to figure out a way to stop the bleeding: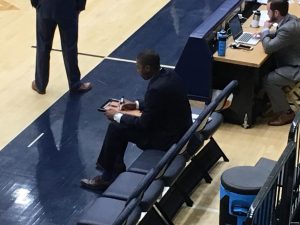 Williams continued rolling in the 2nd half: a lot of his shots had a high degree of difficulty (like twisting leaners and baseline jumpers), but despite entering the game as a career 21.6% 3-PT shooter he spun the turntables to the tune of 2-4 from behind the arc in the final 20 minutes and finished with a career-high 20 PTS.
I thought the most significant injury of the night was going to be GW JR PF Arnaldo Toro, who is out for the year due to a hip injury: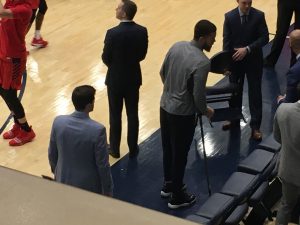 In a surprise twist, 1 of the refs appears to sprain his ankle midway through the 2nd half and after being looked at by a trainer he had to leave the game as the other 2 refs finished off the game by themselves! I saw the injured ref in the hallway afterward wearing a walking boot: I hope he makes a swift recovery.
The star of the night was Dayton SO SG Jordan Davis. After a quiet 5-PT performance in the 1st half, he simply exploded in the 2nd half: 20 PTS on 6-9 shooting from 3-PT range + a layup, and 3 STL on the defensive end to help his team outscore the Colonials 42-26 and complete a crazy comeback to win by a score of 72-66. The only thing more amazing might have been Josh Cunningham's impact on the game: despite not making a single shot from the field, the SR PF finished with 6 PTS/13 REB in 28 minutes.  For those of you who do not know what blowing a 22-PT lead looks like on a win probability graph, I refer you to kenpom.com:
https://kenpom.com/winprob.php?g=2709
In the postgame press conference I asked DJ how he bounced back from a 2-11 shooting performance last Sunday at St. Joe's to set a career-high in scoring: he said that he "just tried to stay confident by putting in some extra work that will help in the long run":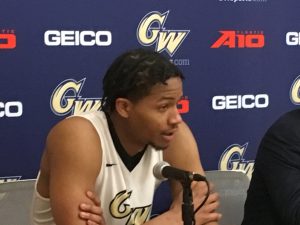 My 2-part question for Coach Joseph concerned whether to study/burn the tape after blowing a 22-PT lead and whether the strategy of having 4 starters play 37+ minutes/game is sustainable. His answer to part 1 was that "we will not burn the tape: we have to learn and get better by watching the tape." As to part 2, he was proud of his team for knocking down a bunch of shots in the 1st half but was unhappy that they could not sustain that level of play: "we cannot stop defending and turn the ball over and expect to win; we have to move the ball and share it":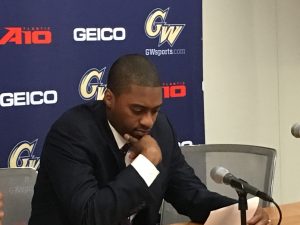 Coach Grant did not hold a press conference but I caught up to him in the hallway and inquired whether he had seen GW assistant coach Greg Paulus since the 2 of them were involved in this memorable NCAA tourney finish from 2007 when Paulus played at Duke and Grant coached at VCU:
www.youtube.com/watch?v=svLSIWh1xJs
He chuckled and stated that he had seen the former Blue Devil many times during Paulus' stint as an assistant coach at in-state rival Ohio State when he would occasionally drop by to watch practice: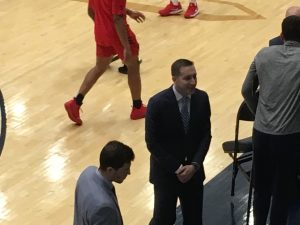 He also took the high road by admitting that he was "happy for Greg in his new role at GW": I do not know if Dayton is going to win the A-10 but Coach Grant certainly has things going in the right direction.