If Georgia State SR SG Devin Mitchell is in search of athletic inspiration he need only look to 2 of his cousins: Jordan Goldwire might very well win a title next month as a sophomore at Duke and Desmond Howard won the 1991 Heisman Trophy at Michigan and was named Super Bowl MVP in 1997 with Green Bay. Last Sunday was Devin's turn to step into the spotlight as Georgia State beat Texas-Arlington 73-64 in the Sun Belt tourney title game to earn an automatic bid to this week's NCAA tournament. The Panthers lost 4 of 6 in January/February but have turned things around since then by winning 8 of their last 9 to claim the school's 3rd NCAA tourney bid in the past 5 years. Earlier this week HoopsHD's Jon Teitel got to speak with Devin about his athletic family and what it feels like to make the NCAA tourney for the 2nd year in a row.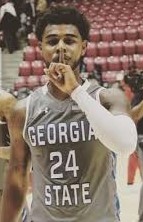 You began your college career at Alabama: why did you decide to transfer, and what made you choose Georgia State? It was just time for me. I went there to play for Coach Anthony Grant and he had a great plan for me and the guys I came in with. I was very set on accomplishing what he had in store for me so once he left I was ready to go too. GSU was home: they had just beaten Baylor (in the 2015 NCAA tourney) and I saw how much it meant to the state and the university. I wanted to be a part of that.
You play for Coach Ron Hunter: what makes him such a good coach, and what is the most important thing that you have learned from him so far? He challenges you day in and day out to play the best you can at all times. After a while you just start to get it if you buy in, and if you are doing that then you will win. He has not recruited anybody who is not a winner so it is fun to accept the challenges from him and win games. He is also one of the most prepared people I have ever been around: our scouting and game-plans for opponents are made easy for us through him. It helps make the game simple and allow us to lock in on what we need to do.
In the 2018 NCAA tourney you scored 3 PTS in a loss to Cincinnati: what did you learn from that game that you think will help you this March? That I needed to work harder this past off-season so I could help my team the next time that we were in that position. I had a career year but my body was not strong enough for March: I timed out. This year I have come back stronger and it is showing.
You missed the 1st 7 games of this season due to injury: how difficult was it to make it back onto the court, and how is your health at the moment? It was very difficult: like I said, this summer I worked as hard as I ever have so to miss the first 7 games was pretty devastating. However, with the help of our athletic trainer Dinika Johnson I was back and better than ever and able to help us out. I could not have done it without her: she has helped sustain my health up to this point by keeping me at 100%.
You played some fellow NCAA tourney teams this year in non-conference play (including Kansas State/Liberty): which of them impressed you the most, and why? They are both handfuls. Kansas State's defensive presence is one of the best in the country and they are even better when playing in Manhattan. Liberty reminds me a lot of our own team: they shoot the three at a high clip and spread you out on offense. Then there is Scottie James: he is just the man out there!
In the Sun Belt tourney title game on Sunday you scored 8 PTS in a 9-PT win over Texas-Arlington: what did it mean to you to win a title, and what was the reaction like after you got back to campus? It was great. The best part about it is that we did it by committee: everybody had a hand in the win. D'Marcus Simonds and I struggled but guys like Malik Benlevi/Damon Wilson/Kane Williams stepped up big so there was not a drop-off: it was a true team win for us.
Your 75 3PM is #1 on the team and you have led the team in 3P% during each of the past 2 years: what is your secret for making shots from behind the arc? Just hard work really: the other part is mental. I think that I am the best shooter in the country so I keep that mindset every game. Coach Sean Mock works with me on my mechanics every day and we try to stay true to that when the game starts: it just makes it easier.
You are majoring in journalism: what is the post-college plan? I plan to play basketball professionally. When I am done playing I would love to work in the communications department at a university or coach at the high school/college level.
Your brother Jalen plays basketball at Clark Atlanta, your cousin Jordan Goldwire plays basketball at Duke, and your cousin Desmond Howard won the Heisman Trophy at Michigan: who is the best athlete in the family, and if the Blue Devils make the Final 4 will you get to head to Minnesota to watch Jordan in person? Desmond is still the top athlete in the family: he is a Heisman Trophy winner! After that I would say myself. I will definitely try to be there for the Final 4 if he has a ticket for me. I have been unable to see him play in person at Cameron Indoor Stadium so seeing him in the Final 4 would be pretty dope. I could be lined up against him though: who knows?!
What do you think about getting a #14 seed, and what do you know about Houston? #14 is respectable but seeding does not really matter to us: we were going to be ready for whoever we matched up with. Our goal is to make a run this year and whoever in the way will get our best basketball. I do not know much about Houston yet other than the fact that they have won 31 games. Any program that can do that you must have respect for because no college team's schedule is easy these days.