CLICK HERE for today's Under the Radar Game of the Day, and a rundown of the rest of today's action
Earlier yesterday, our selection committee-guessing expert Jon Teitel published his weekly bracket (CLICK HERE to view his current checkpoint bracket). Now, it is John Stalica's turn to publish a bracket after a brief hiatus from bracket projections. Without further ado, here is his bracket: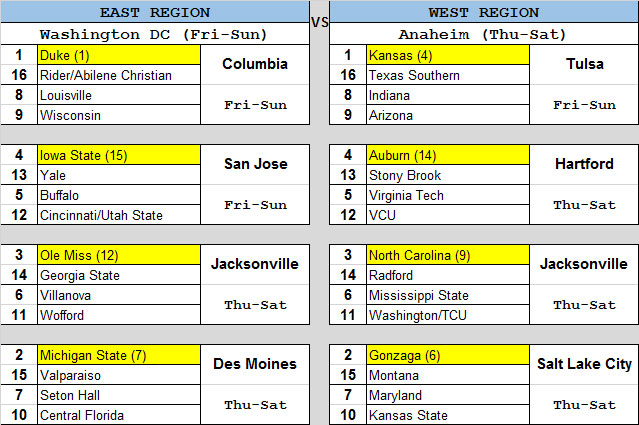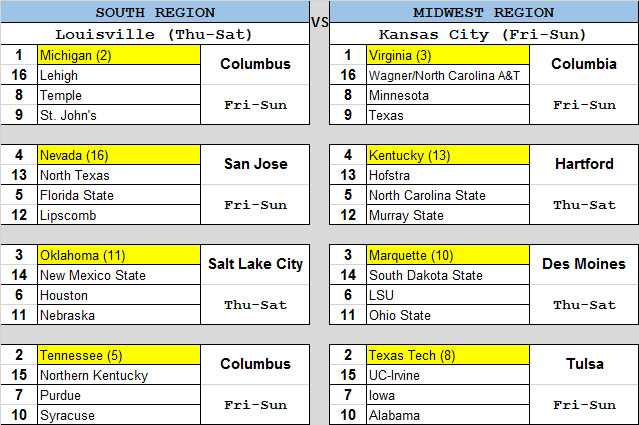 First Four Out: Clemson, Florida, Butler, San Francisco
Others Considered (in no particular order): East Tennessee State, Furman, Belmont, Davidson, Fresno State, UCLA, Arizona State
COMMENTS FROM JOHN
-Since I was traveling while the previous podcast was recorded, I have not seen nor heard what Chad, Jon T and the Puppet came up with for their first bracket rundown. Keep in mind that I won't be influenced by any "group think" selections this week.
-I believe that Duke has a better quality selection of wins at this point compared to Michigan – that's why I have the Blue Devils #1 overall, even with a loss to Gonzaga. If Michigan were to get the #1 overall seed, I believe they would opt to play their first and second-round games in Des Moines and avoid what would amount to two road games in Columbus.
-I know Ole Miss will raise a lot of eyebrows being placed as a protected seed, but winning at home against Auburn and on the road at Mississippi State (along with a nice win at Vandy) has vaulted the Rebels quite nicely. I don't think they continue to win at their current pace, but I certainly think Kermit Davis has to receive consideration for National Coach of the Year voting. (Also look at how far Middle Tennessee has fallen since he left that program.)
-I'm sure that I'm selling programs like Virginia Tech, NC State and TCU short compared to their records, but their records seem a bit bloated to me at this point.
-I also had to move both Ohio State and Nebraska down to the 11-line and Syracuse and UCF up to the 10-line because of bracketing rules early on. I also had to move the UC-Utah State play-in down to the 12-line and Wofford up to the 11-line so as to avoid a pair of play-in games moving to Thursday sites. (And note to UC – you put yourselves in this spot with that East Carolina loss.)
COMMENTS FROM THE HOOPS HD STAFF
-FROM DAVID:  Stalica has really been on a bender!  I like Ole Miss, and think they're being undervalued, and perhaps even belong in the top half of the bracket, but a protected seed??  DAMN!!
Stalica is also wrong about Gonzaga.  As is Chad.  As is Teitel.  As is EVERYONE ELSE that disagrees with me!!  They beat Duke on a neutral floor.  Their only losses are in games that are arguably harder to win than any game Duke has won (although the win at Florida State was pretty impressive), and the Zags lost those games without two key players.  THEY ARE A 1 SEED!!!
That's also A LOT of love for Arizona.  I don't even know what else to say.
-FROM CHAD: I hate agreeing with David, but I echo his thoughts.  Ole Miss is about 6 seed lines too high on this ridiculous bracket!  Their non-conference SOS was garbage.  And the home win over Auburn, though nice, fails to account for the fact that Auburn has not really done anything of significant note this season.  In fact, Auburn as a 4 seed is about 4 seed lines too high for their profile as well!
I also think that John must still be pissed at Chris Mack for leaving his Xavier team for Louisville, because the Cardinals do have an impressive resume.  I think they are closing in on protected seed status and should be at least on the 6 line, if not the 5.
Arizona is way over-seeded, though I agree they belong in.  Washington should not be in, but Arizona State should IF you feel a second Pac 12 team deserves a spot.
Cincinnati is better than a play-in game, and should be at least on the 9 line.  Utah State belongs in the NIT.  Nebraska is about 3 seed lines too low.  And, quite frankly, although I think they will lose a few more games and fall out of the picture, I will take Furman's profile over at least half a dozen that were included.  The SoCon deserves two teams!!!