HoopsHD's Jon Teitel has spent the past few months covering several Georgetown basketball home games, with a very special reward coming in March. 7 down, 1 to go:
Part 1: Central Connecticut State (http://hoopshd.com/2018/11/11/hanging-with-the-hoyas-part-1)
Part 2: Richmond (http://hoopshd.com/2018/11/30/hanging-with-the-hoyas-part-2)
Part 3: Liberty (http://hoopshd.com/2018/12/04/hanging-with-the-hoyas-part-3)
Part 4: SMU (http://hoopshd.com/2018/12/15/hanging-with-the-hoyas-part-4)
Part 5: Appalachian State (http://hoopshd.com/2018/12/19/hanging-with-the-hoyas-part-5)
Part 6: Little Rock (http://hoopshd.com/2018/12/24/hanging-with-the-hoyas-part-6)
Part 7: St. John's (http://hoopshd.com/2019/01/07/hanging-with-the-hoyas-part-7)
Part 8 was Saturday afternoon when Providence visited DC for the schools' 73rd meeting dating back to 1956.
The food at the pregame meal must have went quickly because by the time I arrived I simply grabbed whatever scraps I could: a cold sandwich, pickle spear, pasta salad, and several sweets.
And away we go…from the top corner of the lower level: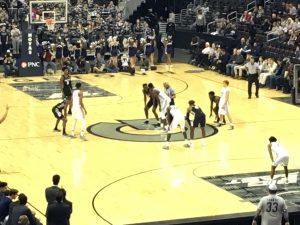 Georgetown's Trey Mourning remained out for his 6th straight game due to a concussion protocol, but the good news is that Mac McClung was back in the starting lineup after rehabbing a left ankle injury that had cost him the past 4 games. The Hoya student body was back from winter break, allowing the attendance figure to crack 5 figures for the 2nd straight home game (10,113). McClung's healthy return also allowed Coach Patrick Ewing to start 3 freshmen (McClung/James Akinjo/Josh LeBlance) for only the 2nd time all season. McClung paid immediate dividends, driving to the hoop for a layup on his team's very 1st possession, and later making what I assure you was his least exciting 3 of the game for 5 PTS in less than 10 minutes of 1st half action. SR C Jessie Govan scored an efficient 9 PTS in the 1st 20 minutes while displaying the entire arsenal: a 3, a baseline jumper, a step-back jumper, and even a jump hook.
Providence's Nate Watson was making only his 2nd start of the season but the SO C from Arlington, VA made the most of his homecoming with 12 PTS/6-7 FG in the 1st half. He started things off early with a layup just 7 seconds into the game and continued making jump shots and dunks to impress all of his family/friends in attendance. The Friars did not make a single FT in the half but it did not hurt them because the Hoyas only made 1-4 from the line themselves as Providence went into the locker room with a 36-34 halftime lead.
Watson's teammate Drew Edwards, a JR G from Perry Hall, MD, continued the homecoming hero theme in the 2nd half with 11 PTS in 11 minutes by scoring from all over the court: a jump shot, going backdoor for an easy layup, and making a miraculous 3 (mostly because he had made exactly ZERO threes so far this season!).
The final minute of regulation was 1 of the most exciting this year. I watched Govan set a career-high with 22 FG attempts in an OT loss to St. John's the previous weekend, but he shattered it today with an incredible 26 shots from the field, including a dunk with 36 seconds left to give his team a 70-68 lead. Friars' star Alpha Diallo played like an alpha male all afternoon: instead of calling a timeout after Govan's dunk, Coach Ed Cooley trusted his leading scorer to make the right play, which he did with a corner 3 to take a 71-70 lead with 21 seconds to go. After Akinjo missed a 3 of his own, Providence SG Isaiah Jackson grabbed the miss and Greg Malinowski was forced to commit his 5th foul with 3.9 seconds left on the clock. Winning time is made for redshirt seniors, and Jackson stepped up to the line and calmly knocked down 2 FTs to extend the lead to 73-70. Coach Ewing called a timeout to draw up 1 final play, and with his best 3-PT shooter (Malinowski has made 25-53 this season) out of the game I assumed he would either put the ball in the hands of his SR leader Govan or his FR PG Akinjo: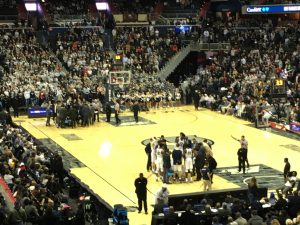 Instead, he gave McClung a chance to win it in his 1st game back from injury, and his faith was rewarded after "McClutch" took the inbounds pass/dribbled up court/banked in a 30-footer at the buzzer to send it to OT! Even better, I decided to take out my phone before it happened:
Unlike the impending snowstorm in DC this past weekend, the shooting remained red-hot even in OT (Georgetown 4th OT game so far this season). The Friars had a 1-PT lead as the clock ticked down and Diallo drained a huge 3 just before the shot-clock buzzer went off to give his team a seeming insurmountable 84-80 lead with 28 seconds left. After Govan missed a 3 and LeBlanc secured the rebound, it was time for Akinjo to transform into Big Game James. After being fouled while attempting a corner 3 with 15.6 seconds left, he made all 3 FTs to cut the lead to 84-83. Diallo responded by making 2 clutch FTs with 13 seconds left, then Ewing called timeout to set up yet another potential game-tying play.  Akinjo did his best McClung impression by making a deep 3 with 3.4 seconds left to tie it at 86-all and send the game into double-OT. It is hard to imagine a pair of freshman guards ever making bigger shots to save their team from defeat…but I have the video to prove it:
Watson continued to play his heart out in the 2nd OT period and set a career-high with 21 PTS, but Govan kept rebounding misses on both ends of the court and converting FTs to help his team hang on for a 96-90 win with an incredible stat line of 33 PTS (career-high)/14 REB (6 on the offensive end)/4 BLK while playing almost 42 minutes.
In the postgame press conference I asked Coach Ewing how he drew up a pair of game-tying 3-PT plays: he laughed and said that his team has run that play a few times in the past but that "today was the 1st time that it actually worked!"
Coach Cooley seemed to be taking the loss very hard so I decided to focus on his successful efforts to recruit guys like Watson/Edwards (who combined for 40 PTS/12 REB/3 STL) right out of Coach Ewing's backyard. He sighed and answered that a coach cannot offer a scholarship to every single player he desires but that "our assistants recruit the South pretty well":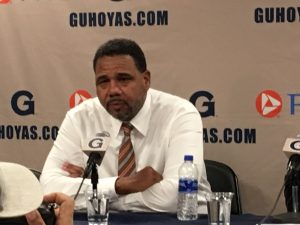 I knew that McClung would be asked many questions about his amazing shot so my angle was to inquire whether it was the biggest shot of his life. He pondered it for a few seconds before responding that "I do not remember all of them but it is up there: it was a great feeling to make it"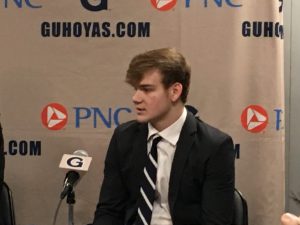 My highlight of the night occurred on my way out of the arena, as Ava Wallace of the Washington Post (who covers several local college sports teams including Georgetown/Navy/Maryland) stopped me to say thanks for asking some good questions at the press conferences. I later asked her to consider joining the HoopsHD crew for a future podcast, so keep your fingers crossed!
That's all for now, check back in the weeks ahead for continuing coverage…if it ever stops snowing in DC.