Bitterballen and basketball: that's what the Netherlands does! On Sunday Bradley beat Northern Iowa 57-54 in the MVC tourney title game to earn an automatic bid to next week's NCAA tournament. The Braves last made the NCAA tourney in 2006 but earned their way in this year by winning 3 conference tourney games in 3 days by 3 PTS or less. Earlier this week HoopsHD's Jon Teitel got to speak with SR PF Luuk van Bree about celebrating his birthday last month and what it feels like to make the tourney for the very 1st time.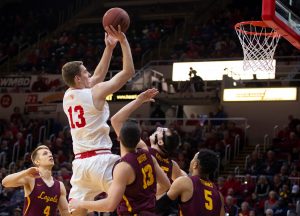 You grew up in the Netherlands: what made you choose Bradley, and what was the best part of your team's trip to Amsterdam last summer? They reached out to me while I was playing in Spain at the time. I did not look into it too much: I was just excited to play D-1 basketball. The Amsterdam trip was special: I got to talk to the guys and show them where I was from. Playing in front of my family/friends felt kind of surreal with my 2 worlds coming together: I was really grateful for the opportunity.
You play for Coach Brian Wardle: what makes him such a good coach, and what is the most important thing that you have learned from him so far? He is always ready to go with a lot of energy and is efficient/intense. He has taught me that it is important to have a good work ethic: wake up early, pay attention to details, etc.
You lost 27 games as a freshman: for a guy who has trouble sleeping after a loss, how was your mental/physical health doing in March of 2016? That 1st year was really tough because we had 10 freshmen and were a very young team. I really struggled with it at the time but it has made me grow up a lot faster. Those were dark times but now I am able to stay level-headed. I had people looking out for me and helping me out, which helped me grow both on/off the court.
In January you scored a career-high 21 PTS/3-4 3PM in a win over Illinois State: was it just 1 of those situations where every shot you put up seemed to go in because you were "in the zone"? My team did a great job of finding me and our opponent's defense was set up to allow me some good looks.
You turned 23 last month: what did you do for the big day? We always bring cupcakes to practice for anyone's birthday so that was nice, and that night I went out to dinner with my girlfriend.
You won the MVC tourney last weekend via a 3-PT win over Missouri State/2-PT win over Loyola-Chicago/3-PT win over Northern Iowa: how was your team able to win 3 games in 3 days that all came down to the wire? This group has been though a lot of ups and downs and played a lot of close games. We keep rooting for each other and never give up. It showed how competitive and gritty a team we are: we feel that when the game is tied down the stretch that we will end up winning.
SO SF Elijah Childs was named conference tourney MVP: what makes him such a great player? He is very versatile and can score both inside/outside. What makes him special is that he can affect a game in so many ways and plays with a lot of energy. He has improved so much during the past 2 years.
What did it mean to you to win a title, and what has the reaction been like since returning to campus? As a senior it is obviously special and a great sense of accomplishment that we have always been working for. We had a bus escort back to campus and everyone here is very excited.
What is your post-college plan? Go on vacation! I would like to play professionally somewhere/somehow after college.
What kind of seed do you think that you deserve, and what kind of seed do you think that you are going to get? I really do not know but I have seen us listed around a 15 seed: I hope it is as high as possible but at this point it does not really matter. We are having a big watch party on Sunday and it will be fun. No matter what seed we get we are just going to go out and give it our best shot.