Everyone loves Hamilton, both the Broadway play as well as the location of the best team in the Patriot League! On Wednesday Colgate beat Bucknell 94-80 in the Patriot tourney title game to earn an automatic bid to next week's NCAA tournament. To give you an idea of how long it has been since the Raiders made the NCAA tourney, it was 1996 when Adonal Foyle had 21 PTS/14 REB/6 BLK in a 9-PT loss to UConn. Earlier this week HoopsHD's Jon Teitel got to speak with Colgate JR F Will Rayman about winning 13 games in a row and what it feels like to make the tourney for the very 1st time.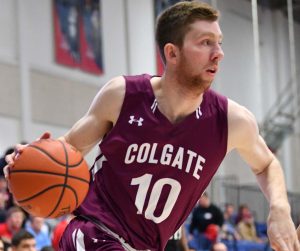 You grew up in New York: what made you choose Colgate? Just the relationships I made with the coaches. They recruited me for 2 years and eventually I knew that this was where I wanted to be.
You play for 2-time defending conference COY Matt Langel: what makes him such a good coach, and what is the most important thing that you have learned from him so far? He is really honest and will tell you the truth rather than what you want to hear. He is a players' coach and is there for us whenever we need him.
In December of 2017 you scored a career-high 34 PTS in 35 minutes in a 10-PT win at Lafayette: was it just 1 of those situations where every shot you put up seemed to go in because you were "in the zone"? I play with a lot of confidence so I feel that every shot I take is going in. Lafayette let me take 11 open threes that night and they are a fast-paced team. I felt like I was on top of the world in my very 1st Patriot League game.
You finished that season by being named conference ROY: how were you able to come in and contribute right from the start? It was hard to get minutes but I am a really competitive kid and kept on working hard until I got a starting spot. We were struggling to score so my role was to be a scorer. Every year is a brand-new team so you just have to find your role. It was not fun losing 22 games that year.
In the 2018 CBI you had 12 PTS/3 STL in a 4-PT loss to San Francisco: what did you learn from that game that will help you this March? Last year we were not playing our game and doing too much 1-on-1 instead. This year we just need to do what we have done during the past 34 games because I have so much confidence in my guys.
In November you scored 13 PTS in a loss at Syracuse: how did your team lose by 21 PTS despite make 12 threes? I think it was due to our turnovers. Syracuse is tough to play against due to their length and it was hard for us to score inside. They scored a lot of fast-break points and really turned up the intensity in the 2nd half, but it will help us when we face a top seed next week.
You began the month of February with a home loss to BU that put your record at 13-10: what has changed since then to allow you to win 13 games in a row (including each of your final 3 by double-digits)? That loss to BU was our 1st home loss all season (which became Colgate's only home loss all season): they just came at us and we played soft. A few games later against Loyola-Maryland we were down by 17 PTS in the 2nd half and assistant coach Mike Jordan (yet another Penn alum!) said they were calling us soft and dunking in their layup lines. We battled back, won that game by 2 PTS, and gained a lot of confidence which helped us just keep on winning.
In the Patriot tourney title game on Wednesday you scored 18 PTS in a win over Bucknell: what did it mean to you to win a title, and what has the reaction been like since returning to campus? It means everything: we lost to Bucknell on the road last spring by 30 PTS: they were dancing and it was very disrespectful. I went to get a haircut downtown the other day and everyone was waving to me: even my barber knew everything about our team! To win titles in football/soccer/basketball in the same year when you are at a small school is awesome.
In addition to an award-winning coach you have the conference POY (JR PF Rapolas Ivanauskas)/conference tourney MVP (SO PG Jordan Burns)/conference ROY (FR G Tucker Richardson): is the school going to have to build your team a new trophy case to handle all the hardware?! Maybe! It is great to get all of that recognition because Bucknell usually wins all of those awards. JB was not highly recruited and has become 1 of the best PGs in the country, and when he got hurt Tucker came in and led us in AST (which is ridiculous for a freshman!). I am so proud of all of them and it shows that all of their hard work has paid off.
What kind of seed do you think that you deserve, and what kind of seed do you think that you are going to get? It would be awesome to get a 13 seed because that is our lucky # but I just want to go out there with my brothers and win a game. It will be awesome for all of our alumni to see.