The NCAA tournament is about basketball but also so much more: the fans, bands, cheerleaders, etc. The East Regional took place in Washington, DC last month and we could not have been more excited to be there in person! HoopsHD was all over it and covered all of the angles so we hope you enjoyed our cascade of coverage. Jon Teitel concludes our coverage with a photo essay recap of the Elite 8 featuring the Spartans vs. the Blue Devils (all of the photos below were taken by HoopsHD, but since the NCAA was kind enough to award us a credential…and to cover our butts, we will extend the courtesy for everything to both the NCAA and CBS Sports just in case).
There was plenty of starpower in the house for this heavyweight battle:
Bill Raftery and Grant Hill on the mikes: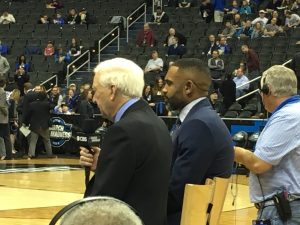 CNN political analyst David Gregory courtside: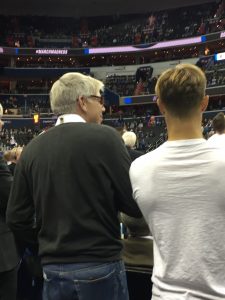 This photo has a lot of stuff going on: we got Magic Johnson saying hi to Ryan Shazier in the middle of this sea of green and white, while John Harbaugh is seated on the aisle in the lower-left.  Who knew that football players/coaches were such basketball fans?!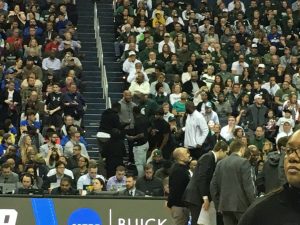 Grant/Magic were not the only Hall of Famers in the house, as David Robinson was seated on the aisle in the middle of the sea of blue and white because his son Justin plays for Duke:
Andy Katz (reporter extraordinaire/friend of my brother-in-law) was also in attendance: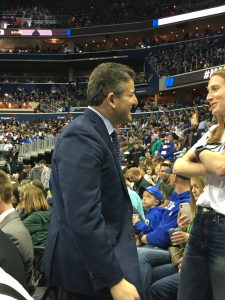 Both teams seemed very loose before the game: Duke was dunking in their layup lines while Cassius Winston ran a down and out football pattern and caught a basketball pass from Foster Loyer while keeping his toes inbounds: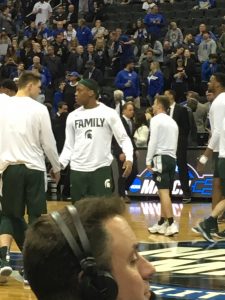 Let's go: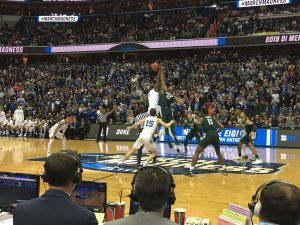 2 notable absences from the starting lineup were Cam Reddish and Nick Ward, who made wildly opposite entrances. Reddish checked in after 2 minutes to a thunderous ovation…then stepped out of bounds on his very 1st possession: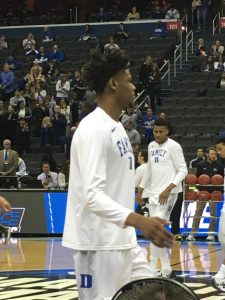 In contrast, Ward checked in after the 1st TV timeout and rewarded his coach by making a jumper in the lane on his own 1st possession.  You could tell that this was a big game because both Hall of Fame coaches got a little heated: Xavier Tillman had a REB/putback for Michigan State that caused Coach Mike Krzyzewski to scream at his team to box out, while Aaron Henry got an earful from Coach Tom Izzo after he failed to notice the shot clock running down to zero…although we all know that is nothing new!  The 1st half was a game of runs and the 1st 1 belonged to Duke. RJ Barrett made a bunch of layups and threes to help his team score 12 straight points and turn a 21-18 deficit into a 30-21 lead and force Izzo to call a timeout with 5:20 left: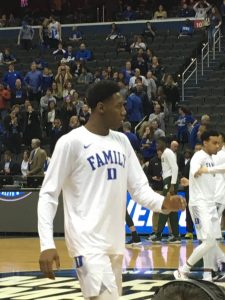 Zion Williamson was strong in the paint with 7 PTS/6 REB but picked up his 2nd foul with 4:52 left and was summoned to the bench: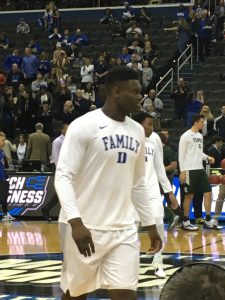 Then it became PG Cassius Winston's time to show why he was the Big 10 POY/conference tourney POY: he took a LOT of shots in the 1st half (13 FGA) but made floater after floater and layup after layup to help his team score 13 straight PTS and head to halftime with a 34-30 lead: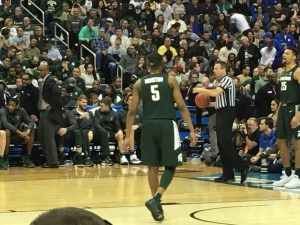 I strolled the concourse at halftime and saw a pair of former players who are beloved in Durham: Calvin Hill (whose son Grant won a pair of NCAA titles in 1991/1992) and Mark Alarie (who helped Coach K reach his very 1st title game in 1986 after becoming the best basketball player at my alma mater of Brophy Prep):
The mascot dance-off was less exciting: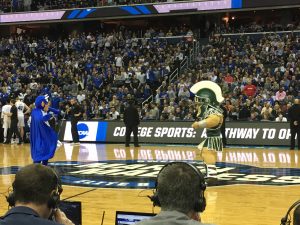 The 2nd half remained ultra-competitive as neither team had a lead larger than 6 PTS. Javin DeLaurier grew up in Shipman, VA, and played like a hometown hero in the paint, finishing with 10 PTS/5-5 FG/11 REB for his 1st-ever double-double. Zion did not pick up a 3rd foul and remained aggressive throughout while playing like the national POY that he is. He had a pair of big blocks on Kenny Goins, a REB/putback/fist pump, a pair of threes, and a huge lefty layup off the glass with 1:31 left to give his team a 66-63 lead. I thought that he looked like Superman before the game…and if someone had given him a cape I just might have believed it: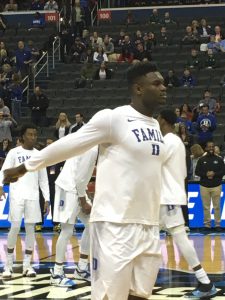 Tillman was dunking all over Duke but did not force it when his team needed him the most, taking an alleyoop pass from Winston and gently laying it in to cut Duke's lead to 66-65 with 1:17 left. After a miss from RJ with 50 seconds left led to an Izzo timeout, Goins shook off an 0-4 effort from behind the arc in the 1st half to make the biggest 3 of his life with 34 seconds left to give Michigan State a 68-66 lead. A missed 3 from RJ ended up with the ball going out of bounds with 8 seconds left, so the refs huddled up/went to the monitor/decided that the ball went off Matt McQuaid and belonged to Duke: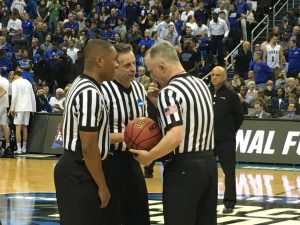 RJ took advantage of his 2nd chance by driving the lane and getting fouled with 5.2 seconds left and a chance to send the game to OT. Instead he missed his 1st FT on accident and made his 2nd despite shooting an intentional line drive that somehow went in. Winston was fouled by Reddish with 4 seconds left but his team was not yet in the bonus, then received an inbounds pass and dribbled it out without getting fouled to send his team to the Final 4 for the 1st time since 2015, and here is the scoreboard to prove it:
Winston (20 PTS/10 AST/4 STL) was the obvious choice for East Region Most Outstanding Player and was joined on the All-Tournament Team by his teammate Tillman, his opponents Zion/RJ, and Kerry Blackshear Jr. from Virginia Tech. After waiting in line behind about 50 people with TV cameras I got to make my way onto the court for the postgame festivities: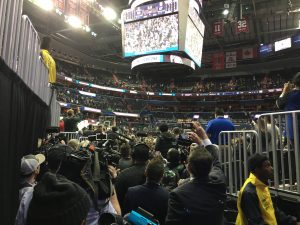 A boot on his left foot could not stop Joshua Langford from ascending the ladder: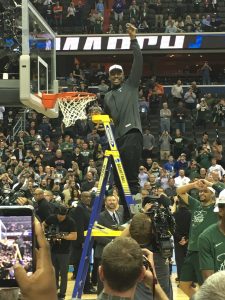 Winston walked over to the Spartan cheering section to say hi to some family/friends: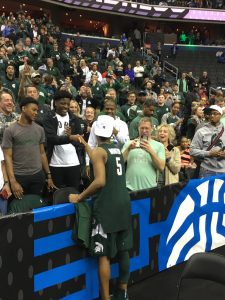 Magic made his way down the court but was not ready to state whether he would be back for another year in the Lakers' front office: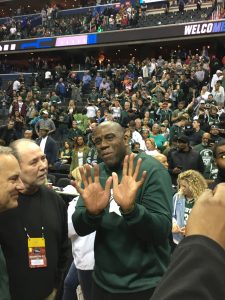 I am still not 100% sure if Michigan State football coach Mark Dantonio was on-site but this guy sure does look like him: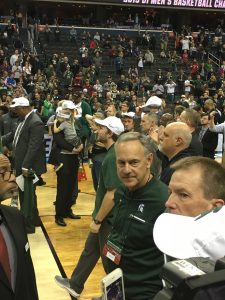 Ward's hand did not seem to be bothering him after the big win: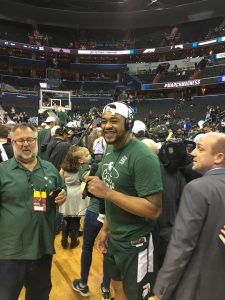 McQuaid's circus shot in the 2nd half was probably the most incredible 2 PTS all night but getting interviewed with the net around his neck is the memory that will last the longest: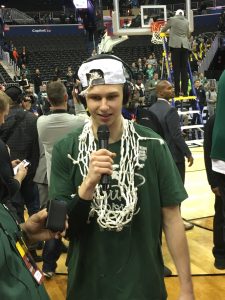 You might think that Izzo would not get excited about making yet another in a long line of Final 4s…but you would be wrong:
Until college athletes like Brock Washington get paid, they will just keep playing for the sheer joy of winning trophies: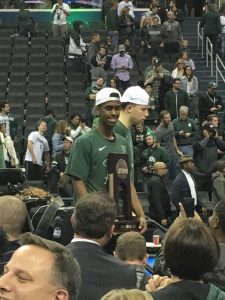 Robinson was left to sit in the stands and wonder if his son can make it to the Final 4 next year as a SR (something that he was never able to accomplish himself at the Naval Academy):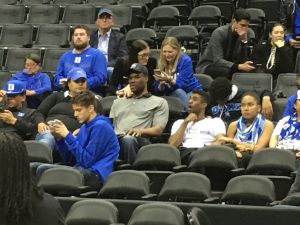 The Spartan cheerleaders got to take the ever-popular confetti selfie: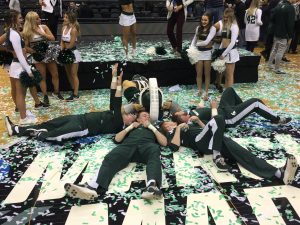 Izzo and his crew got to chat with reporters on the podium about what it meant to be heading to Minneapolis: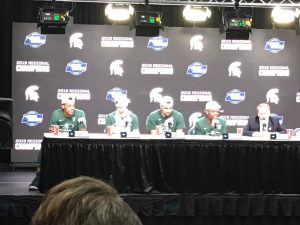 Brackets don't lie: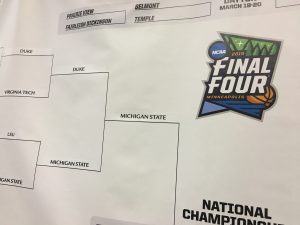 That is a wrap on our East Regional coverage for 2019 so keep your fingers crossed to see if we get a credential for the 2020 East Regional at MSG!!