The Stanford basketball program has a fascinating postseason history. The Cardinal won the 1942 NCAA title behind Coach Everett Dean (the only coach to be undefeated in his NCAA tourney career), then waited almost 50 years before having another 20-win season in 1988 and finally making it back to the NCAA tourney n 1989. The star of those late 1980s teams was Todd Lichti, who last month was named a member of the National Collegiate Basketball Hall of Fame's Class of 2019. His most remarkable trait was his consistency: he had 17+ PPG/50+ FG%/80+ FT% during each of his 4 years on The Farm. Earlier this month HoopsHD's Jon Teitel got to chat with Todd about his terrific career and we congratulate him on his awesome honor.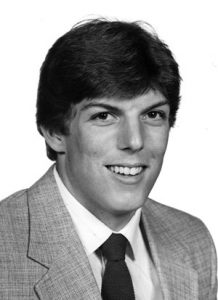 Last month marked the 30th anniversary of your Stanford team making the 1989 NCAA tourney: how big a deal was it at the time to end the school's 47-year NCAA tourney drought, and where does that upset by #14-seed Siena rank among the most devastating losses of your career? NUMERO UNO: I do not think I have ever felt as gutted or disappointed after losing a basketball game as I did that day.
You graduated as the leading scorer in school history with 2336 PTS and scored in double figures in all but 3 of your 124 career games on The Farm: what was your secret for being a great scorer? I worked awful hard on my jump shot after arriving at Stanford. I genuinely had no thoughts of the NBA until after my freshman year when others were talking about it so I dedicated the next 3 years to getting there. The improved shooting complemented what I arrived there with, which was an ability to drive and finish at the basket with either hand. I was very athletic as well and could jump, which allowed me to adjust and make decisions if a defender came at me. We had a nice group around me that were also threats if a team wanted to concentrate on me too much.
You remain in the top-5 in school history with 47.7 3P%/84 FT% during your career: what is the key to being a great shooter? Thousands and thousands of reps (in my case anyway), but you have to be doing those reps while getting the basic principles right that everyone teaches. I did learn a couple more keys from Walt Davis once I got to the pros.
You twice finished in the top-10 in the conference in STL: how did you balance your offense with your defense? I just played and did not think about balancing either side of my game. I did concentrate more on my defense the longer I was at Stanford as I felt it was important in helping our team's chances of winning.
You were a 3-time All-American at Stanford and the only Cardinal to be named 4-time 1st-team all-conference: what did it mean to you to receive such outstanding honors? I honestly did not think about it much and am not that comfortable with personal accolades in a team sport. I always felt that I had a long way to go to match up with the best in the NBA.
In the summer of 1989 you were drafted 15th overall by Denver and played 5 years in the NBA: what is your favorite memory from your time in the NBA? Probably my rookie year at Denver. There was a great bunch of veterans there who I learned a lot from: I also became friends with many of them. The coaching staff (led by head coach Doug Moe) was also enjoyable to play for.
During college you played for a pair of national COY winners in Tom Davis/Mike Montgomery, and in the NBA you played for a pair of COY winners in Doug Moe/Don Nelson as well as a championship coach in Paul Westhead: who was the best coach that you ever had? I liked all of those guys but the ones who made the biggest impressions were Montgomery and Moe. Coach Montgomery forced me to do things offensively that I was not always comfortable doing but they made me a better player. This was the result of what best suited our team. He had a way making sure that neither you nor the team were ever satisfied. I thought Moe was the ultimate pro coach: he only said things that were relevant at the time and some original stuff that I had not heard before. I think the good coaches do that rather than reuse the typical clichés we have all heard before. Doug would get into you at times (yelling/screaming/cussing/spitting, etc.) but it was left on the court and you could enjoy time with him outside of that. Tom Davis only had 1 year at Stanford (my freshman year) and it was a frustrating year for us as a team. Paul Westhead is 1 of the best people you will ever meet but his system just did not work in the NBA. I only played a 10-day contract for Don Nelson.
You later went abroad to Australia and played 4 more years of pro basketball: what is the biggest difference between basketball in the US vs. basketball overseas? This gap is closing but I would say size/strength/athleticism.
You currently work as the Managing Director of a winery in Australia: how do you like the wine business, and what do you hope to do in the future? Sante Wines (www.santewines.com.au) is a wine distribution business that Sue (my wife) and I bought it in 2002 so this is what I will be doing until retirement.
Last month you were named a member of the National Collegiate Basketball Hall of Fame's Class of 2019: how did you learn about the great news, and where does it rank among the highlights of your career? The Hall of Fame folks did not have any contact details for me but Mike Montgomery rang because he still had my phone number from a trip he took to Australia a few years ago with a Pac-10 (Pac-12?) all-star team that he was coaching. It is a HUGE honor to be alongside the names that are already there. It is certainly a highlight and I am sure it is the highest honor that I will ever achieve in basketball…but it is impossible to compare/rank it with my life outside of basketball. It was a long time ago and looking back now I do not feel like I climbed the mountain completely. There was unfinished business due to injuries and other circumstances that I suppose leave me just short of satisfied…BUT, I was luckier than most on that front so I simply feel like I did my best. No matter what you do it is always deeply satisfying to be considered among the elite.