Usually when you think about basketball players from Chicago named "Agee" the 1st person who comes to mind is Arthur Agee, who was 1 of the 2 Chicago-area players featured in the 1994 documentary "Hoop Dreams" (later named by the International Documentary Association as the all-time greatest documentary film). However, he is starting to get some competition from Iona JR PF Tajuan Agee, who scored 18 PTS on Monday in an 81-60 win over Monmouth in the MAAC tourney title game as his team earned an automatic bid to next week's NCAA tournament. The Gaels are no stranger to the postseason, having now claimed the school's 6th NCAA tourney bid in the past 8 years. Earlier this week HoopsHD's Jon Teitel got to speak with Tajuan about winning 10 games in a row and what it feels like to make the NCAA tourney for the very 1st time.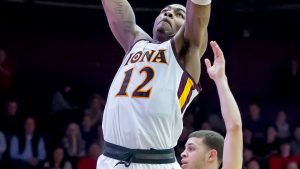 You grew up in Chicago and entered high school as a 6' guard: how did your 9" growth spurt over the next 3 years change your skill set? My game just adjusted over time. I was a 3-PT shooter as a freshman, then focused more on my ball-handling as a sophomore, and once I was 6'9" I knew that I would have to move down low.
You began your college career at Tyler JC: what made you choose Iona? Just the winning culture. Coach Tim Cluess told me that every year we would have a chance to compete for a championship, which is the best thing I heard from anyone during my recruitment.
Cluess was named 2019 conference COY: what makes him such a good coach, and what is the most important thing that you have learned from him so far? Just to come in and work hard every day. We all know that he is a legend and he expects a lot out of us.
In December you scored 9 PTS in a loss at VCU: how much fun was it to play against a team that forced 23 turnovers and caused you and 2 of your teammates to foul out? It was a struggle at the beginning of the year but we have adjusted.
In early-February you had 17 PTS/12 REB/3 BLK/2 STL in a 1-PT loss to Quinnipiac: where does that rank among the best all-around games of your career? I just tried to give our team whatever we needed by bringing some energy off the bench.
That loss put your team's record at 7-15: what has changed since then to allow you to win 10 games in a row (including your final 2 by a combined 37 PTS)? We buckled down and came together as a team. We had to lock-in more even though we have so many players who can score.
Roland Griffin was kicked off the team in October after allegedly punching an assistant coach and Isaiah Still only played in 2 conference games due to injury: how has the team been able to stay focused despite losing 2 key players? We just stayed locked-in. Those obstacles hindered us a bit at 1st but eventually it helped turn us into a cohesive unit.
In the MAAC tourney title game on Monday you had 18 PTS/3 STL in a win over Monmouth: what did it mean to you to win a title, and what has the reaction been like since returning to campus? It has been great: everyone on campus is embracing us and letting us know that they appreciate what we have accomplished. It was a great experience to win the title: I have never really cut down the nets after a championship before so the feeling was surreal!
SR PG Rickey McGill was named conference tourney MVP: what makes him such a great player? Just being a team leader/captain. He is vocal and lets us know what he wants out of us but nothing that he says is personal: everything is just for the betterment of the team.
What kind of seed do you think that you deserve, and what kind of seed do you think that you are going to get? I guess we will find out Sunday! This is my 1st year so I am glad to be here, but whatever seed we get we will just roll with the punches.